Dallas Cowboys address kicker situation following Greg Zuerlein struggles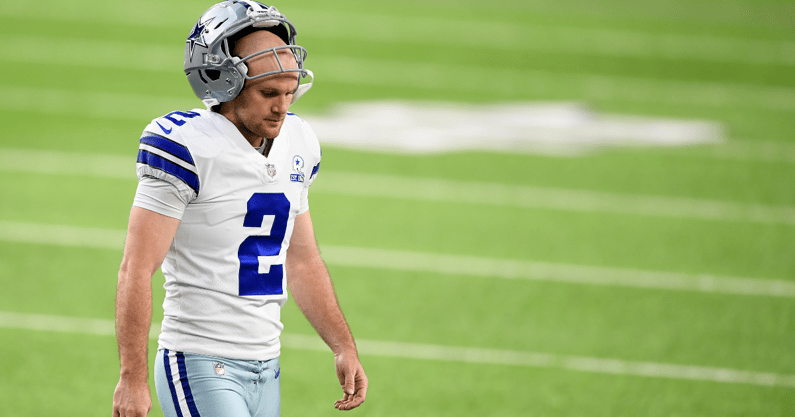 The Dallas Cowboys are expected to re-sign kicker Lirim Hajrullahu to their practice squad, according to NFL Network's Tom Pelissero. The announcement comes after starting kicker Greg Zuerlein struggled in the season opener.
Zuerlein finished 3-for-5 on field goals and 2-for-3 on PATs in the Cowboys 31-29 loss to Tampa Bay on Thursday.
"A couple of those misses we don't attribute to lack of preparation," special teams coach John Fassel said. "The two makeable ones, he just missed. The 31-yarder, he just miss-hit it. The PAT he hit pretty good, he just pulled it a little left."
Zuerlein underwent back surgery this offseason and spent most of summer camp on the physically unable to perform list. A 10-year NFL veteran, he spent eight season with the Rams before joining the Cowboys in 2020.
Dallas moved on from longtime kicker Dan Bailey in 2018. Since then, they have gone through a couple of different kickers, with Brett Maher leading the team that first season without Bailey.
Zuerlein attempted the most field goals in the NFL this past season with 41. He made 34 of them for a 82.9% completion rate. The Cowboys offense took a huge hit when quarterback Dak Prescott went out for the season with an ankle injury.
The team looked much better in their season opener and you certainly can't fault them for losing to the defending Super Bowl champions. That likely had more to do with Tom Brady's late game heroics than anything else.
The Dallas Cowboys may not be ready to give up on Zuerlein just yet, but signing another kicker definitely puts the pressure on him. If his health is indeed the issue, we could soon see Hajrullahu handle the kicking duties.
We will likely have a better understanding of the kicker situation by next week. The Cowboys had plenty of time to prepare for their matchup against the Los Angeles Chargers on Sunday.