Cowboys owner Jerry Jones confident in offensive line without La'el Collins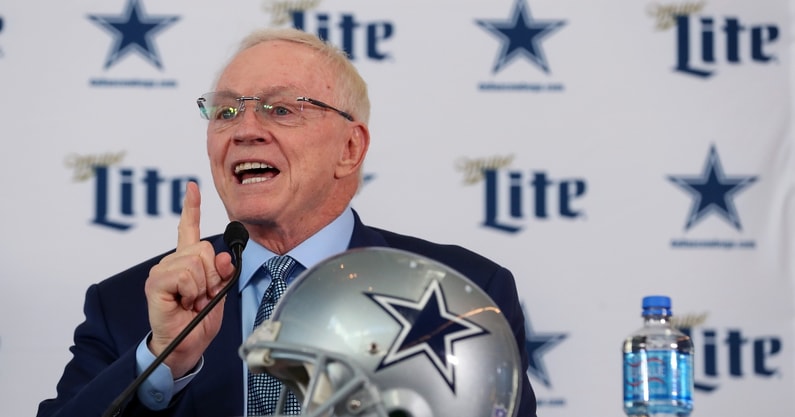 The Dallas Cowboys are confident with their plan at offensive line heading into Week 2, if you believe owner Jerry Jones. 
With various shakeups along the offensive line the last two weeks, the biggest question heading into Sunday is how Dallas will address the loss of right tackle La'el Collins, who was unexpectedly handed a 5-game suspension after the Bucs game.
The Dallas Cowboys owner met with reporters on Tuesday and didn't show any concern about the plan in place.
"The plan is to go with (Terence) Steele," Jones said. "He'll do a good job. He's a young guy we're proud of."
Steele, second-year veteran, started 14 games at right tackle last year as an undrafted rookie out of Texas Tech. While he may not bring the same level of production as Collins, a full year of starting experience will be vital against Chargers' star Joey Bosa.
Bosa was a one-man wrecking crew for Washington rookie right tackle Sam Cosmi last Sunday. The Texas Longhorns alum was widely viewed as one of the top offensive linemen in this year's draft class and the Washington coaching staff have raved about his development.
Cosmi had a heck of an opening NFL test as Bosa appears faster and stronger than ever.
It's likely the football folks like offensive coordinator Kellen Moore are working tirelessly to come up with a plan for their young fill-in right tackle against Bosa.
The Cowboys owner, on the other hand, exuded confidence when speaking about their young new right tackle and the major test that lies ahead.
"He really had a great rookie year last year, relatively speaking, and he'll do a good job out there," Jones said of Steele. "We'll give him lots of help.".
Moore is one of the top-rising young offensive minds, so he will put together blocking schemes, using running backs and tight ends to make Steele's day easier, but Jones was spot on. Steele will need all the help available.
A Dallas Cowboys silver lining
The Cowboys' strong performance in last week's 31-29 thriller was even more impressive because the offense lacked All-Pro right guard Zack Martin.
Dallas announced Martin is off the COVID-19 list and will be ready to play on Sunday. The importance of Martin to offensive coordinator Kellen Moore and the success of the unit as a whole can't be understated.
"Zack is the best player on our offense," Cowboys running back Ezekiel Elliott told the media a few weeks before the season opener after learning Martin wouldn't be playing against Tampa. "Most runs come back behind him."
That is a heck of a compliment, but Ellliott's transparency is also telling.
If most of the Cowboys' running scheme fits around Martin leading the calls, fans should be thrilled heading into this game in particular.
Why, exactly?
If Martin's return morphs the sub-par rushing attack from last week into a formidable one, this is the matchup where it could truly make the difference in winning or losing.
We saw Prescott go toe to toe with Tom Brady in arguably the best performance of the Cowboys' quarterback's career. Still, it wasn't enough.
Will Prescott and potentially repowered rushing attack be enough vs the Chargers on Sunday?