Dak Prescott discusses his lingering calf injury with Rich Eisen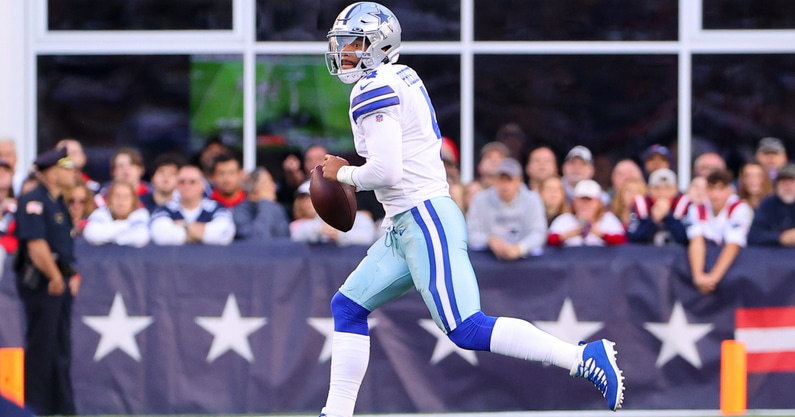 Cowboys quarterback Dak Prescott addressed his calf injury on the Rich Eisen Show and how it impacted his performance on the field during the 2021 regular season.
"I wouldn't say it lingered as long as people gave me the excuse of it," Prescott told Eisen. "I went through a period of time during the season where I just didn't play my best ball."
The calf injury stems from Oct. 17 when the Cowboys took down the red-hot Patriots in overtime 35-29. Prescott was injured during the final play of the game where he found CeeDee Lamb downfield for a 35-yard game-winning touchdown pass.
Prescott said he "came down funny" at the time and was seen in a walking boot in the days after.
He completed 36 of 51 passes for 445 yards with three touchdowns (two to Lamb) and one interception during the victory. It was the one time he threw for over 400 yards in a single game all season. He would take two weeks off and when he came back, his Cowboys lost 30-16 to the Broncos. He redeemed himself the next week with a 43-3 blowout victory over the Falcons and afterward, the Cowboys would head home with wins during four of their next six games.
The Cowboys finished the regular season 12-5 and won five of their last six games before dropping their wild card matchup against the 49ers 23-17 at home.
The game is surrounded by controversy after quarterback Dak Prescott took a rush up the middle with no timeouts left and minimal time remaining in regulation. The Cowboys hurried to the line, but there was not enough time for Prescott to spike the ball and stop the clock.
By rule, he official must touch the ball before it is snapped by the offense. As Prescott and his line did not give the referee the football, the official fought his way through the linemen and reset the ball's position himself. As he pushed through the line and forced Prescott and the line to move their feet, the ball was unable to be snapped as the referee was not clear of the play.
"Yeah, I mean, nonstop. Multiple times a day," Prescott said about how much he thinks of the loss. "I mean, it was tough. I mean, just expecting to go so much further; to have your season be a lot more than it was and just for it to end so sudden, and especially in the way that it did. I am it's a tough one to swallow there. There's certain moments and games and things that I think will stick with players or people for a long time in their career and I think this this game was one of them.