WATCH: Dallas Cowboys players hilariously let kids run drills during training camp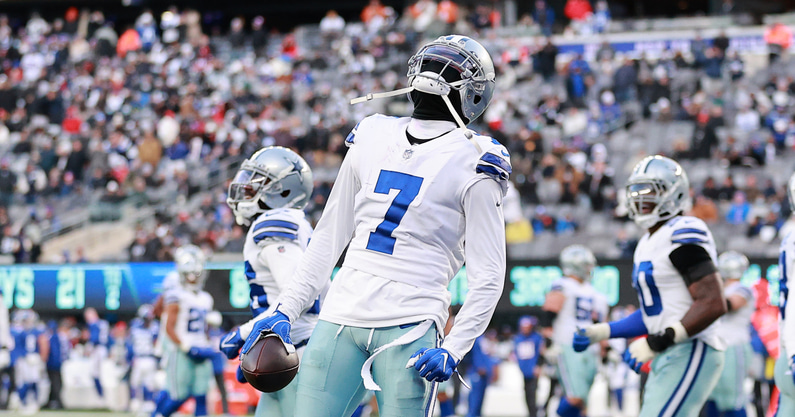 Every year, the Dallas Cowboys travel to California for training camp, uprooting from their normal Frisco, TX headquarters. Players have an important few weeks ahead of them before the season begins in September, getting Year Three of head coach Mike McCarthy underway.
Football is always the main focus during this time of year but it's also an opportunity for players to bring their families along. Some of the biggest hits can always be their kids, who watch practice before getting some quality time together on the field. On Friday, a few players mixed the two together, getting the families together for some football.
The Cowboys released a hilarious video on Friday, showing some kids running through drills. Cornerback Trevon Diggs and linebacker Micah Parsons were highlighted in the video, laughing throughout the entire thing. They even posed for a couple of pictures at the end.
You can watch the full moment here.
Dallas Cowboys enjoying some family time
Diggs' kid, Aidan, was the star of the show last season, stealing the hearts of Americans during Hard Knocks. Whether it was supporting his Dad, cheering on Dak Prescott, or talking about Kansas City Chiefs quarterback Patrick Mahomes, Aidan may have been the most beloved character of the series.
He was featured in Friday's video again, playing football. He broke a couple of tackles and even broke free on his own run. Already following in his father's footsteps. After all, football is a family sport, with Trevon's brother, Stefon Diggs, playing wide receiver for the Buffalo Bills.
As for the rest of the Dallas players, they clearly enjoyed bringing the family onto the football field. A few hours of serious work during practice means some relaxation is needed and watching their kids run around can be a good stress reliever. The Cowboys will have a few more opportunities for moments like this before leaving Oxnard for good.