Dallas Cowboys update status of Trevon Diggs following missed game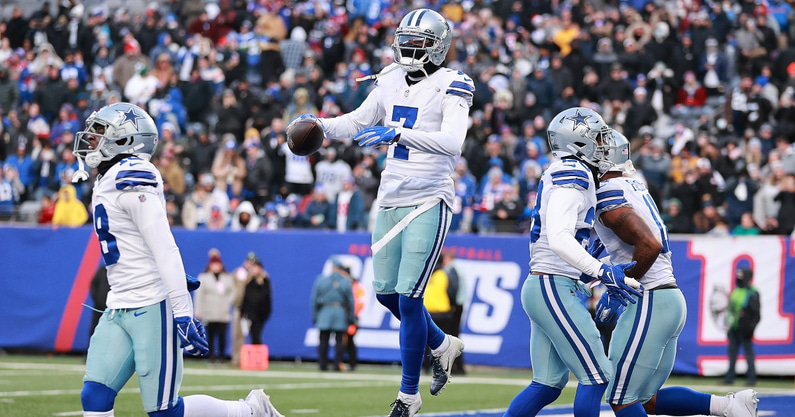 For the first time in three seasons, the Dallas Cowboys will be playing in the NFL postseason. With a win against Philadelphia on Saturday and some outside help, Mike McCarthy's team was able to lock up the No. 3 seed in the NFC and will host the San Francisco 49ers.
In the win against the Eagles, star cornerback Trevon Diggs did not travel with the team. He was held out due to an illness but the team specified that it was not related to COVID-19.
On Wednesday, Dallas confirmed Diggs would be good to go against the 49ers without having to say it out loud. The cornerback was not named on the Cowboys' injury report, meaning he is back in practice and is set to make his first appearance in the playoffs as an NFL player.
Diggs has been a crucial part of rebuilding what was one of the worst defenses in franchise history from last season. He leads the NFL in interceptions with 11 and has set up the Cowboys offense for success with short fields.
If there is going to be any kind of Super Bowl run in Dallas, Diggs will have to play a huge part in it.
Dallas Cowboys linebacker Micah Parsons reveals key to playoff game
Dallas Cowboys rookie linebacker Micah Parsons is ready for his first taste of the NFL postseason. Parsons and the Cowboys are set to take on the San Francisco 49ers on Sunday and the Wild Card round. And although the rookie has zero playoff experience, he knows exactly what Dallas needs to do on defense to win the game.
While addressing the media on Wednesday, Parsons explained that the Cowboys defense is focused on maintaining its standards versus San Francisco on Sunday.
Cowboys reporter for the Dallas Morning News, Michael Gehlken, provided us with this quote from the Dallas rookie sensation.
"Our key is to stop the run and then let the monsters eat on third down. We've got to win the first and second down."
The two biggest monsters on the Cowboys' defense this year are second-year cornerback Trevon Diggs and Parsons himself. Diggs has been a nightmare in the past game this season for opposing teams. He finished the regular season with a league-high 11 interceptions, 21 passive deflections, and two pick-6. Meanwhile, Parsons has been the most dangerous player in the Cowboys' front 7. He ended the year with 84 tackles (second-most on the team), three forced fumbles, and led the team in sacks with 13.