Dan Mullen makes Week 4 picks, including pair of Top 25 SEC showdowns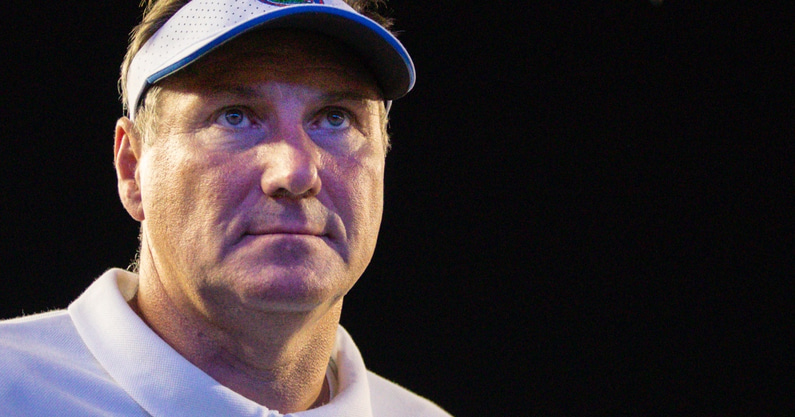 Dan Mullen is putting his selections in for a loaded Week 4, including choosing the winner of two Top 25 SEC showdowns.
To illustrate, Mullen's former employer in the Florida Gators will try to take their show on the road and find victory against the Tennessee Volunteers. Additionally, Texas A&M and Arkansas will do battle in what should be a hard hitting game.
CLICK HERE to subscribe for FREE to the On3 YouTube channel
Elsewhere, an ACC showdown between Clemson and Wake Forest could have huge College Football Playoff implications. Many believe the Tigers are the conference's only shot at the dance, but the Demon Deacons have something to say about that.
As Week 4 draws near, Dan Mullen is excited for some wild showdowns, and so is the rest of the college football world. Here's who he believes will be victorious in their efforts on Saturday.
Dan Mullen evaluates Florida quarterback Anthony Richardson ahead of Tennessee showdown
Moreover, Mullen evaluated his former quarterback in Florida's Anthony Richardson ahead of the Gators taking on Tennessee, giving his thoughts on how the talented quarterback can right the ship.
"What I saw in the Utah game is the guy that has the talent — I know he has so much talent. He just went out there and was playing. He started last year a little bit, and was always banged up the entire season. Could not get healthy. So it was hard to get him on the field consistently. But you know, I think it was a guy that was relaxed. There was really no pressure. They weren't expected to win. Kind of almost the underdog at home. He went out and played," stated Mullen, via the College GameDay Podcast. "Then the last two weeks, I think you saw a guy that now, as a younger player, is expecting to lead the team. It's kind of this outside pressure. It comes on younger players of saying there instead of hey, relax. Go play. Make your reads. Hand the ball off. Do different things. If you've got a lane, you can run. Relax and go many plays, and just manage and run the offense. 
"I think you're seeing as a guy who now feels, 'Okay, I'm now this starter. There's the expectations on me that I have to live up to.' You start pressing. I think he's really been pressing, it's looked like, to make the plays these last couple of weeks, instead of letting the plays just come to him."
Thus far on the season, Anthony Richardson has made plays with his arm and his legs, but he's still looking for his first touchdown pass. If he takes some of his old coaches advice, perhaps he can find his groove against the Volunteers — the Gators will need him to if they're to get a victory this weekend.