4-star EDGE Danny Okoye announces top 10 schools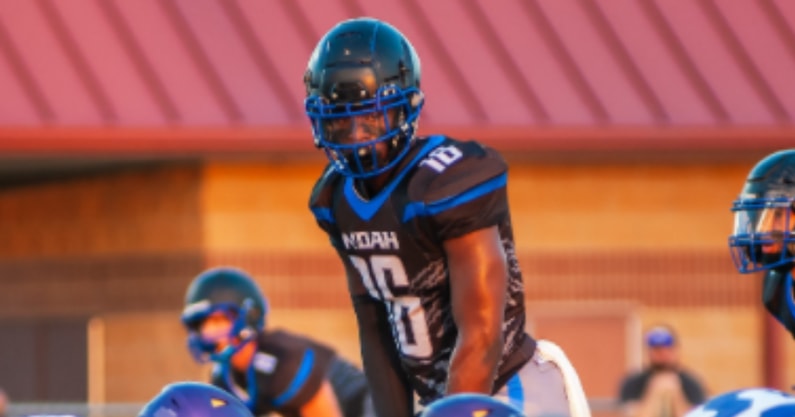 Tulsa (Okla.) NOAH Homeschool four-star EDGE Danny Okoye holds 30 offers. The No. 1 player in Oklahoma is now ready to cut down his list.
Okoye announced his top 10 schools on Saturday. They are Alabama, LSU, Texas A&M, Colorado, Tennessee, Texas, Oregon, Georgia, Nebraska and Oklahoma.
"It's really going to be the environment and how I can see myself fitting into it," Okoye told On3. "The players are important, the coaching staff and the way the staff is communicating with the athletes that are on campus and the way the coaches are talking to the other recruits who might be there along with me. I am also looking at the scheme that the coaches talk about having me in defensively. There are a lot of different factors that I'm going to have weigh and see whether or not I can see myself being in that program for four years once I graduate."
Okoye is spending this weekend on an unofficial visit to the Sooners. The only other trip he has set so far is another unofficial to the Volunteers for June 23.
Right now, Okoye's plan is to take most of his visits during the fall before making a decision. The 6-foot-5, 230-pound pass rusher hopes to use at least seven official visits, and 10 if possible. Okoye wants to take as many officials as he can because they will play a big role in his decision.
"Unofficials are cool and all, but you only get to see so much," said Okoye, the No. 63 overall prospect and No. 6 EDGE in the 2024 On300. "It's a red carpet deal."
Relationships are very important to Okoye
Okoye has a couple calls a day with college coaches. According to the four-star, Tennessee speaks to him almost every other day.
"These coaches have been really, really vocal," Okoye said. "They're giving me tips and pointers here and there on things I can work on, constructive criticism. I really appreciate all that."
Building relationships with coaches is very important to Okoye. It will continue to be a defining factor in his recruitment.
"I like the coaches who show interest in me and they care enough about me as an athlete to tell me how they would use me, not just that they need me," Okoye said. "A lot of people say, 'Oh, we need you on our defense. We see you as a good athlete.' But then you ask them, 'Okay, what kind of defensive scheme, what kind of situations would you put me in where I can make an impact on your team?' Once you ask them that, they don't really have a fast answer.
"So, I like a coach who knows what he wants from me and can give me a task to execute without me having to go in there and wonder what I have to do to make an impact."