Dave Gettleman takes victory lap on Odell Beckham Jr trade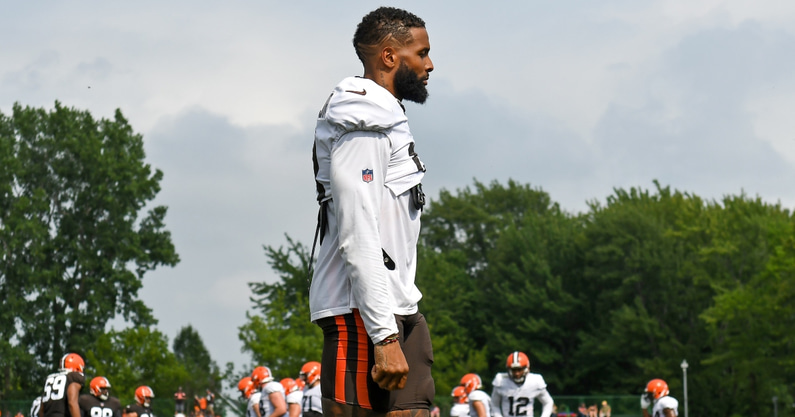 Dave Gettleman shocked the entire National Football League when he decided to trade Odell Beckham Jr. to the Cleveland Browns in March 2019. Fast forward, The New York Giants general manager is taking a victory lap prior to the 2021 season.
The Giants travel to Cleveland for joint practices this week, as well as a preseason matchup with the Browns. Prior, Gettleman was asked about the haul the Giants' received.
"I'm happy," Gettleman said, via the Cleveland Plain Dealer. "Ya know? We got Dexter. Ximines has had his injury issues, but when he's been out there, he's shown promise. Jabrill has done a hell of a job for us, so I like that group."
In return for Beckham Jr., the Giants received safety Jabrill Peppers, as well as a first-round draft pick and third-round draft pick in the 2019 NFL Draft. Later on, those picks became defensive tackle Dexter Lawrence, and defensive end Oshane Ximines.
While Beckham Jr. catapulted to fame due to his electrifying play and gaudy numbers in New York, the same can't be said about his time in Cleveland. Since the trade, the former LSU Tiger has just 1,354 receiving yards and 7 touchdowns for the Browns. Unfortunately, his season in 2020 was cut short due to a torn ACL.
Dave Gettleman's Haul
In New York, the jury is still out on Gettleman's haul.
For starters, Jabrill Peppers has been a good addition. The former Michigan Wolverine helped solidify the Giants' secondary, as well as become a captain for the team. He projects to be an important piece of the team's defense in 2021.
Next, Dexter Lawrence has shown why Gettleman made him a first round selection. However, the former Clemson Tiger hasn't compiled the statistics many expected, sacking the quarterback just four times in 2020. Moreover, we could see a leap in year three from Lawrence, as Dalvin Tomlinson's departure should open things up.
Finally, Oshane Ximines was selected in the third round out of Old Dominion. The Giants believe the small school standout has big time potential. In 2019, Ximines showed promise to the tune of 4.5 sacks. However, injuries stymied his 2020, as he only played in 4 games. 
The group has potential to grow and improve, but there's still too many unknowns within the Giants' haul for Beckham Jr. 
Who won the trade: Gettleman's Giants of Beckham Jr.'s Browns?
Evidently, the trade doesn't have a real winner right now. 
While the Giants received three defensive pieces with potential, they still haven't come close to the playoffs since Beckham Jr.'s departure. As for the Browns, they may have played better without the star wide receiver. 
Last season, Cleveland won seven games without Beckham Jr. In addition, that includes a shocking playoff victory against the Pittsburgh Steelers.
While Dave Gettleman may be pleased with haul he received for Odell Beckham Jr., both sides may be better off not to brag.