David Chao believes ACL surgery will significantly hamper Odell Beckham Jr's season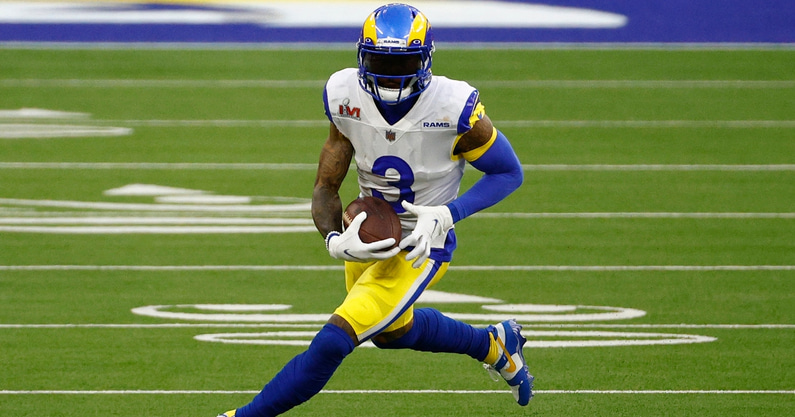 Wide receiver Odell Beckham Jr. proved to be a big-time pickup for the Los Angeles Rams last season. He signed with the team in the middle of the season, catching 27 passes for 305 yards and five touchdowns in eight regular season games. Beckham played a big role in the playoffs, hauling in 21 receptions for 288 yards and two touchdowns. But in the Rams Super Bowl victory over the Cincinnati Bengals, Beckham went down with a torn ACL for the second time in his career.
Beckham is currently a free agent, as he has not yet signed with a new organization. The Rams want him back next season, but a contract has not been agreed to.
With uncertainty on his recovery timeline, Beckham might not be signing anytime soon. Former NFL doctor David Chao doesn't think he will sign in the immediate future, and added that Beckham is unlikely to be on the field when the season gets underway.
"I don't think he's going to sign for a while," Chao said, via FOX Sports. "He's unlikely to be ready at the start of the season. Look at the timeline and projections. His surgery was in February. Six months puts him into the middle of training camp, so if I were betting, I think he's likely to float around until there's a late-season need.
"He's a smart guy. He's a veteran guy. Obviously, he's got an incredible catch radius. Do I think he will be 100 percent this season? Probably not. Can he help a team late this season? He probably could if things go his way."
Beckham is coming back from his second torn ACL in the same knee
In his NFL career, Beckham is a five-time 1,000-yard receiver. He has not done that since 2019, his first season with the Cleveland Browns. His tenure with the Rams was a good one, especially after an ending in Cleveland that didn't go so well.
When Beckham tore his ACL in the Super Bowl, he did so in the same knee that he had surgically repaired just 16 months prior. But Chao said that actually won't have a huge impact on Beckham's recovery.
"The player knows what to expect," Chao said. "And the area that you are working on is similar. In other words, if you had to dig up your yard to fix a pipe and it broke again, you're digging up the same area. And that in some ways is a benefit than digging up a new area because of the dirt you just refilled. It's not solid bedrock.
"If it's apples to apples — isolated ACL to isolated ACL — I find the second one in some ways can be a little better. It's not worse, like people would think, if done well."