2025 4-star TE Davon Mitchell announces top 11 schools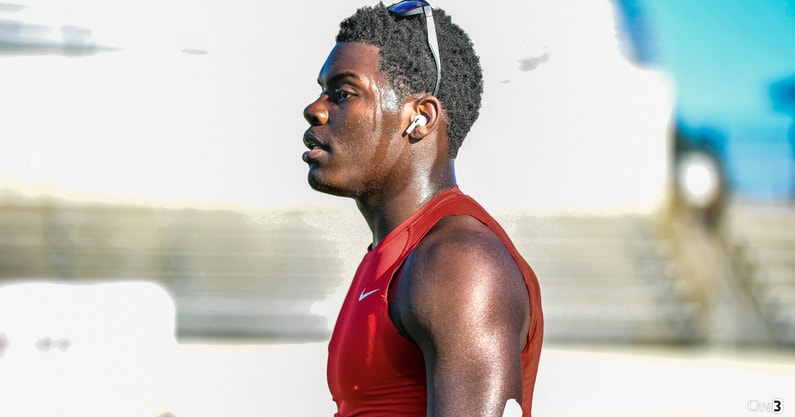 Los Alamitos (Calif.) four-star tight end Davon Mitchell currently holds 30 offers. He is ready to cut down his list by more than half.
Mitchell announced his top 11 schools on Friday. They are Oklahoma, Texas, Texas A&M, Georgia, Alabama, Tennessee, Penn State, South Carolina, USC, Oregon and Ohio State.
"It's most definitely about relationships, development," Mitchell told On3. "I want to go somewhere that's gonna develop me, get me to the next level, to the league. Those are the most important things right now."
The 6-foot-3, 220-pound pass catcher has already visited Alabama, Oklahoma, Texas, Texas A&M and USC. Meanwhile, he plans to see Penn State in mid-March and Tennessee on March 24.
Even though some of Mitchell's finalists have not received a visit yet, that may change in the future. Summer trips to those programs are in consideration.
"At the end, I will pick one of these 11 schools, for sure," said Mitchell, who wants to enroll early. "These schools are the schools that communicate with me a lot. We talk a lot and build relationships."
After taking visits in the summer, Mitchell may release a top five. Seeing schools in person will play an important role in his upcoming decision.
"That's pretty big because I want to know exactly what I'm getting myself into, how I would be used, make sure I surround myself with good coaches for my development," Mitchell said.
Mitchell breaks down his top 11 schools
Alabama: "Alabama's like home. That's where I'm from. I always grew up watching them and I know that they use their tight ends good. Their tight ends had a good season too. I went to watch them at the Iron Bowl, so I was impressed with what I saw."
Oklahoma: "Me growing up, I watched Oklahoma and they use their tight ends very well. I know that their tight end from this year, he had a good year this year. That was good for me. I talk with (outside receivers) coach Dennis Simmons. "
Texas: "When I went to Texas, I enjoyed myself there. The atmosphere was crazy. (Special teams coordinator/tight ends) coach Jeff Banks, he wants me to come play for him. I know they did pretty good with their tight end during the season. They split their tight ends out. They put the tight ends everywhere, so that's how I like to be used."
Texas A&M: "They use their tight ends too. I can't wait to see what they do with their tight ends this year. I know we talked over a few things. I talk to wide receivers coach James Coley."
USC: "My USC visit was pretty good… I met with all of the coaches and they told me how they run everything there and how everything would go, so I really liked what they had to do."
Mitchell also broadly addressed the other six schools he has not visited yet.
"Even though I haven't visited there, I've watched their games," Mitchell said. "I like how they use their tight ends."