Day 1 Standouts: Geico High School Basketball Nationals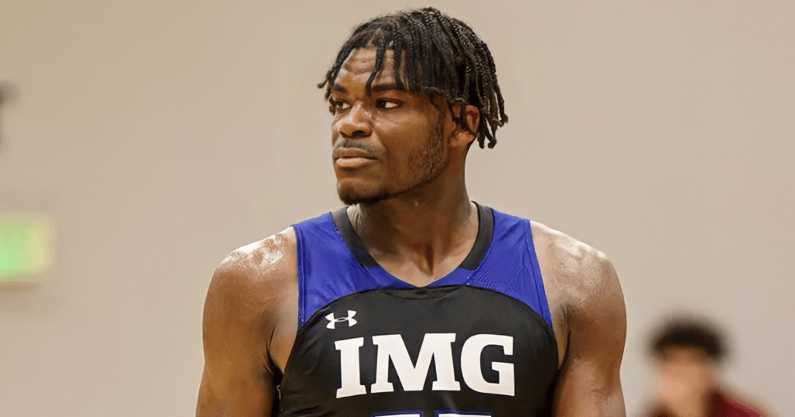 Fort Myers, Florida – Day one of the Geico High School Basketball Nationals is in the books. On3 was sitting baseline, and here are the standouts.
Click here to read the Day 1 Live Blog
6-8 F Jarace Walker
Perhaps there was no more physically dominant player in the field than Jarace Walker. The Bradenton (FL) IMG Academy forward showcased strength, balance, footwork, and vision en route to a 23 points, seven rebounds, four assists, and five blocks performance in the win over La Porte (IN) La Lumiere. Walker, who has signed with Houston, is one of the better iso players in the country. He can face up his man and attack with counters, change of pace, and touch. What stood out in this game was his passing. The reads and deliveries he was making in the open floor were impressive. Walker and IMG will face Montverde (FL) Academy in the semifinals.
6-2 G Judah Mintz
On the day Judah Mintz announced his commitment to Syracuse, Mintz did everything he could to help prolong his legendary head coach Steve Smith's career. Mintz finished with 21 points and seven assists. He touches the paint virtually at will, and in this one, he was able to make a play once there. Mintz brings energy when he defends the ball, and he has a competitive nature that wants to win.
6-7 F Malik Reneau
Montverde (FL) Academy can beat you in so many ways with so many different weapons. On night one of the Geico Nationals, Malik Reneau, carried the load. The lefty is so efficient in his game. Nothing flashy, he knows who he is and what he does best, and he gets to those spots. Reneau is also an outstanding team defender. He plays great angles and is not afraid to step in and take a charge. Reneau is very comfortable scoring over his right shoulder and most effective 15-feet and in.
Reneau recently de-committed from Florida when head coach Mike White took the job at Georgia. Miami and Florida State were also involved in the first go-around for Reneau. Georgia will have some conversations as well.
6-1 G Jordan Pope
The day after he committed to Oregon State, Jordan Pope showed up in Fort Myers, Florida, and slayed Goliath. Pope finished with 23 points and three assists as the eight-seed Napa (Calif.) Prolific Prep defeated the No. 1 seed Bel Aire (KS) Sunrise Christian. This was the first time in the 13 years of Geico Nationals that there was an eight over one upset. Pope was a confident scorer in this one, he made shots, and his five threes led the way. Prolific Prep will play Branson (MO) Link Academy today.
6-7 F Jordan Walsh
His all-out pursuit of making the play makes Jordan Walsh so effective on the basketball court. In other words, his motor runs hot. The Arkansas signee knows one speed, and that is go-fast. Walsh has excellent anticipation in the passing lanes; he attacks the basket in straight lines with a purpose and finishes high above the rim. While the McDonald's All-American's game may not be the most aesthetic, Walsh's 23 points, eight rebounds, and seven assists on 9-10 shooting will turn heads.
6-5 SG Ryan Mabrey
While his La Porte (IN) LaLumiere team fell on the short end, 6-foot-5 Ryan Mabrey made his mark. There is not much buzz surrounding Mabrey on the recruiting front; he does have a Vermont offer, but that should certainly change. One of the most deadly shooters in the country, Mabrey showed here he is more than that. He can create off sloppy closeouts and score in multiple ways. It will be interesting to see which programs go after him after the coaching carousel slows down and rosters become more set. If you turn on the tape from the NIBC, programs will like what they say in Mabrey. He finished with 15 points on 6-10 shooting from the field and 3-5 from three on night one of the Geico Nationals.
Day 2 Schedule – Semifinals
2:30 EST (2) Bradenton (FL) IMG Academy vs. (3) Montverde (FL) Academy
4:30 EST (4) Branson (MO) Link Academy vs. (8) Napa (Calif.) Prolific Prep