LOOK: Deebo Samuel wears diamond-studded cleats for Cowboys-49ers playoff matchup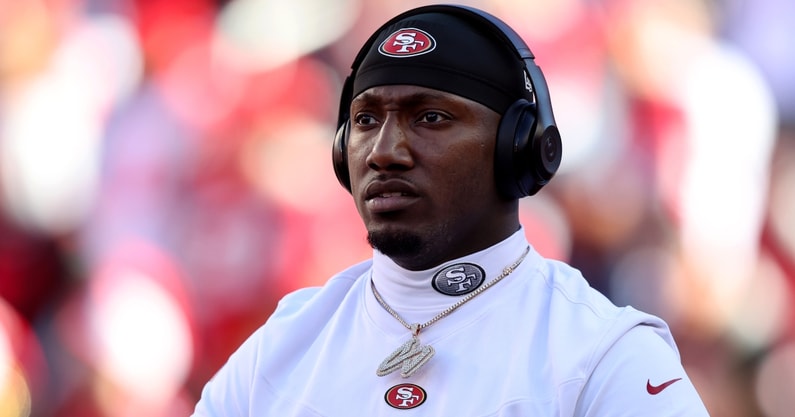 San Francisco 49ers star wide receiver Deebo Samuel is one of the most electrifying players in the National Football League. The former South Carolina star has firmly cemented his place as one of the most versatile receivers in the NFL, both with his talent as a receiver and as an electrifying runner. The superstar wideout hasn't been shy about wearing flashy jewelry or shoes over the years and on Sunday evening against the Dallas Cowboys, he broke out some beautiful diamond-studded cleats for their playoff matchup.
Check them out below.
Notice that Samuel is also rocking a flashy necklace. Simply put, when you put up the kind of numbers that he has in the NFL, then you get to wear whatever you want. As long as you play at a high-level on the field, then there shouldn't be any problems with a player having some fun with some flashy accessories.
Samuel has already tormented opposing defenses to the tune of over 3,200 receiving yards and 12 receiving touchdowns thus far in his four years in the league. As a runner, he has shredded defenses for 782 rushing yards and 14 touchdowns on 123 carries. His best season without a doubt, came during the 2021 season, when he racked up 1,770 all-purpose yards and 15 total touchdowns, including one passing touchdown.
The San Francisco 49ers defeated the Dallas Cowboys 19-12 on Sunday in a hard-fought contest, so the 49ers and Deebo Samuel will be heading to the NFC Championship Game to face off against the Philadelphia Eagles on January 29th. Kickoff for that one is slated for 3:00 PM EST.
Deebo Samuel was one of the most explosive playmakers in college football during his time with South Carolina
He finished his highly decorated career there with 3,457 total all-purpose yards. In the 2018 season, he earned first team All-American honors as an all-purpose threat, after he racked up 882 receiving yards and 570 kick return yards. Samuel finished with 1,478 all-purpose yards that season, just ahead of the mark that he had in the 2016-2017 season, when he put up 1,320 all-purpose yards.
Coming out of Chapman High School (Inman, South Carolina), Samuel was rated as a three-star prospect and the No. 80 wide receiver prospect in the nation, according to the On3 Consensus Rankings for the 2014 cycle.