DeMarvin Leal explains why Karl Dunbar made difference with Steelers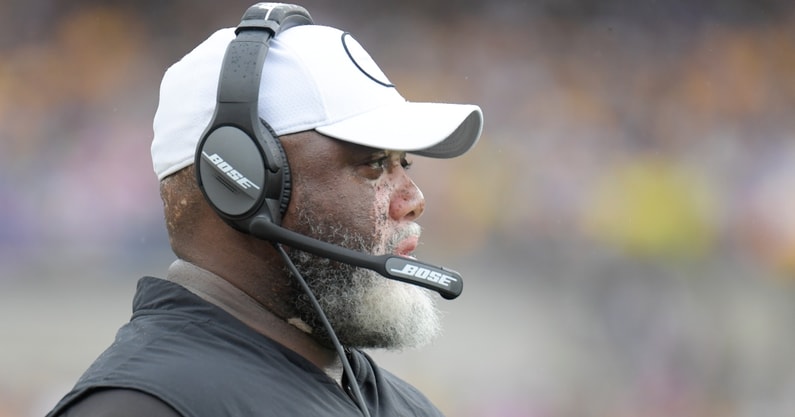 Following his selection in the third round of the 2022 NFL Draft, former Texas A&M star defensive lineman DeMarvin Leal said that he always knew he wanted to play in Pittsburgh. Following that claim, Leal said that a big reason for his desire to come to the Steelers was Pittsburgh's defensive line coach, Karl Dunbar.
Dunbar has been with the Steelers for the past few seasons, and he is also familiar with some of Leal's former coaches at Texas A&M. That played a big role in the pre-draft process.
"Coach Dunbar," Leal said when asked why he wanted to play for the Steelers. "He's a fantastic coach, and he has ties with my defensive line coach at A&M as well. When we first met, it was just automatically clicked."
Dunbar played in the NFL as a player, and he began his coaching career in 1998. He spent a few years in the college ranks, serving as the defensive line coach at LSU and Oklahoma State from 2000-2003 before heading to the NFL. In 2004, he held the same position with the Chicago Bears before heading back to LSU in 2005.
In 2006, Dunbar returned to the NFL, serving as the Minnesota Vikings defensive line coach from 2006-2011. He had the same role with the New York Jets and Buffalo Bills from 2012-2015, and then returned to the college ranks at Alabama from 2016-2017. Dunbar was hired by the Steelers in 2018.
Leal knew he wanted to play for the Steelers because of Dunbar
Dunbar and Leal stayed in contact prior to the draft, which played a big role in his selection on Day 2 of draft weekend.
"We hopped on a few phone calls and then we also had dinner after pro day," said Leal. "That was good for a good two hours, just me and him talking it up, talking about ball and each other. Just personal lives, things that we like to do and everything. So it just went extremely well."
After being drafted, Leal admitted that he wanted to play for the Steelers all along. A big part of that was Dunbar, and now the two will be able to team up in the NFL.
"I wanted to come here," Leal said. "So like it was a no-brainer when I got that call from Pittsburgh. It was like I was more waiting on it, just time. So it was just all God's timing as well. So just was blessed when I first got it."