Denver Broncos set up tribute to Demaryius Thomas outside of stadium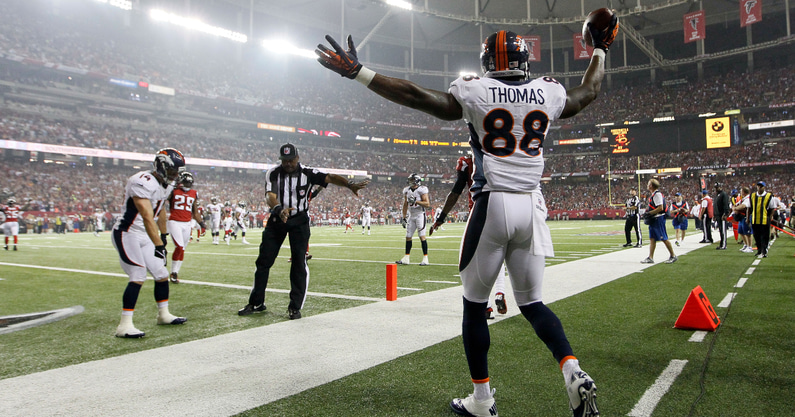 The entire NFL community was in mourning with the Denver Broncos last week, when former wide receiver Demaryius Thomas was unexpectedly pronounced dead at just 33 years old.
The Broncos are set to host the Detroit Lions on Sunday at 4:05 p.m. ET, and in the first game since Thomas' death, the Broncos set up a memorial for the former Denver wideout outside the stadium.
According to police in Roswell, Georgia., Thomas was found dead in his home on Thursday night. Police said his death was the result of a medical issue, and they do not have any reason to believe there were other causes at this time.
One of Thomas' first cousins, LaTonya Bonseigneur, told the Associated Press that the family thinks Thomas died from a seizure.
"He had been suffering from seizures for over a year, and we believe he had a seizure when he was showering," Bonseigneur said on Friday. "We're not sure when he died. We just spoke with him yesterday."
Thomas had storied college, NFL career
Thomas played college football for Georgia Tech from 2007-09, posting 1,154 yards and eight touchdowns during his final season. The performance earned him a first-round selection in the NFL Draft. Denver took him 22nd overall. 
A native of Montrose, Ga., the receiver got his start at West Laurens High School. Despite also receiving a scholarship offer from the Georgia Bulldogs, he opted to play for the Yellow Jackets. They made an appearance in the Orange Bowl in 2009, falling to Iowa. 
He went on to enjoy a decorated career which included five Pro Bowl selections and a Super Bowl. He surpassed the 1,000-yard mark in five of his 11 seasons, finishing his career with a total of 9,763 yards and 63 touchdowns. His 9,055 receiving yards over nine seasons with Denver ranks second in franchise history, and his 60 career touchdown catches are third among all Broncos. 
Thomas also spent time on the Houston Texans, New England Patriots and New York Jets. He announced his retirement from the sport just months ago in June of 2021.
Broncos fans will always remember Thomas' integral role with the team in the early 2010s, but none stands out more than 2015. With Peyton Manning as his quarterback, Thomas finished with 105 receptions for 1,304 yards and six touchdowns. He helped the team to a 24-10 Super Bowl victory against Cam Newton and the Carolina Panthers. 
In all, the Broncos made the playoffs in five of the nine seasons Thomas was on the roster. In addition to winning the Super Bowl in 2015, they also made an appearance in the big game during the 2013 season, but they ultimately fell to the Seattle Seahawks.
On3's Ashton Pollard and Chandler Vessels contributed to this report.