3-star OT Deryc Plazz announces top five schools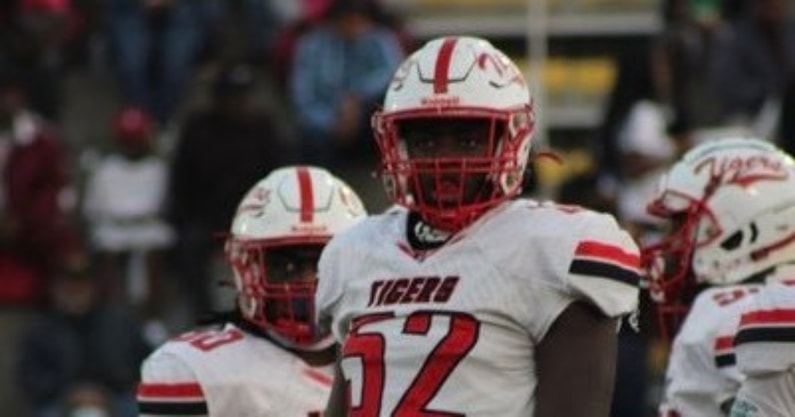 Jacksonville (Fla.) Andrew Jackson three-star offensive tackle Deryc Plazz announced his top five schools on Saturday. They are Duke, Florida State, Miami, NC State and Penn State.
Plazz is the No. 989 overall prospect and No. 73 offensive tackle in the 2024 cycle, according to the On3 Industry Ranking, a weighted average that utilizes all four major recruiting media companies. He is also the No. 132 player in Florida.
The 6-foot-6, 265-pound recruit has already locked in four official visits to his finalists. He will be at Penn State on June 2-4, Duke on June 9-11, Miami on June 16-18 and NC State on June 23-25.
"I want a program that develops the guys that are three or four-stars, not just a school that brings in the best offensive line class every year," Plazz told Sean Fitz of BlueWhiteIllustrated on May 13. "I want a school that actually takes time to develop guys across the field."
"Whether it be the ACC, SEC, etc., I want a school that plays in a dominant athletic conference and also has a good education because football doesn't last forever," he added.
Plazz discusses his interest in NC State
According to the On3 Recruiting Prediction Machine, the Wolfpack are leading for Plazz's commitment at 31.7%. He visited North Carolina State last month.
"Raleigh is definitely a beautiful place where I'm comfortable and feel safe," Plazz told Ethan McDowell of The Wolfpacker on April 10. "On the football side, I've built great relationships with many staff members and definitely understand I'm a priority."
"It means everything because there's schools that offer five-to-10 guys and there's schools that offer 50," he added. "The schools that offer five-to-10, it's a blessing, especially at a school like NC State who has consistently put linemen on both sides of the ball into the NFL. It means a lot being at the top of their board."
The three-star has visited four of his finalists this spring. He was at Duke on April 8, NC State on April 6, Florida State on April 1 and Miami on March 24.
"I'm going to ask a lot about the weight room, the development of the players, the history of the program because I know they're building something right now," Plazz told McDowell on Jan. 31. "But history is still rich and history will always repeat itself."
"So I'm interested in the history of the programs, the fans, which I hear are great, just the overall atmosphere around the coaches, the staff, recruiting assistants, anybody, players," he added. "I'm just, overall, trying to get a good feel of positive things, positive vibes, room for opportunity and room for growth."