Details emerge on amount of money Kyrie Irving has lost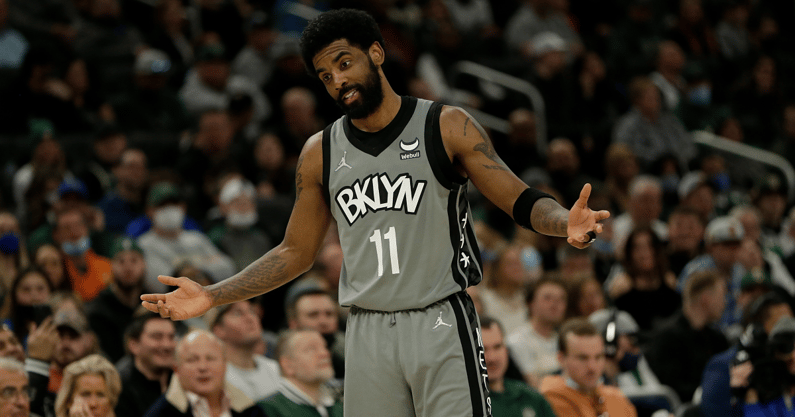 Kyrie Irving has lost a lot of money this season for his refusal to get the COVID-19 vaccine. The Brooklyn Nets guard has forfeited a total of $11.4 million for missed home games during 2021-22, Spotrac tweeted Tuesday.
Irving is ineligible to compete in Nets home contests at the Barclays Center because of New York City's vaccine mandate. He did not make his first appearance this season until Jan. 5, and has so far played in only 15 games. The star's absence has also affected his team's on-court success, as they have fallen from first to now eighth place in the Eastern Conference.
New York City mayor Eric Adams announced plans Sunday to lift the vaccine mandate, seemingly good news for Irving and Brooklyn. However, the city still has an additional private sector vaccine mandate that states "employers may not allow any unvaccinated employees to report to their physical workplace, unless they have requested and received an accommodation." Adams said though he would love to see Irving back on the court, he isn't willing to make an exception for the star.
The private sector mandate could still be removed in the near future, and ESPN's Adrian Wojnarowski tweeted that there appears to be "an inevitably" that Irving will play at home later this season.
But for the time being, the Nets are without Irving as well as stars Kevin Durant and Ben Simmons. Durant has not played since mid-January after suffering an MCL sprain, but is expected to return to the lineup this week. Simmons is still out indefinitely after he was acquired from the Philadelphia 76ers in a trade involving James Harden.
Although he can't get back the money he lost this season, Kyrie Irving could be in for a big pay day next year. The NBA star has a player option worth $36.9 million in 2022-23. He could either accept it and take the money or, if he is happy in Brooklyn, decline and attempt to extend his contract a few more years.
If Irving re-signs with the Nets, Spotrac estimates he will make a total of $245.6 million over the next five seasons. If he declines his player option and agrees to a deal with another team, that number drops to $182.1 million over four years.
Brooklyn is net set to face the Toronto Raptors at 7:30 p.m. ET Tuesday. Because the game is on the road, Irving will be eligible to suit up for the Nets.