Details revealed on Tua Tagovailoa's future with Miami Dolphins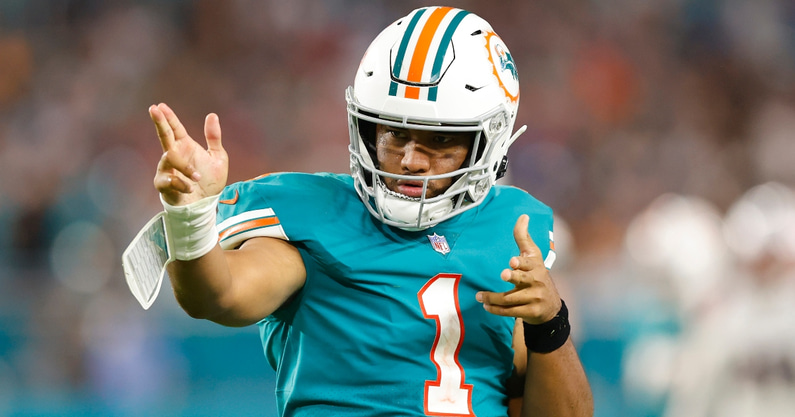 Tua Tagovailoa just wrapped up his first full season as the starting quarterback for the Miami Dolphins. Throughout the last year, the Dolphins have had reported interest in Houston Texans quarterback Deshaun Watson. But now, with head coach Brian Flores being fired, more clarity has apparently come on Tagovailoa's future with the Dolphins.
According to Ian Rapoport of NFL Network, the Dolphins believe in Tagovailoa and plan to build around him moving forward.
"Tua Tagovailoa is expected to be the quarterback for the 2022 season, sources say, barring some sort of unforeseen occurrence," Rapoport said. "The organization's belief in him as their starter is considered significant, and it appears the search for a flashy replacement is over.
"A new head coach will, source says, have the opportunity to evaluate every facet of the football team, including the QB. But the hope is to find a candidate who believes in him and can bring the best out of him."
The Dolphins finished this season with a 9-8 record, falling short of the playoffs. Tagovailoa missed multiple games with injuries, adding to the questions about his future with Miami. On the season, Tagovailoa completed 67.8 percent of his passes for 2,653 yards, 16 touchdowns and 10 interceptions. He also added three rushing touchdowns.
Dolphins hope to find a head coach that believes in Tagovailoa
Following the Dolphins' decision to fire Brian Flores, details emerged about his belief in Tagovailoa. According to former Cleveland Browns general manager Michael Lombardi, Flores had little belief or confidence in Tagovailoa. Flores reportedly wishes he would have selected Mac Jones in the NFL Draft last season, just one year after the Dolphins grabbed Tagovailoa fifth overall.
In a press conference this week, Dolphins owner Stephen Ross also reiterated his confidence in Tagovailoa, but also added that his future will ultimately be determined once a new staff is in place.
"I watched him grow," Ross said of Tagovailoa. "He's a fine young man, and he is right now our quarterback and that will be dependent upon the new head coach, but I have a lot of confidence in Tua."
After being taken in the top five of the 2020 NFL Draft out of Alabama, Tagovailoa took over for Ryan Fitzpatrick as Miami's starting quarterback during his rookie season last year. As a rookie, he threw for 1,814 yards, 11 touchdowns and five interceptions, adding three rushing scores.
With Flores out, it appears that a potential trade for Deshaun Watson is now also out of the picture. With the Dolphins likely banking on Tagovailoa, next season will be an extremely important one for the future of the team.