How Devin Brown became the most sought-after quarterback in the 2022 cycle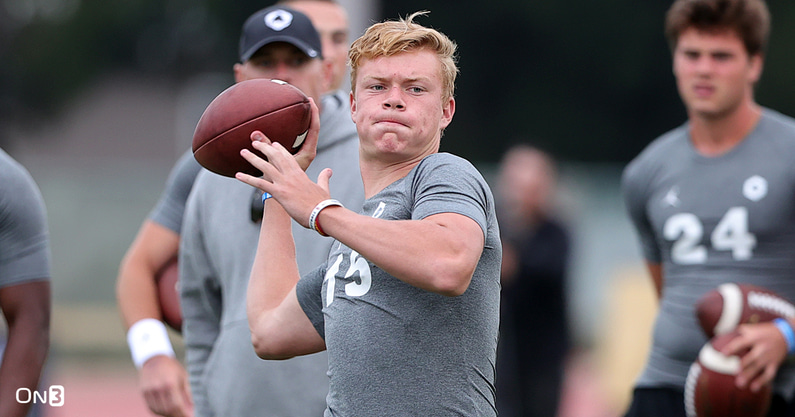 Devin Brown has had a busy fall. The current USC quarterback commit had to balance his senior season with an increasingly active recruitment – one that was shaken up by Clay Helton's dismissal as the Trojans' head coach back in September.
The 6-foot-3, 190-pound signal caller has added fall offers from Ole Miss, UCLA, Ohio State, Texas and Notre Dame. He's taken official visits to Ole Miss, Texas and Ohio State, with the latter two trips occurring earlier this month.
The shift in Brown's recruitment has coincided with a strong senior season at a new high school. He moved to Utah from the Phoenix area, playing his senior campaign at powerhouse Corner Canyon in metro Salt Lake City. Eric Kjar's program has produced former BYU and New York Jets No. 2 draft pick Zach Wilson along with USC freshman quarterback Jaxson Dart, an On3 five-star in the 2021 cycle.
As a senior, Brown completed 254 of 372 passes (68.3%) for 4,881 yards and 57 touchdowns with 14 interceptions. He also rushed for 430 yards and eight more scores. The 4,881 passing yards broke the Utah single-season record.
His season came to an end last Friday in a heart-breaking 49-42 loss in the state championship. The blue-chip passer played very well in the game, completing 22 of 28 passes for 386 yards, four touchdowns and one tipped interception. He also ran the most of any game to date, rushing for 103 yards and another touchdown.
Brown recently rose to the No. 27 overall prospect and the No. 2 quarterback in the latest On300 update for the 2022 cycle. Let's take a look at what makes him one of the nation's top quarterback prospects.
Devin Brown's arm talent stretches the field
Devin Brown has some of the best arm talent among top quarterback prospects in the 2022 cycle. This was evident at the Elite 11 Finals in July, where Brown was named On3's top performer.
Here's what I wrote at the time: "The Arizona native flashed a quick throwing motion and was able to generate considerable zip on his passes to all levels. The ball came out of his hand quick and hot."
Brown has continued to show that ability on his senior video, which is packed with aggressive, downfield throws.
We see Brown push the ball vertically with ease. He hits hole shots down the boundary and places the ball in some tight windows over 40 yards downfield. Brown also rips throws across the middle of the field on deep in-breaking routes. His average depth of target has to be the highest among top 2022 quarterback prospects.
Increased pocket movement and mobility
Devin Brown is also a good athlete and showed some encouraging mobility as a senior. This was on display in the semifinals and state championship.
Brown showed the ability to slide and strafe within the pocket in the semifinal win over Weber. He also made a number of second-reaction plays in the state title against Lone Peak, with several coming on a key touchdown drive to tie the game in the 4th quarter. Brown stepped up in the pocket to avoid pressure and found a receiver for a key 3rd down conversion.
A few plays later, Brown slipped out of what looked to be a sure-fire sack and hit a receiver. He capped things off with a huge play on 4th-and-2 in the red zone. Brown was flushed to his left and was able to deliver across his body, hitting a receiver who was moving to his right in the end zone.
We also saw Brown show some rushing ability in the red zone. Corner Canyon utilized zone read and some quarterback draws to take advantage of his mobility. Brown had reportedly never had a designed run called for him at his prior high school. He also scrambled for several first downs in the state championship game.
Looking at the numbers
There's no question that Devin Brown has one of the more interesting statistical profiles I've seen from a top quarterback prospect.
The raw passing stats are gaudy. He averaged nearly 350 yards and four touchdowns per game. The 13.1 yards per attempt is among the highest I've seen from a top quarterback prospect over the last few cycles. This is in part due to Corner Canyon's offensive approach – Jaxson Dart averaged 13.6 yards per attempt in 2020.
Brown also threw 14 interceptions, a mark that is higher than most, if not all of his highly-rated peers. I tracked down video of 10 of the picks to look for any commonalities.
Several of the interceptions were a result of Brown trying to thread the needle downfield and defensive backs jumping out-breaking or vertical routes. It's also worth noting that this was Brown's first year in the offense, so some early miscommunication with receivers is to be expected. For the most part, the interceptions were a result of taking risks and decision-making, rather than accuracy.
It's encouraging that Brown improved over the course of the season and played his best football down the stretch in the playoffs. He completed 70 of 93 passes for 1,074 yards and 15 touchdowns with one tipped interception in the final three games.
Moving forward
Even though the season has ended, Devin Brown's schedule is not going to lighten up anytime soon. His recruitment is likely to continue ramping up with the Early Signing Period just a few weeks away. USC will hire a new head coach while Ryan Day, Steve Sarkisian, Lane Kiffin and others continue to make their pitch.
From an evaluation perspective, we'll get to see Brown on the all-star circuit, as he's slated to play in the All-American Bowl in January. That setting will provide a closer look at Brown's abilities relative to other top quarterbacks, all while facing top defensive prospects.
Whether its his recruitment or at all-star games, Devin Brown is sure to have a lot of eyes on him over the next few months.