Did Mizzou make up ground on OU for 2023 OL Cayden Green?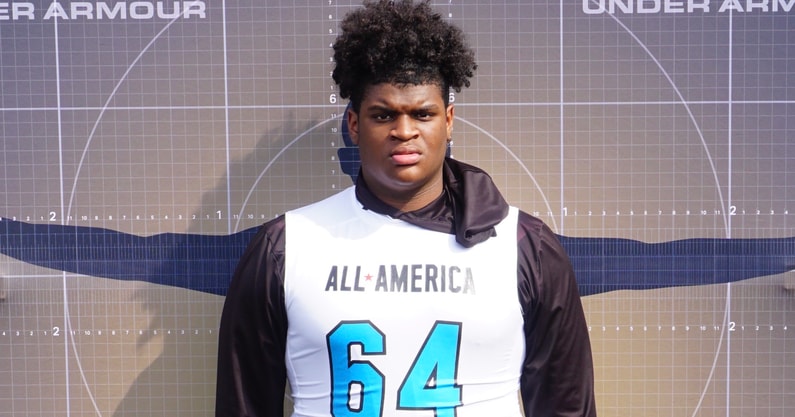 Highly coveted junior offensive lineman Cayden Green of Lee's Summit (Mo.) North says he remains a "big fan of Oklahoma." But the Missouri Tigers did all they could to make a big impression when Green was on campus this weekend for the Central Michigan game.
"I had fun yesterday," Green, who is 6-foot-5 and 310 pounds, said. "It was cool to see action with fans in the stands. It wasn't completely packed just because it wasn't a terribly big game. But it was definitely really cool."
Cayden Green said he used the opportunity at Missouri to also get to know the coaches better.
"I talked to most of the staff," Green said. "Mostly coach (Marcus) Johnson, coach Drink (Eliah Drinkwitz) and coach (Casey) Woods. It was good to connect with them."
Cayden Green will be busy this fall
Cayden Green already has more than 25 scholarship offers. Green's newest offer came from Florida last week. He said since Sept. 1 his phone has been busy with schools reaching out via text message. But Green said he's taking it all in stride.
The Gators join Green's list of earlier offers – Oklahoma, Arkansas, Georgia, Georgia Tech, Illinois, Indiana, Iowa, Iowa State, Kansas, Kansas State, Kentucky, Liberty, LSU, Miami of Ohio, Michigan, Michigan State, Missouri, Nebraska, Notre Dame, Oklahoma State, Oregon, Tennessee, Texas A&M, Washington State.
Green is scheduled to be at Oklahoma this upcoming weekend when the Sooners host Western Carolina at 6 p.m. Saturday night. It'll be his third visit to Oklahoma.
"I am still a very big fan of Oklahoma," Green said when asked about his interest in OU. "They are recruiting me very hard now, too."
Iowa will get a visit, too
After the visit to Norman, Cayden Green said he has lined up an unofficial visit to Iowa for the Penn State game on Oct. 9.
In early August, Green released a top 10 but also said his "recruitment is still open." The top 10 schools included Iowa, Georgia, Oklahoma, Missouri, Nebraska, Kentucky, Texas A&M, LSU, Michigan and Notre Dame.