DJ Wagner taking his time, talks Kentucky-Louisville rivalry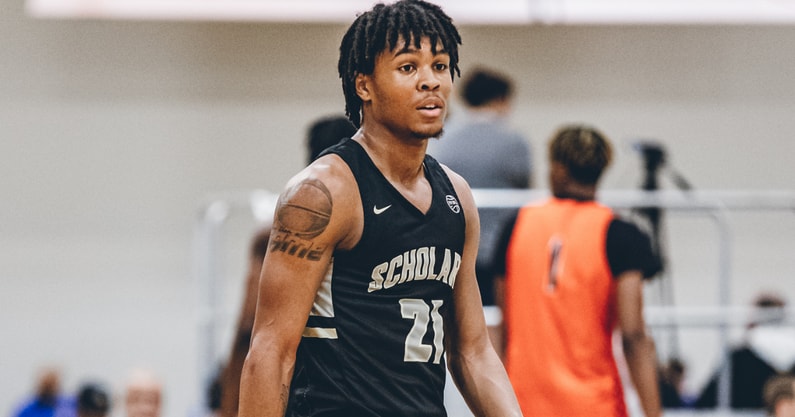 DJ Wagner is in the midst of one of the most publicized recruitments we've ever seen, and you'd never even know it by speaking with him. The 6-foot-3 combo guard from Camden, New Jersey doesn't pay it any mind that he's one of the most talked-about prospects in grassroots basketball.
"It's just a part of the process," he says nonchalantly.
While most teenagers are obsessed with followers and the blue checkmark on Instagram, Wagner stays off it for the most part and prefers to remain more low-key.
"I'm still a kid, I still like to have fun," he said in a crowd of media surrounding him. "When it comes to social media, I'm not really on it like that."
A couple of months ago, the casual basketball recruiting fan wasn't all too interested in Wagner's recruitment, because, well, everyone assumed he'd go to Kentucky. However, it all became much more interesting when Louisville hired Kenny Payne, a long-time Kentucky assistant and close friend of DJ's grandfather, Milt.
The Kentucky-Louisville rivalry is 'crazy'
What makes this recruiting battle that much more interesting is the connection Wagner has to both programs, not to mention the long-time rivalry between the two in-state powerhouses, of Louisville and Kentucky. Even Wagner recognizes the magnitude of the rivalry.
"I feel like it's crazy, the Kentucky-Louisville rivalry," Wagner said. "That rivalry between Kentucky-Louisville in general, and just the history behind it, it's a great rivalry."
Despite being the No. 1 Consensus prospect, Wagner handles all of the attention and pressure like a champ. Maybe because, he learned it from his father, Dajuan, a former McDonald's All-American and National high school player of the year. When Dajuan graduated high school in 2001, he had many of the same options, as his son, DJ –Kentucky, Louisville, Memphis, and others. Ultimately, Dajuan chose Memphis, coached by John Calipari at the time, before being selected as the 6th overall pick in the NBA draft.
DJ says his father has been a big help throughout this process, because he too, went through it as well.
"He's helped me a lot," DJ said. "It's made it a lot easier for me. I'm blessed that he was in that position before and he's able to show me and teach me different stuff because he's been there before."
Wagner not focused on recruiting
Media personnel is chomping at the bit to hear about DJ's next move or college visit, but the whole topic of recruiting isn't really a priority for him.
"I don't really focus on recruiting or anything like that. When the time is right, I'll make a decision. Right now, I'm going to take my time with the decision."
DJ also says he doesn't have any other college visits set up. In October of last year, Kentucky and Memphis hosted him for visits.
Besides Kentucky and Louisville, Wagner says he hears from Syracuse, Arkansas, and Seton Hall. However, it would be a surprise to see him play his college ball for anybody other than John Calipari or Kenny Payne.
Louisville scholarship unclear
Speaking of Kenny Payne… With all the talk of Louisville, I asked DJ if the Cardinals have officially offered him a scholarship and he responded: "As of right now, I'm not sure what's going on. As of right now, I don't know. I've talked to them though. Coach Kenny has just been saying what's up, nothing too crazy."
The fogginess of the scholarship situation will likely be cleared up soon enough because there isn't a question here of whether or not Louisville wants Wagner.
Recently, there were also rumors floating about that Louisville could hire DJ's grandfather, Milt Wagner. Milt and Kenny Payne played together at Louisville and won a national championship in 1986. However, bringing on the eldest Wagner is no longer an option, as Payne hired Oregon's Josh Jamieson as his third and final assistant coach. For more information on that, read here.
Even though Milt Wagner and Kenny Payne go way back, DJ is still getting to know Lousiville's new head coach.
"I don't have a super close relationship with him or anything, but I know he's a great coach, and him getting the (Louisville) job, that's really good for him," DJ said to On3 in a recent interview.
Kentucky offers teammate of DJ Wagner, talks college team-up
Earlier this month, the Kentucky staff offered DJ's high school and AAU teammate, Aaron Bradshaw.
Bradshaw, a 7-foot-1 center, is one of the top big men in the class of 2023.
His reaction to earning an offer from Kentucky was priceless.
"I ain't gonna lie, I started crying because when you work for something and you actually get it, it's a surreal feeling," Bradshaw said to On3 in regards to the offer from UK.
Wagner is also happy for his teammate and friend to receive an offer from such a legendary program as Kentucky.
"I feel like it's great," Wagner said in regards to Bradshaw receiving a Kentucky offer. "I feel like he deserved it. He's put the work in for it, and he's worked hard. I'm really happy for him."
In a premium article, I recently wrote: It should also be noted that Kentucky didn't offer Bradshaw based solely on increasing the odds of landing DJ, but landing one would likely encourage the other. 
It goes without being said, Wagner and Bradshaw teaming up in college would be a sight. Even DJ agrees.
"It would be crazy to play with him in college," he says.