Dolphins wide receiver Allen Hurns needs wrist surgery, will miss time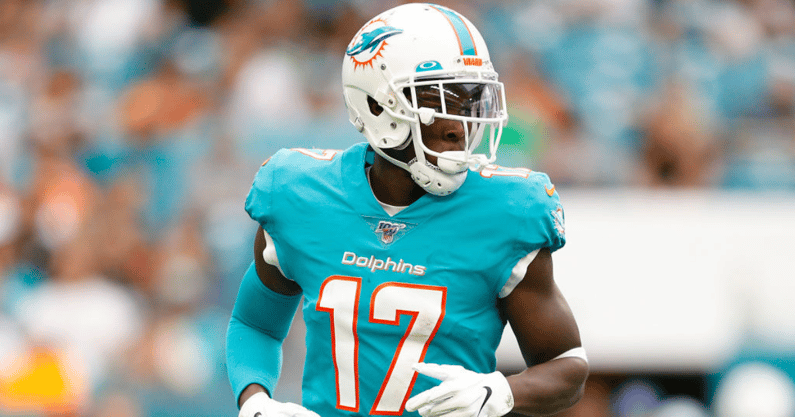 Miami Dolphins wide receiver Allen Hurns will undergo surgery to repair a wrist injury, per NFL Network's Cameron Wolfe. The procedure is expected to keep Hurns out of the lineup for approximately three months. The injury adds to a long list of ailments in the Dolphins wide receiver room entering the 2021 season.
Hurns is entering his second season with the Dolphins and was set to be a key part of the offense led by second-year quarterback Tua Tagovailoa.
More injured wide receivers
Allen Hurns' wrist injury adds to the Dolphins' problems. Fellow wide receivers DeVante Parker and Will Fuller are also dealing with injuries which could cause them to miss time.
"We are going to get those guys back as soon as we can. We have two preseason games left and then there's two weeks…. we have time to get timing together," said Dolphins' head coach Brian Flores, per the South Florida Sun-Sentinel's Omar Kelly.
Kelly added commentary from quarterback Tagovailoa as well.
"Only time can tell, whenever those guys are available and get back in action; it just takes practice. Practice to get communication and chemistry with one another," said Tagovailoa.
Fuller injured his foot during the second day of training camp. He signed a one-year, $10.6 million contract with the Dolphins in March after five years in Houston.
Parker, who has been with the Dolphins since they selected him in the first round of the 2015 NFL Draft, was removed from the Physically Unable to Perform list on Aug. 2 after missing the first week of camp due to a soft-tissue injury. He has been participating in practice.
Dolphins no strangers to injury
The full list of NFL injuries these wideouts have had is almost too crazy to be true.
In 2016, Fuller had hamstring and knee problems. In 2017, he broke his collarbone and cracked his ribs in different incidents. Fuller tore his ACL in 2018. In 2019, he missed games due to a strained hamstring and a groin injury. Additionally, Fuller missed time in 2020 for PED issues. When he is healthy, Fuller is one of the league's top big-play receivers. Prior to the PED suspension in 2020, he averaged 16.6 yards per reception and had eight touchdowns through 11 games.
Parker broke a screw in his foot in 2015, had hamstring problems in 2016, an ankle sprain in 2017 and a finger fracture and quad strain in 2018. Last December he strained his hamstring. Parker is also a very explosive receiver, having averaged 16.7 yards per reception with nine touchdowns in 2019.
Hurns adds to the list of unusual injuries. He fractured his patella in January of 2019, suffering his fourth concussion later that year. Hurns is a veteran receiver who averages 14.0 yards per reception in his six-year career.