Duke Basketball makes ACC history in 2022 NBA Draft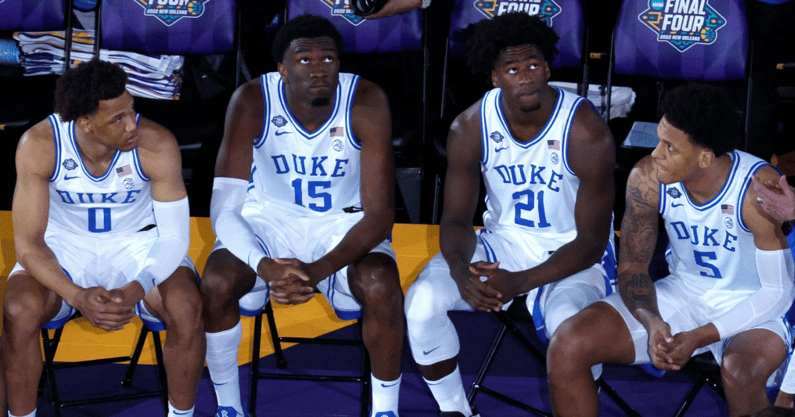 Duke has one of the premier college basketball programs in the nation. That has helped them become one of the elite programs who consistently get their players to the next level. They're one of four programs with over 100 NBA Draft selections at 106 after last night. They produced 46 first rounders and 29 lottery picks during Mike Krzyzewski's tenure, more than any other coach or program in that span.
During the 2022 NBA Draft, they continued to stake that claim. The Blue Devils had five players selected in last night's draft. Leading the way for Duke was Paolo Banchero who went No. 1 overall to the Orlando Magic. From there, Mark Williams went 15th to Charlotte, AJ Griffin went 16th to Atlanta, Wendell Moore went 26th to Dallas, and Trevor Keels went 42nd to New York. That quintet of Duke players broke or extended three records for the school and ACC.
Five players being selected in a 58 pick draft is an impressive feat. Seeing four of them go in the first round is even more so. Those four first round selections tied a school record from 1999. It speaks volumes to a team that went 32-7 and made a Final Four run in 2022.
This is also the fifth draft since since 2015 that's featured at last three Blue Devil selections. That includes three selections in 2015, 2019 and 2020, four selections in 2018, and five selections in 2017 and 2022.
Paolo Banchero joined an elite list as the latest Blue Devil selected in the Top-3. Since 2014, Duke has seen Jabari Parker, Jahlil Okafor, Brandon Ingram, Jayson Tatum, Marvin Bagley III, Zion Williamson, and RJ Barrett go in the first three picks.
Even with Krzyzewski retiring, this precedent that Duke has set won't stop there. Records like these will only become even better recruiting tools to bring more top-end talent to Durham.