Duke, Kentucky, Michigan State, Kansas; Previewing the Champions Classic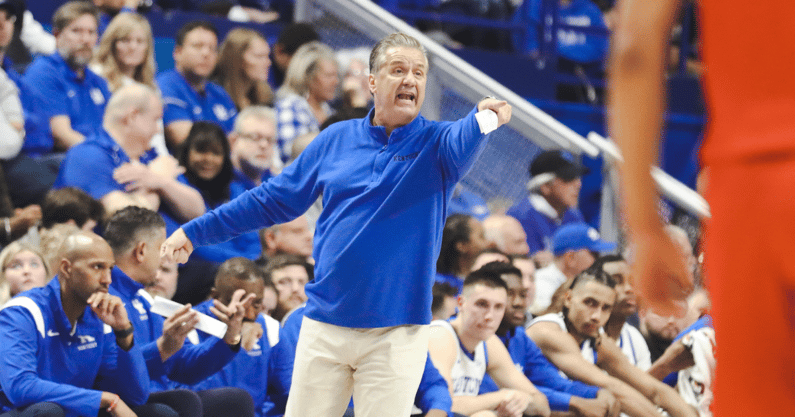 Sure we are one week into the college basketball season, as in we have games under our belts. However, tonight marks the day everyone starts paying attention. The 2022 State Farm Champions Classic kicks off at 7:00 PM EST from the Gainbridge Fieldhouse in Indianapolis, Indiana. They market this event as the battle of the blue bloods, and both games will be televised live on ESPN.
These two neutral-court games are the first real look the viewers have at these programs and also many of these players. Players like Gradey Dick and Dereck Lively are being talked about as potential lottery picks. At the same time, upperclassmen like Jalen Wilson and Jacob Toppin are trying to play their way into the first-round conversation.
Here is how we see the Champions Classic shaping up.
(4) Kentucky vs. Michigan State
Through the first week, Kentucky is in the short conversation for the top team in the country. They have depth, experience, and talent. Michigan State, the only unranked team in the field, is also the only battle-tested team in the field, going toe-to-toe with Gonzaga in the one-point loss in the Carrier Classic.
The lede for this Champions Classic game is returning National Player of the year Oscar Tshiebwe and his status for the game. Reports coming out of Lexington expect him to make his season debut. Tshiebwe, a junior, averaged 17.4 points and 15.1 rebounds last season.
While Kentucky is filled with talent, two players who will have many scouting eyes on them are freshman point guard Cason Wallace and senior forward Jacob Toppin. Wallace was the top-ranked point guard in the 2022 On3 150. Considered the best perimeter defender in his high school class, Wallace's competitive spirit shone brightly. You never know with freshmen how they'll adjust to the speed of the college atmosphere, especially in high-level games, but Wallace has averaged 11.5 points, 6.5 assists, 5.5 rebounds, and 2.0 assists on 58 percent shooting so far.
Jacob Toppin is a late bloomer. The younger brother of former College Player of the Year and lottery pick Obi Toppin, Jacob is a 6-foot-9 forward who is just uncovering his skill set. Toppin is an explosive and rangy athlete. So far this season, in two games, he has shown an aggressive nose for the basketball and confidence with shot-making while facing the basket. Toppin, who is trying to play himself into the first round, is averaging 11.5 points, 9.5 rebounds, and 2.0 steals so far this season.
Antonio Reeves and CJ Frederick will be interesting players to keep an eye on as well. Both are shooters who will provide the spacing necessary to open up attacking lanes to the rim. Reeves, even in a role off the bench, may end up Kentucky's leading scorer this season. Sahvir Wheeler is one of the best assist men in college basketball.
For Michigan State, they don't have the same sure-fire NBA talent that Kentucky does, but they have a roster filled with skilled and tough players. AJ Hoggard is an interesting piece. A big guard, listed at 6-foot-4, 210 pounds, Hoggard is the veteran piece. Tom Izzo has done a great job with older point guards, and Hoggard has court vision and a crafty handle that gets him into the paint, eighter to dish or take on contact.
Mady Sissoko proved to be a problem early on for Gonzaga. The 6-foot-9, 240-pound junior was able to establish himself around the basket and on the boards. He was a top 100 recruit coming into college, and he could be primed for a breakout season.
Can Tyson Walker find the stroke that shot 47.3 percent (35-for-74) from three last season? Can 6-foot-9 senior Joey Hauser take the step forward many expected last year? Two players to watch off the bench for Michigan State in the Champion's Classic are freshman big Jaxon Kohler and sophomore guard Jalen Akins.
(7) Duke vs. (6) Kansas
The storylines in this one are plentiful. You have Jon Scheyer's first blue-blood matchup with 11 new players and the No. 1 recruiting class. You have Bill Self, coming off a self-imposed recruiting suspension, in the midst of a four-game self-imposed coaching suspension, and they are the defending national champion.
The big question surrounding Duke is will Dariq Whitehead play in the Champions Classic. Jon Scheyer said the five-star freshman has started to play five-on-five this week and is getting back into game shape (editor's note – Whitehead has been ruled out). Without Whitehead, the leader of this team is junior point guard Jeremy Roach. Roach was a starter for last season's Final Four team and the only returning player who played five or more minutes a game. Roach will have the ball in his hands, and he will be guarding the point of attack. Through two games, he is shooting 46.2 percent from three.
Scouts will have their eyes on this Duke team, namely their freshman class. Outside of Whitehead, Dereck Lively and Kyle Filipowski came to Durham with the most accolades. Lively has had some injuries in the preseason and only played 14 minutes through two games. The 7-foot-1 center scored four points, grabbed four rebounds, and blocked two shots. He is a projected lottery pick. Kyle Filipowski has started at center through Duke's first two games. The 6-foot-11 freshman has averaged 12.5 points and 11.0 rebounds, and 1.5 blocks in those two games.
The surprise player of the early season for the Blue Devils is Mark Mitchell. The 6-foot-9 forward has been a piece that has been hard to take off the floor. Lengthy and fluid, he has toggled between the three and the four, depending on the lineup and guarding up and down the lineup. His 15.5 points also lead Duke in scoring early on. It is worth noting Mitchell is 3-for-6 from three through two games.
Duke is still waiting on freshman Tyrese Proctor to get going. There was a lot of NBA-type buzz for him coming out of the preseason. The 6-foot-4 freshman has started both games, averaged 22 minutes, and gone 1-of-12 from the field and 0-for-5 from three.
Kansas returns two starters from last season's national championship-winning team; junior forward Jalen Wilson and junior point guard DaJuan Harris. Wilson has filled the stat sheet through its first two games. The 6-foot-8 forward is averaging 20.0 points, 10.0 rebounds, and 4.0 assists while shooting 46.2 percent from three. He started last season hot as well; the question will be, can he sustain this level of success?
Gradey Dick and MJ Rice are the two other scorers in double-figures on the season. Both are freshman wings, and both will have scouting eyes firmly played on them. Dick is a 6-foot-8 sharp-shooting wing averaging 17.5 points, going 5-for-10 from three this season. Rice is a strongly built, explosive wing who is confident on the ball and can get high above the rim.
Texas Tech transfer Kevin McCuller is in the conversation for the best perimeter defender in the Big 12. At 6-foot-6, he also brings experience as a slashing wing. The aforementioned Harris takes care of the ball and guards the point of attack. In 72 games played and 42 starts, Harris is only averaging 1.2 turnovers per game.
A question with the Jayhawks is the five position. Self has started the season going small with 6-foot-7 sophomore KJ Adams in the role. Can freshmen Ernest Udeh or Zuby Ejiofor take control of the position? While this team does have depth, what role can sophomore center Zach Clemence have?