Duke, Notre Dame, Ohio State battling to get Xavier Booker 5th visit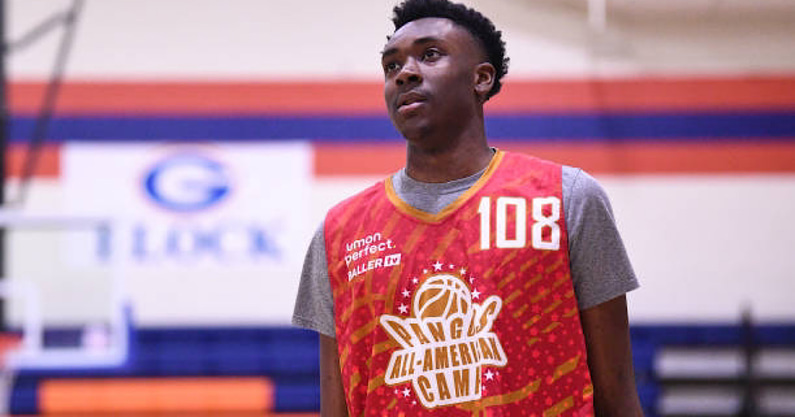 Xavier Booker walked away from the Pangos All-American Camp voted Most Valuable Player. Booker averaged 17.5 points, 5.3 rebounds, and 0.8 blocks per game for the camp. He shot 62.0-percent from the field and 55.6-percent from three.
"I'm a versatile big that can stretch out the floor," Booker told On3. "I can facilitate, get my teammates open, shoot the ball, be aggressive around the rim, and really provide everything for the team."
The 6-foot-10 forward from Indianapolis (IN) Cathedral High has already taken four official visits, Kansas State, Michigan State, Indiana, and Purdue. On3 caught up with Xavier Booker at the Pangos Camp to discuss visits and the schools prioritizing him.
"I have not set my fifth official visit yet," Booker said. "I'm talking to Notre Dame, Ohio State, Duke, and a few others."
Booker talks recruitment
Duke: "I talk to Coach Scheyer quite frequently. I will definitely try to plan a visit with them sometime in August or September. They like how I stretch the floor and talked about playing five-out with me so I could see that."
Notre Dame: "Really just the relationship I have with Coach (Anthony) Solomon and Coach (Mike) Brey. They are really good coaches. I like their playing style and feel I would fit."
Ohio State: "I feel like I would fit in perfectly there. They compare me to guys like EJ Liddell, and I could definitely do the things he did there, so I definitely see that comparison."
Overtime Elite
"Overtime Elite contacted me today, but we haven't gone into much detail," Booker said. "But they say they want me to play for them. I will most definitely entertain them. I've been following their program since they started, so I definitely like what they're doing and could definitely see myself in it."
What is Booker looking for?
"As of right now, I couldn't even tell you any timeframe," Booker said. "My recruitment is kind of crazy. I'm just taking all my visits and allowing every school to recruit me.
"Really, I'm looking for somewhere I fit in all aspects, academically and athletically. Play style, coaching style, and I will pay close attention to the relationship I develop with the coaches."
Booker's On3 NIL Valuation
2023 four-star Xavier Booker current On3 NIL Valuation is $12,400. This valuation ranks Booker 88th in high school basketball, with a projection of $165 per post across all social media.
The On3 NIL Valuation is the industry's leading index that sets the standard market NIL value for high school and college-level athletes. A proprietary algorithm, the On3 NIL Valuation does not act as a tracker of the value of NIL deals an athlete has completed to date. It rather signifies an athlete's value at a specific moment in time.
The On3 NIL Valuation is comprised of many dynamic data points that focus on three primary categories: social media, athletic performance, and endorsements and collectives.