Madden releases statement following Jon Gruden scandal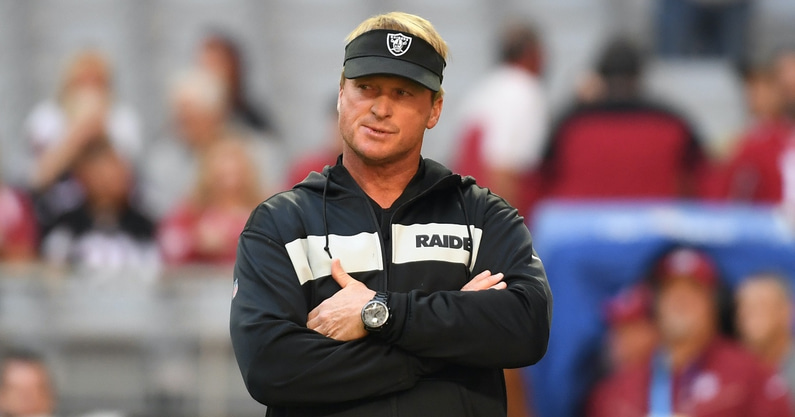 Madden released a statement on Tuesday announcing that former Las Vegas Raiders head coach Jon Gruden will be removed from Madden NFL 22 after leaked emails showed Gruden used homophobic, racist and sexist language in emails exchanged with former Washington Football Team president Bruce Allen.
"EA Sports is committed to taking action in maintaining a culture of inclusion and equity," the statement read. "Due to the circumstances of Jon Gruden's resignation we are taking steps to remove him from Madden NFL 22. We will replace him with a generic likeness via a title update in the coming weeks."
Madden NFL 22 is the latest iteration of the series that dates back to 1989, when it was known as John Madden Football. Madden NFL 22 came out on August 20th for PC, PlayStation 4, PS5, Xbox One, Xbox Series X/S and Stadia to mixed reviews. The cover features Kansas City quarterback Patrick Mahomes and Tampa Bay quarterback Tom Brady.
On Monday, Las Vegas Raiders head coach Jon Gruden informed his staff he would be resigning as the Raiders head coach. Gruden's resignation comes after uncovered emails showed the Raiders head coach used racist, misogynistic and homophobic language. 
ESPN's Adam Schefter reported that Gruden and the Raiders "parted ways."
A story released by the Wall Street Journal describing an email sent by Gruden back in July of 2011 to have contained the use of a racist trope directed at NFL players of association executive director DeMaurice Smith sparked an investigation and ensuing fallout.
"Dumboriss Smith has lips the size of Michelin tires," Gruden wrote in the email that has since launched an investigation, per Andrew Beaton of The Wall Street Journal.
Gruden sent the email during a lockout by the players over the 2011 summer. He sent the email after the NFLPA chose not to vote on a collective bargaining agreement ratified by the league's owners. At the time of the email, Gruden was a color commentator for ESPN. During that time he was one of the analysts for the network's Monday Night Football telecast.
On Monday, The New York Times detailed in a report that Jon Gruden made more offensive comments than those initially revealed in his emails. 
"A trove of emails reviewed by The New York Times show Raiders Coach Jon Gruden went beyond previously disclosed racist comments to issue broad tirades against gays people, women and concussion safety in the NFL," detailed the New York Times on the newest report on Gruden's emails.
The emails under review were sent by Gruden to Bruce Allen, the former president of the Washington Football Team, and others while he was working as a color analyst on Monday Night Football.
In his emails, the report details that he used homophobic language and slurs to describe NFL commissioner Roger Goodell, as well as saying Goodell pressured former Los Angeles Rams coach Jeff Fisher to draft "queers." The New York Times report that Goodell's comments about Fisher refer to the drafting of Michael Sam, an openly gay player drafted in 2014.
Jon Gruden resigned midway through his fourth season as the head coach of the Las Vegas Raiders. In 2018 he signed a record 10-year $100 million contract to take over the position from Jack Del Rio. The two-time Raiders coach also has a no-trade clause built into the contract. In his second stint with the Raiders, Gruden finishes 22-31 and never his team to the playoffs in three seasons. 
In his head coaching career, Gruden finishes with an overall record of 117-111 over nearly 15 seasons, with a Super Bowl win in 2002. 
Raiders special teams coach Rich Bisaccia is a candidate to take over on an interim basis per Adam Caplan.