EDGE Carlton Madden goes public with his commitment to Georgia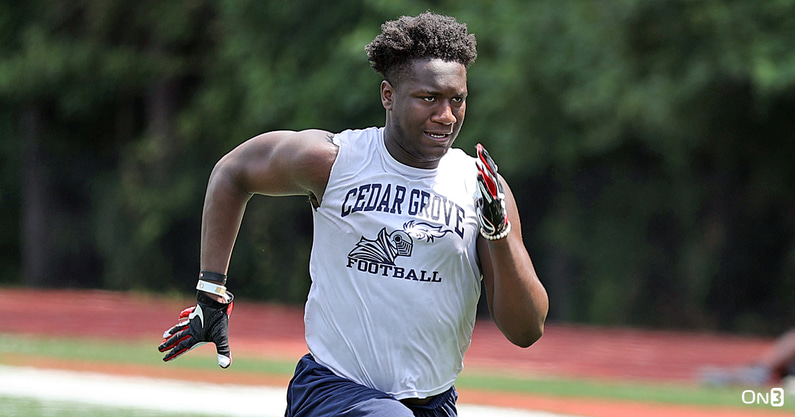 If you followed Carlton Madden's summer, then you noticed the 6-foot-3, 239-pound EDGE spending a lot of time in Athens.
The senior out of Ellenwood (Ga.) Cedar Grove visited Georgia on at least four different occasions in June and July. That last trip to the Classic City is when he knew he wanted to be a Bulldog.
"I was there for the cookout late in the summer and I had that feeling," said Madden. "I always had Georgia high on my list, but that visit was different.
"My mind was made up. A couple of weeks later, in the middle of August is when I told Georgia about my commitment."
Madden's happy to be a Bulldog
The three-star missed his junior season due to a transfer rule, schools did not have 2020 tape to evaluate on Madden. Colorado offered early, and Madden committed to the Buffaloes in February.
Once coaches were able to put their eyes on Madden again over the summer, new offers started to flow in. He was up 30-pounds from a year ago, he very athletic, and schools like Arkansas, Georgia, Georgia Tech, and Ole Miss quickly offered in June.
At this time, Madden was still committed to Colorado. On June 21, he backed off that pledge. He went on to add offers from the likes of Auburn, Oregon and Tennessee before deciding he wanted to stay home, and be a Georgia Bulldog.
"I put a lot of work in for this, so it is very exciting to be committed to Georgia," said Madden. "I kept working, I got better, and I am going to Georgia."
He sees Georgia as his second home.
"Everything about Georgia makes it right. It is like home for me there. I love the positive energy with the players, the coaches, and the recruits. It just feels right."
Excited about the future at Georgia
One of Madden's first visits to Athens over the summer, he was worked out privately by Georgia defensive coordinator Dan Lanning. That was June 17, the day the Bulldogs offered.
Georgia wants Madden as an EDGE in their defensive scheme and he loves the fit for his skill-set as well as what Georgia is building towards.
"They want me to rush off the edge, drop into the zone and cover some man-to-man," said Madden. "They want to move me around in there defense and that is exciting.
"It is also exciting about what Georgia is doing right now. Their defense is great, and they put on a show against Clemson.
"They are getting the players, they have great coaches and we are going to win national championships at Georgia. It might start this season, but I know my class will win too when we get there."