Eli Apple throws jab at Stefon Diggs following Bengals eliminating Bills from playoffs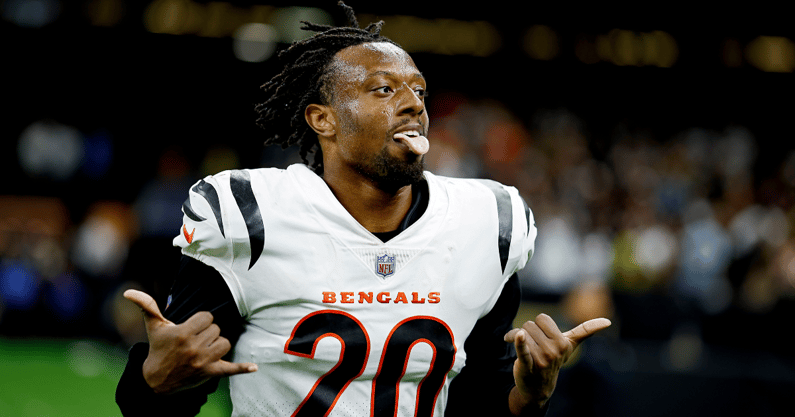 Bengals cornerback Eli Apple took to Twitter to poke fun at Bills receiver Stefon Diggs on Monday evening. After Cincinnati defeated Buffalo 27-10 on Sunday to advance to the AFC Championship, Diggs voiced his frustration in a series of tweets.
Apple quoted one of those tweets from Diggs on Monday, which read "It's easy to criticize my reaction more than the result." That led Apple to fire back with a response of his own, mocking Diggs for his team's early exit from the postseason.
"Cancun on 3," the cornerback wrote.
It was a rough day for Diggs, who finished the game with just four catches for 35 yards on 10 targets. Diggs' frustrations boiled over during the contest, when he was caught on camera screaming at quarterback Josh Allen, who ignored him on the sidelines.
Diggs also reportedly left the locker room before any of the Bills coaches had returned from the field postgame. He was not made available to media for interviews.
The tweet that Eli Apple quoted was one of three from Stefon Diggs on Monday. Diggs originally tweeted, "Want me to be okay with losing? Nah," followed by "Want me to be okay with our level of play when it's not up to standard? Nah."
Diggs just completed his third season with the Bills finished with 108 catches for 1,429 yards and 11 touchdowns. It marked the second straight year that Buffalo fell short in the divisional round of the playoffs after making the AFC Championship in his first season in 2020.
As for the Bengals, they will advance to the AFC title game for the second straight season. Last year Cincinnati made the Super Bowl, but ultimately lost to the Los Angeles Rams.
The Bengals will face the Chiefs in a rematch of last season's AFC Championship game at 6:30 p.m. ET on Sunday at Arrowhead Stadium.