Elite 11 Finals: Day 2 Top Performers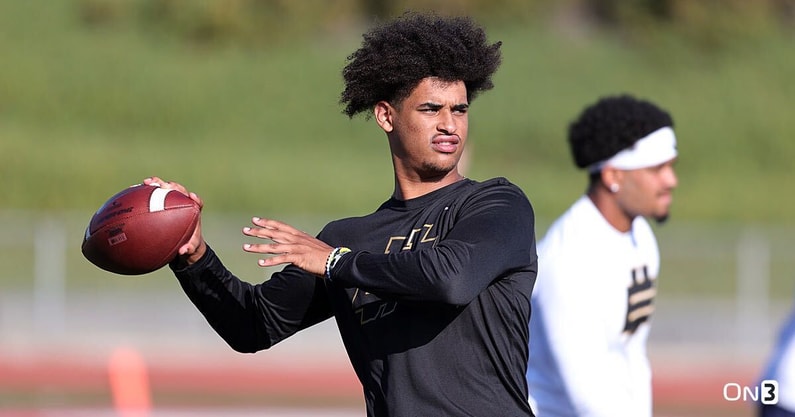 REDONDO BEACH, Calif. – Twenty of the 2023 cycle's top signal callers are in Southern California this week for the Elite 11 Finals. As has been the case in past years, the second day featured pro day workouts from the finalists and college counselors. Each quarterback worked through the same 20 throw script, throwing to receivers on air.
We charted each session live, grading each throw as on or off target. We do not penalize for wide receiver drops if the ball is well-thrown. Conversely, a receiver considerably slowing down to catch the ball is deemed as off target. It is not strictly a tally of completions.

The On3 top performers for the first two days of the Elite 11 are based solely on performances from that single day. The Elite 11 staff puts out their own ranking each day, which is a cumulative running list they base off of "50% junior season film & performance/50% camp eval & physical traits."
For the purposes of this Top Performers, we're sticking with our pro day charting scores as a guide.

Also note that two of the the cycle's five-star quarterbacks, new Texas commit Arch Manning and Tennessee pledge Nico Iamaleava, are not in attendance. Iamaleava is missing the Finals due to an international volleyball tournament. Manning did not participate in any regional camps. They rank as two of the nation's top five prospects.
Complete Elite 11 Finals Roster | Day 1 Top Performers | Day 2 Live Updates
On3 MVP: Dante Moore
We expected Dante Moore to shine in this setting given his skill set. The Detroit Martin Luther King signal caller did not disappoint. Moore gets the slight nod over Tuesday's On3 MVP JJ Kohl due to the overall consistency of his session. The top 50 prospect was on target for 18 of 20 passes per our charting and made easy work of the pro day script. His best throws came on the post corner, over and deep flag routes. The 6-foot-2, 210-pounder has a quick, easy release and is naturally accurate. Hist ability to receivers in stride was on display, as it was at OT7 earlier in the month. Moore excels in structured settings where he can sit back and let his accuracy and quick release take hold. Wednesday was no different.

Oregon, LSU, Notre Dame, Texas A&M and Michigan are in the mix for Moore, with the Ducks having the edge in his On3 Recruiting Prediction Machine.
2. JJ Kohl – Iowa State
JJ Kohl was very strong again on Wednesday, making it two straight days of great work from the 6-foot-6, 230-pounder. The Iowa State pledge was charted on target on 18 of 20 throws and showed the most velocity of any high school quarterback on the day. The ball came hot out of Kohl's hand and he was the closest to the college counselors in terms of pure arm strength, in our opinion. He had considerable juice on his post corner throw along with good velocity throwing the over route. Kohl also delivered a great ball on a two man seam concept in the red zone.
The Ankeny (Iowa) High standout has turned in the strongest cumulative two days thus far, in our opinion with the all-important 7-on-7 component looming.
3. Rickie Collins – Purdue
Rickie Collins lands in the third spot after charting as on target on 18 of 20 passes. The Purdue commit was accurate to all levels of the field. He was natural and coordinated in his drops from under center. Collins sequenced his drops with his throws seamlessly, allowing for throws that were on time and in rhythm. The Baton Rouge Woodlawn standout's best throw came on the post corner route. He rebounded from an up and down day on Tuesday.
4. Christopher Vizzina – Clemson
Christopher Vizzina may have had the best overall session absent of our charting, considering he had what we viewed as the quickest drops along with some of the most impressive individual throws on the day. We charted Vizzina as on target on 17 of 20 throws. He delivered a fantastic throw on a vertical throw down the right side, drawing acclaim from the Elite 11 staff. The Clemson commit then got a little amped on the next throw and uncharacteristically overshot a crossing route. Since we're sticking to our charting, that one miss was the potential difference between Vizzina's spot and On3 MVP honors. Regardless, the 6-foot-4, 205-pounder had one of the best sessions of the day and continued to look like one of the top overall performers through two days of action. His projectable skill set and consistent performance thus far has him positioned to make a move with a strong showing in 7-on-7 play.
5. Avery Johnson
Avery Johnson caught fire at the end of his session, finishing on target on 17 of 20 passes per On3 charting. The 6-foot-2, 175-pounder continued to show encouraging zip on his passes. Johnson was the last quarterback to go after standing around for several hours waiting his turn. You wouldn't know it, given how he threw. The Maize (Kan.) High star's best throw may have been on the backside rail shot. Johnson's progression he's shown as a passer through two days has been encouraging.
Johnson has taken visits to Kansas State, Oregon and Washington with the Wildcats leading according to his On3 Recruiting Prediction Machine.
6. Austin Novosad – Baylor
Austin Novosad continued to spin the ball well on Wednesday. The Baylor pledge was on target for 17 of 20 passes. His two best throws came on the backside rail shot and the seam route. Novosad throws tight, catchable ball and has little variance on a throw to throw basis. He was not as comfortable in his drops as others, which is understandable given the bulk of his experience has come out of the shotgun. Ohio State, Texas A&M and Georgia remain in pursuit of Novosad, who is evaluating his options (On3+).
7. Kenny Minchey – Pitt
Kenny Minchey was one of the first quarterbacks to go on Wednesday and helped set the tone early on. The Nashville native was on target for 17 or 20 passes and showed very good zip on a variety of routes. Minchey delivered a pretty throw on the deep flag route, made one of the better backside rail shot throws and had noticeable juice on crossing routes.
8. Zane Flores – Oklahoma State
Zane Flores got off to the best start of any quarterback, hitting his first 11 throws. He cooled down a bit, finishing on target for 17 of 20 passes. Still, it was a strong showing for the Oklahoma State commit. Flores' best throw of his session came on the post corner route. He nearly made the Top Performers from Day 1 and looked increasingly comfortable on Wednesday.
9. Jackson Arnold – Oklahoma
Jackson Arnold continued to show one of the livest arms in attendance. The Oklahoma commit has a quick throwing motion and generates easy force on his throws. The receivers had trouble handling some of his throws due to the velocity. Similar to Austin Novosad, Arnold was a little uncomfortable in his drops which created some minor breaks in rhythm, affecting a few throws. Still, the Denton (Texas) Guyer gunslinger had a good session, charting as on target for 16 of 20 passes.
10. Malachi Nelson – USC
Malachi Nelson showed off his ability to make some impressively located throws throughout his session. The Five-Star Plus+ USC commit threw with good timing, particularly on a comeback route down the left sideline. Nelson had a few misses and finished on target on 16 of 20 passes, but showed his skill set as a refined, polished passer.
11. Jaxon Smolik – Tulane
Jaxon Smolik was a late addition with Nico Iamaleava missing the event due to an international volleyball tournament. The Tulane pledge has more than held his own thus far. Smolik delivered a strong pro day session, charting as on target on 16 of 20 passes. It wasn't just his accuracy, though. Smolik spun the ball well and threw with velocity that easily stacked up among his highly-rated peers.
Additional notes from Day 2 of the Elite 11 Finals
+ The remainder of our charting scores are as follows: Cincinnati commit Brady Drogosh (16/20), Miami commit Emory Williams (16/20), Arkansas commit Malachi Singleton (16/20), Louisville commit Pierce Clarkson (15/20), Miami commit Jaden Rashada (15.20), Alabama commit Eli Holstein (15/20), Penn State commit Marcus Stokes (14/20), Brock Glenn (13/20), Florida State commit Chris Parson (12/20).
+ Brady Drogosh and Malachi Singleton fared well in the pro day setting especially considering their on-field skill sets are not that of pure pocket passers at this point. Jaden Rashada continues to be a boom or bust proposition as it relates to the variance in his passes. Some throws are fantastic, while his accuracy continues to waver. Eli Holstein was at his best while throwing short and intermediate passes and to his right. He had some good velocity on those passes but was wide or high on a few to the left and missed a couple vertical throws.

+ Reigning Heisman Trophy winner Bryce Young arrived on Wednesday and participated with the other college counselorsCJ Stroud (Ohio State) and Devin Leary (NC State) in going through the pro day workout.

Young was the most accurate of the three counselors, going 18 of 20 per On3 charting. He showed off his natural accuracy and was able to easily gauge the speed of the receivers and was on target even if the receiver ran the wrong route. Stroud showed the strongest arm of the three and was on target on 17 of 20 throws.