Elite WR Bryant Wesco names Top 8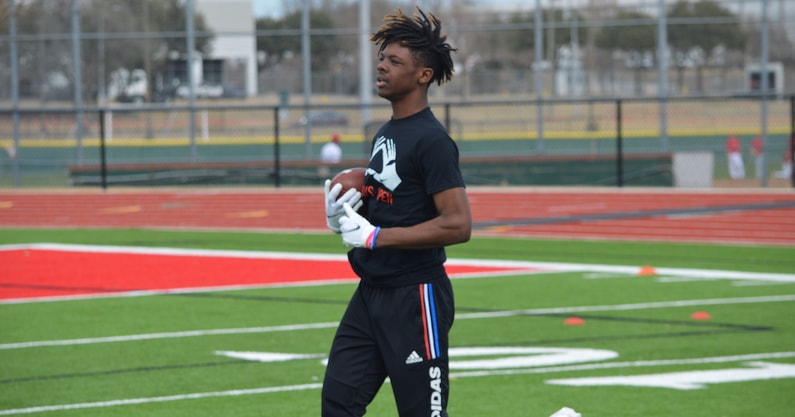 Elite 2024 wide receiver Bryant Wesco of Midlothian (TX) High has narrowed his list to eight schools– Oklahoma, TCU, Clemson, LSU, Nebraska, Colorado, Texas, and Arkansas.
The 6-foot-3, 175 pounder quickly discussed his finalists.
Oklahoma Sooners: "They have great energy after their games and the coaches really run the offense well."
TCU Horned Frogs: "I like coach Kelly and their air raid offense."
Clemson Tigers: "Everyone was amazing and the culture was phenomenal." 
LSU Tigers: "They have a great team and campus, and have a great reputation with producing receivers."
Nebraska Cornhuskers: "The coaches are amazing and have great energy." 
Colorado Buffaloes: "They are great people and are building something amazing."
Texas Longhorns: "Texas is a powerhouse school with amazing QB's to catch from."
Arkansas Razorbacks: "I have built a great relationship with the coaches and players."
Personal Life (via On3 Database)
"Even though he plays for a high school program that runs a flexbone-style offense, Bryant Wesco made a major impact at receiver as a junior. Wesco had 58 receptions for 1,160 yards and 14 touchdowns. He even had a 93-yard touchdown reception and averaged 20 yards a reception. "Bottom line, we want to win ball games," Midlothian coach Doug Wendel told the Dallas Morning News. "You win ballgames by getting your best players the ball. We felt like we needed to alter our offense a little bit to get him involved more. Make sure that at the end of the game – regardless of if it's the 15th game, the 16th game or the 10th game, whatever – if we lose a game, we need to make sure that the best players touch the ball all the time." 
"He has had to work hard to get to the point where he's become one of the top playmakers in the Lone Star State, but others believed in him early on. "(My trainer) kept telling me that if I kept training this way, I'd be one of the best players in the state," Wesco told the newspaper. "At first I thought he was saying that just to say that. Now that I see it, I'm like, 'Wow, I really am one of the best receivers in the state.'" Wesco is also a high and triple jumper on the Midlothian track team."
Wesco ranks as the No. 34 player according to the On3 Industry Ranking, a weighted average that utilizes all four major recruiting media companies. He also tabs in as the No. 9 wide receiver and the No. 7 player in the state of Texas.
Bryant Wesco currently has an On3 NIL Valuation of $113K. The On3 NIL Valuation is the industry's leading index that sets high school and college athletes' projected annual value (PAV). The NIL valuation does not act as a tracker of the value of NIL deals an athlete has completed to date. It rather signifies an athlete's value at a certain moment in time.