Elite '23 WR Hykeem Williams names top 6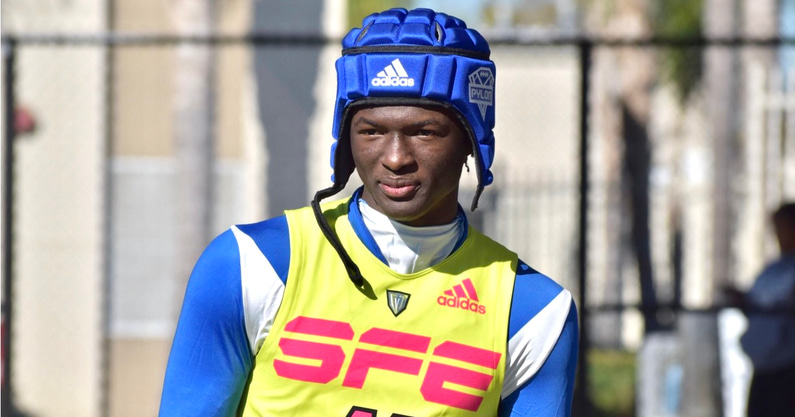 Four-star wide receiver Hykeem Williams of Fort Lauderdale (Fla.) Stranahan High has narrowed his list to six schools–Alabama, Texas A&M, Miami, Florida State, Georgia, and Pitt.
The 6-foot-3, 195 pounder went in-depth on his finalists.
Alabama 
"It's Alabama man, I mean what wrong could you say about them?" Williams said. "Also, I've built a good relationship with coach Wiggins and coach T-Rob."
Texas A&M
"I've got a great relationship with a few coaches on the coaching staff including coach fisher," Williams said. "College station is just amazing."
Miami
"They are changing the culture fasho around there and that's the home team, so you gotta love the home team."
Florida State
"Me and coach Dugans have a great relationship," Williams said. "I'm staring to build a good relationship with coach Atkins and they talk about how I'm a priority for them."
Georgia
"I love the culture around there, the way the players bond, and the way the coaches bond," Williams said. "It's just a vibe out there."
Pitt
"They're building something special around there and with the addition of coach Underwood it put them in a great spot with me."
Hykeem Williams Scouting Summary
"Physically-developed receiver with plus body control and burst," On3's Director of Scouting Charles Power wrote. "Possesses the balance and agility to make defenders miss in the open field as well as the juice to get upfield and pull through arm tackles after the catch. Has a big frame that carries his weight with ease. Measured 6-foot-2.5, 193 pounds with a 6-foot-4.5 wing-span as a junior."
"Shows vertical ability on 50-50 balls and on the hardwood as a basketball player. Averaged a double-double in points (12.2) and rebounds (10.3) on the basketball court as a junior. Totalled 31 receptions for 693 yards and 6 touchdowns his junior season. Will develop a more diverse route tree as he transitions to the college game. Has all the physical tools to potentially turn into a dominant X-type receiver at the next level. On the older end among prospects in the 2023 cycle, turning 18 during his junior season."
Williams ranks as the No. 41 player in the On3 Consensus, a complete and equally weighted industry-generated average that accounts for all four major recruiting sites. He also tabs in as the No. 7 wide receiver and the No. 11 player in the state of Florida.