Elite WR Johntay Cook to Texas: 'This class is gonna be the natty class'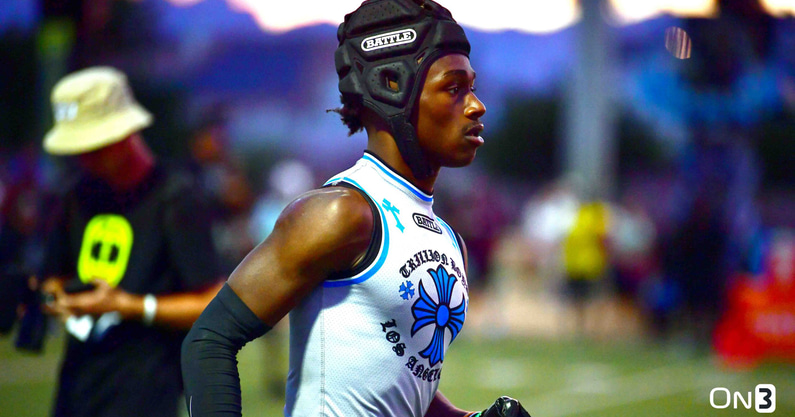 Texas is rolling … and the Horns just landed another cornerstone piece in this star-studded class.
Elite DeSoto (Texas) wide receiver Johntay Cook committed to the Longhorns on Wednesday — over Oregon — becoming the latest blue-chip piece to join the 2023 class since Five-star Plus+ quarterback Arch Manning pledged to Texas last Thursday. Cook, the No. 32-ranked player in the country on the On3 Consensus, believes the pieces are falling into place for a national championship-caliber roster on the Forty Acres.
"It's time," Cook told On3. "Arch committed and we've gotten 12-13 commitments in the last three days. Arch really set it off. We've been talking once a week and commitment came up. He gave me the impression he was waiting on me and wouldn't commit until I committed, but he pulled the trigger and it's working out."
"This class is gonna be the natty class. I really believe that," Cook continued, referring to the Longhorns' run of recent four-star commitments, including Derek Williams, Jaydon Chatman and Jonah Wilson, among others. "I bet Texas winning the Big 12 this year because of the coaches, the portal guys they've gotten and the 2022 class. There are some real dogs on that team and freshman year, we'll be polished up and getting ready for the SEC. Sophomore year, the O-line will be mature and we'll have Arch slinging the ball to Johntay, and it's gonna be crazy."
This offseason, Cook took in Texas' spring game and declared Steve Sarkisian the best offensive mind in college football. The Longhorns have been trending with the DeSoto (Texas) four-star wideout since the addition of Brennan Marion from Pitt, who has added a jolt of energy to the Horns on the recruiting trail.
"It's the University of Texas, so even if I go there and never play a down of football I can get that degree and the connections you'll have can help you anywhere," Cook said. "There's always a Texas alum high in the food chain. The Texas connections are crazy and former players are always back at the university. You've never heard of a Texas player who isn't getting taken care of."
Cook, the No. 6 wideout in the country, picked the Horns over Oregon. Michigan, Ole Miss and Texas A&M were also in the mix for the Dallas Metroplex blue-chipper.
"The Texas staff was real," Cook said,. "I got high on a lot of staffs hearing the same old recruiting pitches. The Texas coaches were really real. The Oregon staff was amazing to me, but the best move for me was Texas."