Adam Schefter releases statement after Bruce Allen email criticism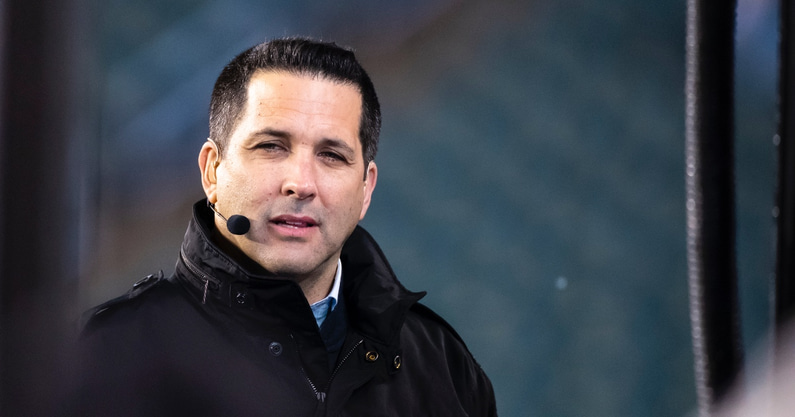 ESPN's Adam Schefter released a statement on Wednesday after leaked emails revealed that Schefter emailed former Washington Football Team president Bruce Allen seeking feedback on an unpublished story during the NFL lockout in 2011.
"Fair questions are being asked about my approach to an NFL lockout story from 10 years ago," Schefter said in his statement. "Just to clarify, it's common practice to clarify facts of your story with sources before you publish in order to be as accurate as possible. In this case, I took the rare step of sending the full story in advance because of the complex nature of the collective bargaining talks. It was a step too far, and looking back, I shouldn't have done it. The criticism being levied is fair. With that said, I want to make this perfectly clear: in now way did I, or would I, cede editorial control or hand over final say about a story to anyone, ever."
Adam Schefter's email to Allen referred to the former Washington president as "Mr. Editor" requesting feedback.
"Please let me know if you see anything that should be added, changed, tweaked," Schefter wrote in the email. "Thanks, Mr. Editor, for that and the trust. Plan to file this to espn about 6 am. . . ."
ESPN released a statement as well, standing by Schefter.
"Without sharing all the specifics of the reporter's process for a story from 10 years ago during the NFL lockout, we believe that nothing is more important to Adam and ESPN than providing fans the most accurate, fair and complete story," ESPN's statement read.
Adam Schefter's email is the latest finding in the NFL's investigation into the Washington Football Team, which has resulted in the resignation of Las Vegas Raiders head coach Jon Gruden.
Las Vegas Raiders head coach Jon Gruden informed his staff on Monday that he planned to resign as the Raiders head coach. Gruden's resignation comes after uncovered emails showed the Raiders head coach used racist, misogynistic and homophobic language.
Two news stories were released in a one-week span that led to Gruden's downfall. First, the Wall Street Journal described an email sent by Gruden back in July of 2011, which contained the use of a racist trope directed at NFL players of association executive director DeMaurice Smith.
"Dumboriss Smith has lips the size of Michelin tires," Gruden wrote in the email that has since launched an investigation, per Andrew Beaton of The Wall Street Journal.
Then, on Monday, The New York Times detailed in a report that Jon Gruden made more offensive comments in emails over the course of his career.
In his emails, the report details that he used homophobic language and slurs to describe NFL commissioner Roger Goodell, as well as saying Goodell pressured former Los Angeles Rams coach Jeff Fisher to draft "queers." The New York Times report that Goodell's comments about Fisher refer to the drafting of Michael Sam, an openly gay player drafted in 2014.