ESPN announces Lee Corso will not travel to Athens for Saturday's ESPN College GameDay, Tennessee at Georgia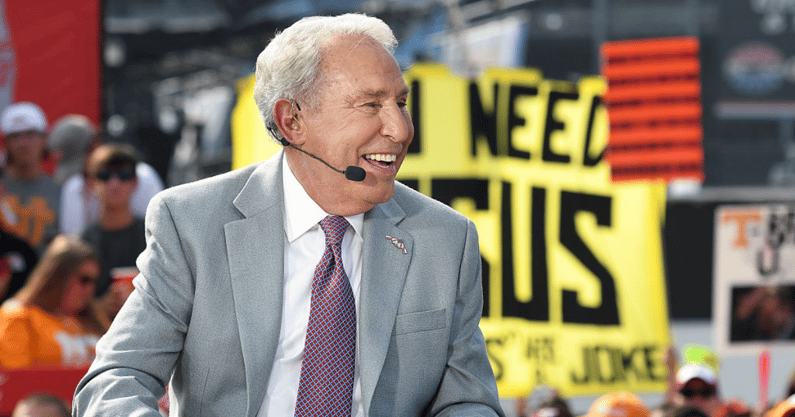 As ESPN College GameDay readies for a gigantic showdown between the Georgia Bulldogs and the Tennessee Volunteers, Lee Corso will be missing from the action.
At the onset of the program, Rece Davis revealed the lovable college football analyst won't be in Athens on Saturday for the SEC showdown.
"Lee Corso is still recuperating, looking forward to getting him back," revealed Davis. "I talked to LC this week and I said to him, what could we do for you? He said, go kill them on Saturday. I think we can do that with a game like this."
CLICK HERE to subscribe for FREE to the On3 YouTube channel
Last weekend, Kirk Herbstreit was more than optimistic that Corso would be able to return to the desk following his absence as the crew took their show to Jackson State.
"Real quick on Lee Corso, talked to him yesterday just to make sure he's feeling okay, he's going to have some more tests and a procedure done in the next couple of days, but he's very, very optimistic about being back on the show next week," revealed Herbstreit. "So Coach, if you're watching, we love you and we'll see you soon."
Unfortunately, Corso has missed a couple of previous editions of GameDay earlier this season as well, including shows at Clemson and Kansas.
Alas, Corso came back stronger and with more highlight reel head gear picks to make earlier in the season, and the College GameDay crew can't wait to have him back once again.
Lee Corso will be missed on Saturday, and the college football world will eagerly await his return to the desk moving forward.
More on ESPN College GameDay, Tennessee Volunteers at Georgia Bulldogs
Moreover, ESPN's College Gameday is heading to Athens, Georgia this weekend for a game that is expected to be the most anticipated matchup of the 2022-2023 college football season, the showdown between the Georgia Bulldogs and the Tennessee Volunteers.
The Volunteers are one of the hottest teams in college football. Two weeks ago, they stunned the Alabama Crimson Tide 52-49 in one of the best games of the season. Then, on Saturday, they throttled the Kentucky Wildcats to the tune of a 44-6 beatdown. Tennessee quarterback Hendon Hooker is one of the nation's leading Heisman candidates and all of the attention is well-deserved.
Both Georgia and Tennessee remain undefeated going into the matchup and the outcome is sure to play a pivotal role in the College Football Playoff picture for the 2022-2023 season.
Tennessee receiver Jalin Hyatt has looked like one of the most dominant players in all of college football. He hauled in five catches for 138 receiving yards and two touchdowns on Saturday against Kentucky. Hyatt's been unguardable lately and it's going to be fascinating to watch him matchup against the Georgia secondary. 
Speaking of unguardable, Georgia has offensive weapons of their own, such as superstar tight end Brock Bowers. He dominated Florida on Saturday, hauling in five catches for 154 receiving yards and a touchdown.
Kickoff for the Tennessee and Georgia game is slated for 3:30 PM EST, and it will be nationally televised on CBS. The Bulldogs are currently listed as 12.5 favorites.