ESPN's Dick Vitale cleared for No. 1 vs No. 2 matchup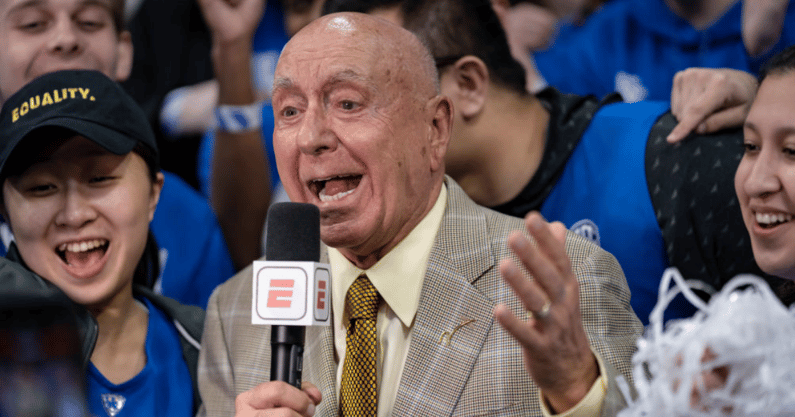 ESPN college basketball analyst Dick Vitale has received clearance from his doctor to return for his 43rd season of color commentary on Tuesday. After undergoing treatment for another battle with lymphoma and melanoma, he will return for No. 1 Gonzaga vs No. 2 UCLA.
Dick Vitale's will return to ESPN will come on Tuesday (10 p.m. ET) at T-Mobile Arena in Las Vegas, Nevada.
Statement from Dick Vitale
Dick Vitale released the following statement, via ESPN, on Thursday night:
"My family and I are absolutely jumping with joy. Knowing I'll be courtside with all my buddies and calling No. 1 versus No. 2, this is the best medicine I could ask for. To all of you I simply say 'thank you from the bottom of my heart' for four prayers and messages, phone calls and texts. They gave me energy and lifted me up at a time that is not fun city – chemo for six months. To my ESPN family, starting with Jimmy Pitaro – I love you all. I'm so proud to start my 43rd year on Tuesday. Lastly, to the fans – you have given me a career that has exceeded any dream I've ever had."
Previous update
ESPN college basketball analyst Dick Vitale revealed his second cancer diagnosis of 2021, drawing support from across the sport. After becoming a staple of college basketball over the past four decades, he has cemented a special place in the hearts of coaches, fans and players. Many of college basketball's biggest moments are forever associated with his unique cadence and flourishing vocabulary.
As he faces difficult times, the college basketball world hopes to give back the joy he gave them. A flurry of social media responses and statements on Vitale's importance touched him deeply.
"Thanks so much to all of you for your prayers and support as I plan on fighting with all my heart to win this battle," Vitale posted on Twitter. "Please know I appreciate so much that you care."
As Vitale prepares to battle lymphoma with a series of steroid treatments and chemotherapy, he is determined to work. According to Vitale, he reached an agreement to continue color commentary through his treatment.
"The plan is to treat my lymphoma with steroids and six months of chemotherapy," Dick Vitale wrote in a letter on ESPN. "The medical experts tell me it has a 90% cure rate. They say I can continue to work so I will have to manage my work schedule around my chemo schedule as they will monitor my test results along the way."
He continued: "I will fight with all my heart in dealing with the chemo."