ESPN College GameDay: Maryland has 'tremendous opportunity' to upset Alabama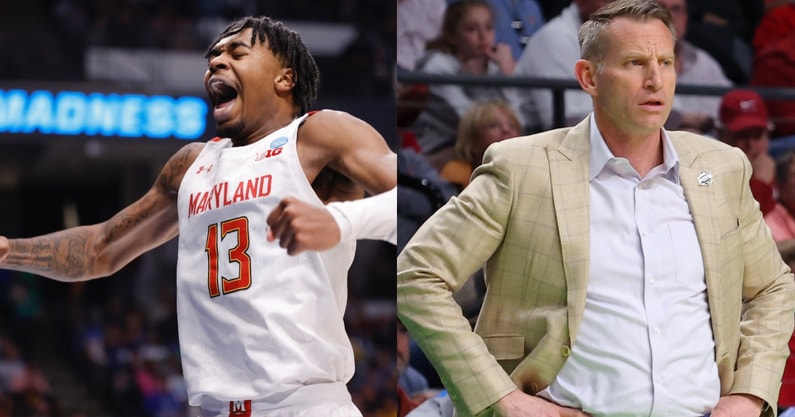 Top seeds beware, the NCAA Tournament is once again a hotbed for shocking upsets. Watch out, Alabama, Houston and Kansas — take Purdue's warning seriously.
After the Boilermakers became just the second No. 1 seed to fall to a No. 16 seed, the ESPN College GameDay crew made their picks for which other top seed should be on upset alert. While all agreed the Cougars need to be careful with the Auburn Tigers, LaPhonso Ellis singled out the Crimson Tide, believing the Maryland Terrapins could give Nate Oats' squad fits.
"Houston is the most obvious one, but I'm actually going to go with Alabama," Ellis responded, asked which top seed is in the most trouble in the Round of 32. "Part of that is Maryland — Kevin Willard does a terrific job of mixing up his defenses.
"As Jay [Bilas] said earlier, this is a team in Alabama that likes to get their threes off of dribble penetration. Kevin Willard does a masterful job of mixing his defenses. A little three quarter court pressure, back in the man. A little three quarter court pressure, back into a matchup zone. That could keep them a little bit off-balanced, keep them from getting dribble penetration, and then obviously having to play one-on-one in space. So I think Maryland has a tremendous opportunity here to beat a younger Alabama team."
Moreover, Maryland showed why they should be taken serious, as they defeated West Virginia in the first game to tipoff on Thursday. The Terrapins found themselves in an early, huge hole, but Willard's squad never lost their mettle, fighting back and holding off the Mountaineers by a score of 67-65.
Forward Julian Reese was the star of the show for the Terrapins, scoring 17 points against West Virginia, well above his average of 11.4 points per game over the course of the regular season. He'll have to have a big game once again if the Terrapins are to win.
As for the Crimson Tide, Ellis is right to have some concern, as star player Brandon Miller is slightly hampered by a groin injury, it seems. The reigning SEC Player of the Year score nada in Alabama's opening contest against Texas A&M Corpus Christi, although the Crimson Tide routed their opponent. Oats' squad will need Miller if they're to hold off a tough Big Ten opponent.
Regardless, it'll be a fascinating showdown between Maryland and Alabama to cap off what should be a tremendous day of basketball, but only one team will advance to the Sweet 16.