ESPN exploring sports betting partnership worth at least $3 billion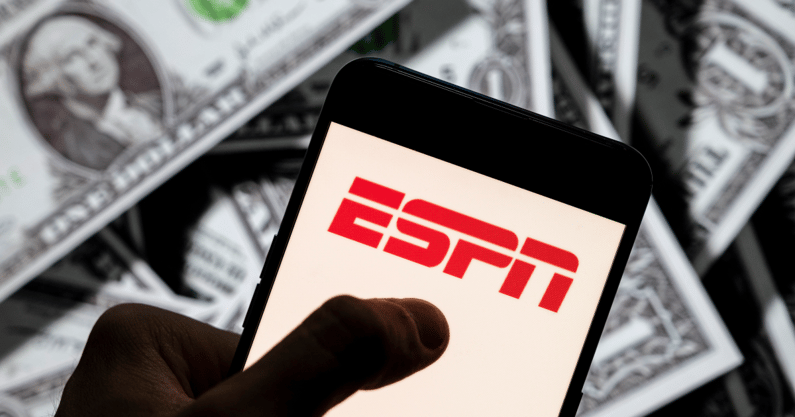 ESPN is looking to license its brand to major sports betting companies in a new partnership, according to the Wall Street Journal. The media company has already spoken with DraftKings and Caesars Entertainment about potential deals.
Reports say that the worldwide leader in sports is looking to dip its toes in the increasingly popular world of online gambling. ESPN is offering its name for branding purposes, meaning the company of choice would have the option to rename its sportsbook.
The partnership could also require the company to spend a certain amount of money each year to advertise on ESPN's stations, one source said.
It's still unclear whether ESPN can get one of these gambling companies to bite. The deal would essentially allow them to be associated with sports gambling without having to obtain a license and take bets themselves.
It seems to benefit ESPN much more than it would DraftKings or Caesars.
According to gambling industry analyst Chris Grove, sports betting is on pace to generate more than $4 billion in the U.S. this year. It has seen massive growth since 2018, when the U.S. Supreme Court ruled states other than Nevada can legalize sports betting. Currently, 32 states and the District of Columbia have passed laws to allow gambling on sports.
The growth doesn't appear to be slowing down either.
The NFL announced that it will allow sports betting companies to advertise during its games this season. This is limited to a select seven companies including Caesars, DraftKings and FanDuel. The league is also setting a limit of six ad spots per game.
ESPN isn't the only major media corporation interested in sports gambling.
Fox has launched its own sportsbook, Fox Bet, to compete with DraftKings and FanDuel. CBS Sports partnered with gambling company William Hill to use data on its websites and shows. FuboTV even bought an online sportsbook that it plans to integrate into its service.
The sports gambling industry is booming and everyone wants a piece of the pie. ESPN already has established relationships through advertisements with DraftKings and Caesars. How long will it be before we see them take the next step?
Maybe sooner than we think.