ESPN FPI ranks Big Ten, predicts final record for every team in 2023 college football season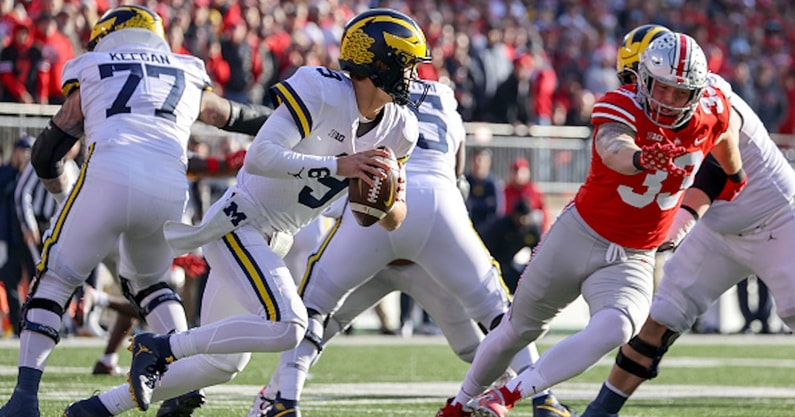 ESPN's FPI ranked the Big Ten football teams from top to bottom, along with the projected win-loss records for the 2023 season.
Ohio State and Michigan should be neck and neck in the Big Ten East this season, but ESPN favors the Buckeyes. The FPI is actually pretty close among the Big Ten teams, but Ohio State leads Michigan by a wide margin between the top two spots.
However, Ohio State and Michigan are the only two teams in the conference with a projected win total of 10 or more.
Below are the Big Ten teams ranked by the Football Power Index, followed by the projected win-loss records for 2023.
ESPN FPI ranks Big Ten football teams in 2023
1. Ohio State – FPI: 31.5, Record: 11.8-1.0
2. Michigan – FPI: 21.4, Record: 10.0-2.1
3. Penn State – FPI: 17.5, Record: 9.3-2.7
4. Wisconsin – FPI: 12.3, Record: 8.6-3.8
5. Michigan State – FPI: 8.7, Record: 6.9-5.1
6. Minnesota – FPI: 7.7, Record: 6.5-5.7
7. Iowa – FPI: 7.3, Record: 7.4-4.8
8. Maryland – FPI: 5.6, Record: 6.6-5.4
9. Illinois – FPI: 5.5, Record: 6.8-5.4
10. Purdue – FPI: 4.4, Record: 5.4-6.7
11. Nebraska – FPI: 3.1, Record: 5.7-6.3
12. Northwestern – FPI: -1.1, Record: 4.9-7.2
13. Indiana – FPI: -2.9, Record: 3.9-8.1
14. Rutgers – FPI: -3.2, Record: 4.1-7.9
Michigan won the Big Ten over the last two years and defeated Ohio State en route to the conference crown. But ESPN has the Buckeyes with one more win this year, likely over Michigan based on the rankings.
Penn State is the next best team and could be the other team, aside from the top two, to upset the apple cart. The Nittany Lions were at the top in 2016 and this could be James Franklin's best shot since then.
Wisconsin rounds out the top four with new head coach Luke Fickell and with a built in and solid foundation, Fickell could be the missing piece.
From there, it's a mish-mosh. Michigan State struggled last season but is above Minnesota. Iowa is steady at seven-plus wins while Maryland and Illinois could get more than six this year.
Purdue and Nebraska have new coaches and could undergo big changes or stay near the basement.
Northwestern, Indiana and Rutgers struggled last season so if any of those teams hit five-plus wins, it might be considered a big win.