ESPN gives midseason grades to all first-year coaches in college football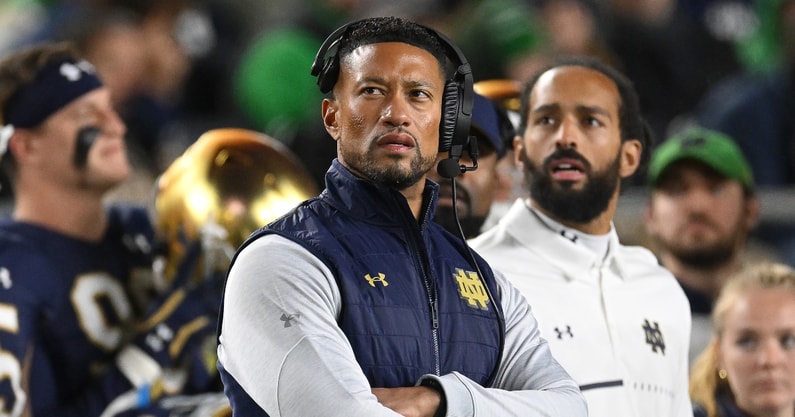 We are at the midway point of the 2022 season, which means we're also starting to get an idea of how first-year coaches are doing. For some, they're thriving in their new homes. For others, things are getting off to a bit of a slow start. So, ESPN decided to grade out the jobs that everyone has done so far.
The list was compiled by ESPN's Adam Rittenberg. He decided to do this now, rather than at the end of the year because of how many big-name coaches and programs were involved in the last coaching carousel.
The goal of the list was to grade on a curve. For instance, struggling when you took over at a traditional power is graded harsher than struggling at an underfunded Group of Five program. The same is true in reverse. However, there are still a ton of poor grades, some of which seem like harsh grades given the circumstances.
CLICK HERE to subscribe for FREE to the On3 YouTube channel
Mind you, none of these grades from ESPN are final. They're based on half a season. So, plenty of things could change between the end of the season, let alone the tenure of every one of these coaches.
ESPN's midseason grades for first-year coaches
Here are all the different grades that ESPN gave to first-year college football coaches:
A Tier
Sonny Dykes, TCU. In his first season at TCU, Sonny Dykes has yet to lose a game. He's taken a team that struggled in recent seasons and immediately turned them into Big 12 contenders. That's worth celebrating.
Jon Sumrall, Troy. In an exciting Sun Belt Conference, Jon Sumrall and Troy have gone under the radar. However, they're legit contenders for the Sun Belt West.
Lincoln Riley, USC. The Trojans have, almost immediately, become one of the best offensive teams in the game. Turnovers, in particular, have been massive for USC. Rittenberg writes, "The Trojans have 16 takeaways, tied for fifth in the FBS, and have seen major increases in sacks and tackles for loss."
A- Tier
Kalen DeBoer, Washington. After a quick start, Washington has slowed down a little bit in recent weeks. Still, at 5-2 things feel much better than they did a season ago.
Clay Helton, Georgia Southern. Beating Nebraska was huge for Helton. The former USC coach is winning and seems more in his element now.
Mike Elko, Duke. This was always going to be a massive rebuild. However, Mike Elko has the Blue Devils way ahead of schedule. Duke is 4-3. One more win and they'll match Duke's 2020 and 2021 totals combined.
B+ Tier
Dan Lanning, Oregon. After an embarrassing Week 1 loss to Georgia, Dan Lanning and Oregon have turned things around. Now, they're a one-loss team hosting ESPN's College GameDay.
Joey McGuire, Texas Tech. Texas Tech has been relatively quiet this season, other than beating Texas, which isn't a bad thing. The Red Raiders are 3-3, recruiting well, and building for the future.
B Tier
Jim Mora, UConn. So far this season, UConn doesn't look good. However, they do look respectable against FBS opponents. That's a huge step forward.
B- Tier
Brian Kelly, LSU. The loss to open the season against Florida State was a nasty surprise. Then, getting blown out by Tennessee was frustrating. As Rittenberg writes, "LSU has shown several bright spots and could be a tough squad to beat down the stretch. Kelly's stint ultimately will be judged by whether he wins a national title, which never was going to happen with this team."
Timmy Chang, Hawai'i. After a mass exodus of players in the transfer portal and a state senate hearing over the program, this was going to be a difficult job. He's won an FBS game, which is more than many thought he would.
C Tier
Michael Desormeaux, Louisiana. Billy Napier was always going to be a tough act to follow but it seems like Louisiana has already taken a step back.
Timmy Chang, Hawai'i. After a mass exodus of players in the transfer portal and a state senate hearing over the program, this was going to be a difficult job. He's won an FBS game, which is more than many thought he would.
C- Tier
Billy Napier, Florida. Before the season, Napier said this would be a long rebuild. That's proving true and Anthony Richardson isn't developing as well as many hoped.
Rhett Lashlee, SMU. A 3-3 record is disappointing for SMU, especially given the team's talent levels. However, a tough schedule has led to a tough start.
Jerry Kill, New Mexico State. In one of the hardest jobs in the country, Kill has finally started winning a few games.
Stan Drayton, Temple. The Owls have massive roster issues that Drayton inherited. It's going to be a long rebuild, but Drayton seems to have Temple playing tougher in the meantime.
Sonny Cumbie, Louisiana Tech. Louisiana Tech has shown flashes of talent at times, but it hasn't been enough to justify moving on from Skip Holtz.
Jeff Tedford, Fresno State. With experience at Fresno State, Jeff Tedford was brought back. Things have been difficult so far, though, and he'll need to figure things out soon.
D+ Tier
Marcus Freeman, Notre Dame. As a first-time head coach, Freeman is clearly going through growing pains. Injuries haven't helped, but the offense is struggling and the Irish are losing games they shouldn't be losing.
Mario Cristobal, Miami. The Hurricanes hired Cristobal because he's a program builder and a 'Miami guy.' So were Manny Diaz and Randy Shannon. They didn't work out, either. Now, with a huge investment in the program, things are tense.
Brent Pry, Virginia Tech. This is going to be a big-time turnaround job. Rittenberg wrote, "Pry was a first-time head coach who hired two really young coordinators in Tyler Bowen (33) and Chris Marve (33). Right now, the team is showing some growing pains, but it still has a chance to develop in the second half."
Joe Moorhead, Akron. The Zips made headlines when they brought in Moorhead, but he didn't have magic pixie dust to fix everything right away. It's still a tough job.
Brent Venables, Oklahoma. Unfortunately, the Sooners haven't played good enough defense to meet expectations. Then, when Dillon Gabriel went down with an injury, Oklahoma didn't have a backup plan.
Ken Wilson, Nevada. Wilson knows how to succeed at Nevada. He has the experience to do so, but when Jay Norvell left for Colorado State a lot of the team transferred out and he had to hit the reset button.
Mike MacIntyre, FIU. Any season where you lose a conference game 73-0 is a bad season. There's no way around it, even if it was always going to take a long time to fix the program.
D Tier
Don Brown, UMass. Arguably the hardest job at the FBS level, UMass won two games in three seasons under previous coach Walt Bell. Brown, who took UMass to the FCS national championship game in 2006 knew what he was in for, but it's gonna take a while.
Tony Elliott, Virginia. So far, Tony Elliott's offense has been incredibly disappointing, largely due to a bad offensive line. Still, with Brennan Armstrong at quarterback, this team is incredibly frustrating.
Jay Norvell, Colorado State. After a few disastrous seasons, Colorado State brought in a proven Mountain West coach. The problem is that the rebuild is going to take multiple seasons.