ESPN insider reveals what it would take for Oklahoma, Texas to leave Big 12 early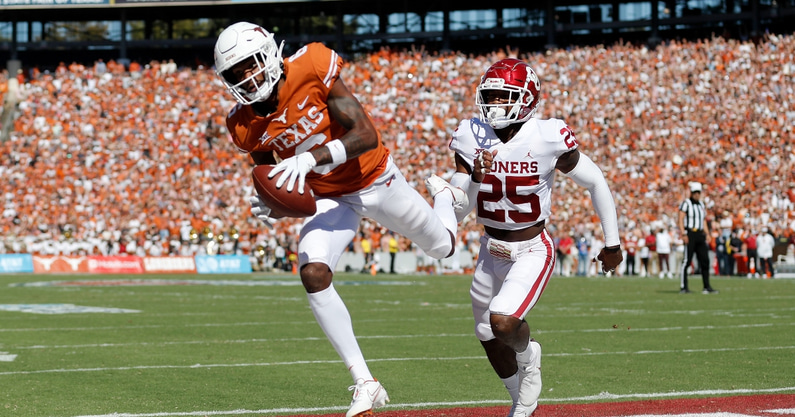 Oklahoma and Texas kicked off the conference realignment windfall last year when they announced they'd leave the Big 12 for the SEC no later than 2025. But could the Sooners and Longhorns end up leaving early?
ESPN's Heather Dinich talked about that on College Football Live on ESPNU Thursday, and an early exit doesn't sound too likely.
Dinich, speaking from AT&T Stadium at Big 12 Media Days, said the plan is still for both schools to leave on July 1, 2025. She also listed the hefty price tag that would come with a departure prior to that date, and cited that as a reason it's not expected to happen.
"Incoming commissioner Brett Yormark told reporters he is open to negotiations," Dinich told ESPN's Wendi Nix. "He said that when it comes to that, the best thing he wants to do is be in the best interest of the Big 12. So we'll see where that stands.
"But look, they have to pay an $80 million per school exit fee if they leave early, and the official word from the SEC and the Big 12 is that that's going to happen on July 1, 2025. If it does happen early, 2024 seems to be the most realistic timeline because of the TV contracts that are currently in place. There's some serious legal unraveling that would have to happen in order for that to happen."
After Oklahoma and Texas announced their departures, the Big 12 moved to add four teams to help replace them. The league is bringing in Cincinnati, Houston, UCF and BYU starting with the 2023 season, meaning there could be up to a two-year overlap with Oklahoma and Texas in the league. It only adds to the intrigue as Yormark settles in as Big 12 commissioner following the resignation of Bob Bowlsby.