ESPN releases Power Rankings after Week 2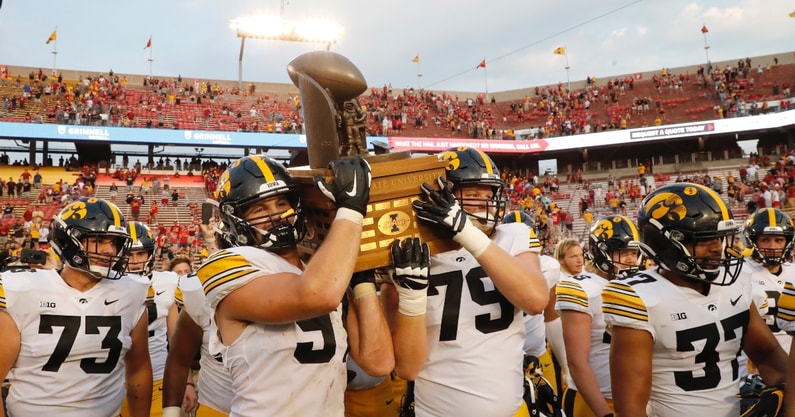 The second full weekend of college football saw multiple Top-25 upsets and near upsets. While most of the playoff favorites played unexciting games, a few big contests shook up this week's ESPN Power Rankings.
Alabama Crimson Tide (2-0)
Georgia Bulldogs (2-0)
Oregon Ducks (2-0)
Oklahoma Sooners (2-0)
Iowa Hawkeyes (2-0)
Cincinnati Bearcats (2-0)
Clemson Tigers (1-1)
Texas A&M Aggies (2-0)
Florida Gators (2-0)
Penn State Nittany Lions (2-0)
Ohio State Buckeyes (1-1)
Notre Dame Fighting Irish (2-0)
UCLA Bruins (2-0)
Ole Miss (2-0)
Coastal Carolina Chanticleers (2-0)
Iowa State Cyclones (1-1)
Virginia Tech Hokies (2-0)
Wisconsin Badgers (1-1)
Arkansas Razorbacks (2-0)
North Carolina Tar Heels (1-1)
BYU Cougars (2-0)
Arizona State Sun Devils (2-0)
Kentucky Wildcats (2-0)
Auburn Tigers (2-0)
Michigan Wolverines (2-0)
Conference breakdown: SEC (8), Big Ten (5), Pac-12 and ACC (3), Big 12 (2), Group of Five (2), Independent (2)
Big Top 5 shakeup
College football's two biggest games of last week resulted in some major changes in the Top 5. Ohio State, previously No. 3 in the power rankings, fell to 11 while the victor of the game, Oregon, rose five spots to No. 3. Headlined by quarterback Anthony Brown and running back CJ Verdell, the Ducks shocked Ohio State at home, their first home loss since 2017. Ohio State's secondary was repeatedly shredded, exposing several issues Ohio State defensive coordinator Kerry Coombs will need to remedy if the Buckeyes want any shot at sneaking into the College Football Playoff. Iowa went to Ames and beat Iowa State in one of the biggest games ever played at Jack Trice Stadium. Their offense was not pretty (173 yards of total offense), but the Hawkeyes forced four turnovers and embarrassed a squad that was previously hoping to snag a playoff spot. 
Bad weekend for blue bloods
USC and Texas took huge steps backward on Saturday. After beating a decent San Jose State team in Week 1, USC was embarrassed by Stanford at the Coliseum 42-28. Less than 48 hours later, their head coach Clay Helton was fired, and a coaching search began at one of the nation's most coveted jobs. Whoever takes the job will need to turn around a team that has not seen success since the Pete Carroll era now nearly 20 years ago.
It appears the Steve Sarkisian honeymoon period is over at Texas, as the Longhorns went to Fayetteville and put on one of their worst offensive performances in recent memory on the way to losing 40-21 to the Razorbacks. The offensive-minded head coach is already switching his starting quarterback and will need to revive the program to settle one of college football's most impatient fanbases. Both USC and Texas fell out of the power rankings. 
While they both came away with wins on Saturday, Notre Dame and Miami moved down in the rankings. The Irish fell three spots to No. 12 after a come-from-behind touchdown pass by Jack Coan, who dislocated his finger on the previous play, to beat Toledo 32-29. Miami is out of the power rankings after surviving Appalachian State at home. The most interesting part of that game? A group of fans catching a cat with an American flag. What a wild sport this is. 
SEC has three new faces in the rankings
Newcomers to the power rankings include Arkansas, BYU, Kentucky, Auburn and Michigan. Kentucky beat in-division rival Missouri in a close 35-28 victory headlined by running back Chris Rodriguez and his three touchdowns. Auburn has yet to face Power Five competition, but they'll get a test this weekend when they travel to Happy Valley to take on Penn State. College Gameday will be on site, and the Nittany Lions will have their annual whiteout. 
Outside of the Southeast, BYU took an early lead against Utah and never looked back. The Cougars snagged their first Holy War win in nine years. Between the victory and accepting the invitation to join the Big 12, it was a good week in Provo. Michigan handed a struggling Washington team their second loss of the season using just 44 passing yards. The Wolverines have an exciting run game, but they will need to figure out the quarterback and receiver positions if they want to be a true contender in the Big Ten.