ESPN releases updated FPI Top 25 rankings following upset-filled Week 4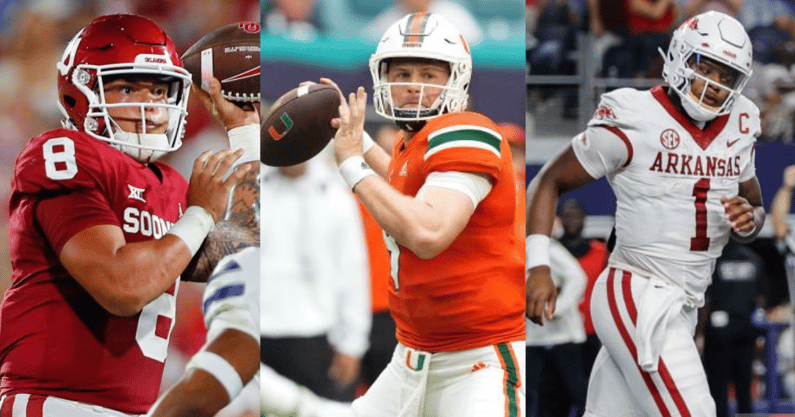 If you're going to talk about Week 4 of the college football season, you're going to talk about upsets. Several teams in the AP Top-25 were pushed and ESPN's new FPI Top-25 rankings reflect that including a new No. 1 in the rankings.
Oklahoma lost on the field yet saw some positivity in the rankings. The Sooners hosted Kansas State and lost 41-34 to the Wildcats as one of only two Top-10 teams to lose on Saturday. Even so, they moved up in this week's update.
Meanwhile, Miami was the biggest loser of the day. The Hurricanes lost one of this season's shockers with a 45-31 defeat to the MTSU Blue Raiders. It was the Conference USA school's first-ever Top-25 win and one that caused plenty of concern in Coral Gables.
CLICK HERE to subscribe for FREE to the On3 YouTube channel
Texas was the only other Top-25 team to lose to an unranked squad with a 37-34 defeat to in-state rival Texas Tech in OT. Besides them, the only other Top-25 losses came against other ranked competition. Clemson outlasted Wake Forest, Texas A&M took a heartbreaker from Arkansas, and Tennessee earned themselves some momentum with their win over Florida on the field but lost four spots in the FPI rankings.
No other upsets doesn't mean there weren't any other close calls. USC, Oregon, and Baylor all escaped road losses in conference play in near misses against Oregon State, Washington State, and Iowa State respectively. From there, Ole Miss and Kentucky were each pushed by their own MAC schools at home.
One of the most surprising scares, though, came from the Georgia Bulldogs. The reigning champions and the AP's top dog had Kent State hanging around with them for most of the day before winning 39-22. Kirby Smart's group got the job done, but not without them losing their top spot in ESPN's FPI Top-25 this week.
ESPN FPI Top 25 Rankings
Movement from last week, right of the record
Alabama Crimson Tide (4-0) +1
Ohio State Buckeyes (4-0) +1
Georgia Bulldogs (4-0) -2
Michigan Wolverines (4-0)
Clemson Tigers (4-0)
Texas Longhorns (2-2)
LSU Tigers (3-1) +5
Oklahoma Sooners (3-1) +1
USC Trojans (4-0) +2
Utah Utes (3-1) +3
Ole Miss Rebels (4-0) -4
Tennessee Volunteers (4-0) -4
Penn State Nittany Lions (4-0) -3
Minnesota Golden Gophers (4-0) +4
Baylor Bears (3-1) -1
Notre Dame Fighting Irish (2-2) +9
Cincinnati Bearcats (3-1) +6
Washington Huskies (4-0) +3
Mississippi State Bulldogs (3-1) -2
Oklahoma State Cowboys (3-0) +2
Oregon Ducks (3-1) +1
Florida State Seminoles (4-0) +9
Wisconsin Badgers (2-2) -4
Maryland Terrapins (3-1) +5
Iowa State Cyclones (3-1) +2
Alabama and Ohio State made the jumps up to one and two over Georgia with dominant wins over Vanderbilt and Wisconsin. That comes as a surprise, though, with the Bulldogs still managing the win. The Rebels, Volunteers, and Nittany Lions also suffered their own surprising drops in this poll, even with wins for each team.
Notre Dame and Florida State made the biggest jumps of the week in the Irish's 45-32 win over North Carolina and the Seminole's 44-14 victory over Boston College.
After another wild weekend, Miami, Michigan State, and Pittsburgh are out of this week's poll. Iowa State, Maryland, and Florida State did however join the mix in ESPN's updated edition of FPI rankings.