ESPN reveals Way Too Early Top 25 for 2022 college football season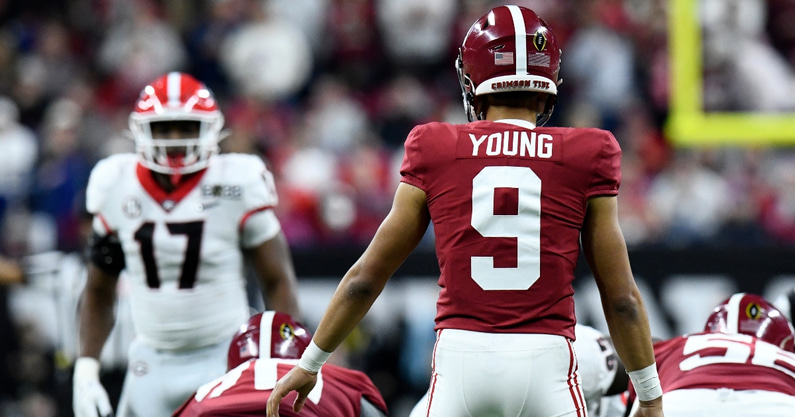 The 2021 college football season is officially complete. This season came to an end on Monday night, when Georgia got revenge on Alabama, winning the national championship. Shortly after Georgia's victory, ESPN released its way too early Top 25 rankings in college football for 2022.
ESPN's way too early 2022 Top 25
Alabama Crimson Tide (2021 record: 13-2)
Ohio State Buckeyes (11-2)
Georgia Bulldogs (14-1)
Texas A&M Aggies (8-4)
Michigan Wolverines (12-2)
Notre Dame Fighting Irish (11-2)
Utah Utes (10-4)
NC State Wolfpack (9-3)
Oklahoma State Cowboys (12-2)
Michigan State Spartans (11-2)
Clemson Tigers (10-3)
Oregon Ducks (10-4)
Houston Cougars (12-2)
Wake Forest Demon Deacons (11-3)
Iowa Hawkeyes (10-4)
Baylor Bears (12-2)
Oklahoma Sooners (11-2)
BYU Cougars (10-3)
Cincinnati Bearcats (13-1)
Arkansas Razorbacks (9-4)
Kentucky Wildcats (10-3)
USC Trojans (4-8)
Ole Miss Rebels (10-3)
Wisconsin Badgers (9-4)
South Carolina Gamecocks (7-6)
Despite title game loss, Alabama remains at the top
This year's College Football Playoff field, Georgia, Alabama, Michigan, and Cincinnati, all remain in ESPN's way too early Top 25 for 2022. While Alabama came up short on Monday, the Crimson Tide return the Heisman Trophy winner (Bryce Young) and arguably the best defensive player in the nation (Will Anderson). Alabama has also already seen success in the transfer portal, while returning a lot of its talent from this season.
Georgia will lose a lot of its defensive talent, but the Bulldogs still return a lot of talent on both sides of the ball. Michigan, who Georgia beat in the CFP semifinal, also remains highly ranked despite losing multiple elite talents on defense, in addition to talent on offense.
Cincinnati comes in at No. 19 as the lowest ranked team from this year's CFP field. The Bearcats lose their starting quarterback (Desmond Ridder), two All-American corners (Ahmad Gardner, Coby Bryant, leading rusher (Jerome Ford), and many other difference makers on offense and defense. Cincinnati's AAC foe Houston is the highest ranked G5 team, coming in at No. 13.
A few teams have seen some major rises in ESPN's way too early Top 25 for 2022. Texas A&M was unranked in the AP Postseason Top 25, but ESPN ranks them in the top four after the Aggies brought in the top recruiting class in the country. NC State (20th in postseason top 25, 8th in ESPN's 2022 rankings) also makes a major leap into the top ten while returning significant talent. USC also goes from 4-8 in 2021 to the 22nd ranked team in ESPN's rankings.