ESPN, Todd McShay release updated mock draft following Panthers trade for first overall pick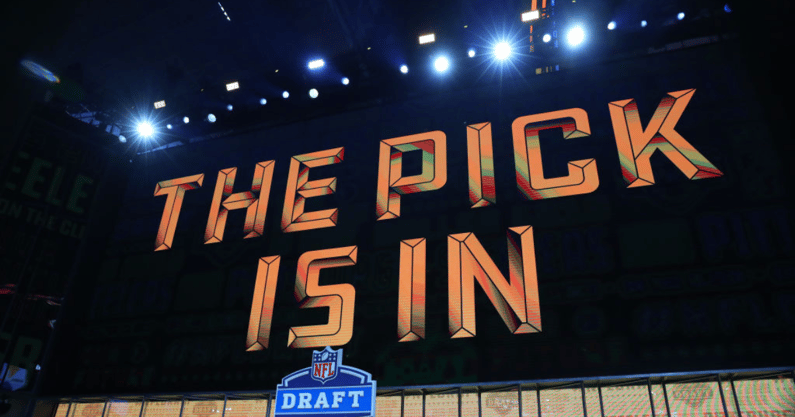 Todd McShay of ESPN has updated his 2023 NFL Mock Draft following the gigantic trade between the Chicago Bears and Carolina Panthers.
The Panthers have mortgaged their future to move up from the No. 9 spot to first overall, and McShay believes they have a special player in mind for doing so. Here's his first ten picks, which he released early Saturday morning on ESPN.
ESPN, Todd McShay's Updated 2023 NFL Mock Draft:
1) Carolina Panthers (via Chicago Bears) — QB Bryce Young, Alabama Crimson Tide
The massive trade for the first overall pick will yield Carolina the former Crimson Tide star, according to McShay. The ESPN NFL Draft expert has Young as not only his top quarterback, but his top overall prospect, making him worthy of a historic move to secure his services.
2) Houston Texans — QB CJ Stroud, Ohio State Buckeyes
The Texans opted to stay at No. 2 in the 2023 NFL Draft, whether by design or by not wanting to pay the price, but the quarterback they're selecting is no slouch. Stroud had a fantastic collegiate career, and new Texans leader DeMeco Ryans has his quarterback now.
3) Arizona Cardinals — OLB Will Anderson Jr., Alabama Crimson Tide
The Cardinals stay put at three and get the best available defensive player amid the news of Jalen Carter's legal issues. The former Georgia star may have made Arizona ponder, but Anderson is a perfect pick to start Jonathon Gannon's tenure with the Cardinals.
4) Indianapolis Colts — QB Anthony Richardson, Florida Gators
The winner of the underwear Olympics was Richardson, and he's rewarded by playing in Indianapolis for the foreseeable future. After years of veteran quarterbacks, the Colts put all their eggs in the former Florida star's basket, according to McShay.
5) Seattle Seahawks (via Denver Broncos) — DE Tyree Wilson, Texas Tech Red Raiders
The Seahawks may have needed a quarterback in this spot before the advent of Geno Smith, but his quality play frees them up to bring in one of the most exciting defensive prospects, as Wilson gives them some youth at the position.
6) Detroit Lions (via Los Angeles Rams) — CB Christian Gonzalez, Oregon Ducks
The Lions defense has been desperate for some help against the pass, and former third overall pick Jeff Okudah has been up and down to start his career. McShay believes Gonzalez can help stop the bleeding.
7) Las Vegas Raiders — QB Will Levis, Kentucky Wildcats
No Aaron Rodgers, no problem for Las Vegas. Levis would be a project, but he would enter one of the best situations for a quarterback in the NFL, with Josh McDaniels' guidance and Davante Adams to pass to.
8) Atlanta Falcons — OLB Nolan Smith, Georgia Bulldogs
McShay's biggest riser of the 2023 NFL Combine wasn't Richardson, but the former Georgia star in Smith. His blazing speed and raw performance get him into the ESPN expert's top ten, and many teams will be calling for his services.
9) Chicago Bears (via Carolina Panthers) — OT/G Peter Skoronski, Northwestern Wildcats
The Panthers may not being picking first overall any longer, but they fill their biggest need with McShay's best offensive lineman in Skoronski. They don't secure one for the top defensive players, but Justin Fields will be elated.
10) Philadelphia Eagles (via New Orleans Saints) — RB Bijan Robinson, Texas Longhorns
The defending NFC champions rock with a running back in the first round, something that many consider to be sacrilegious at the moment. Still, Robinson is electrifying as any player in the draft, and would give the Eagles a dynamic duo with Jalen Hurts in the backfield.
Click here to see the rest of Todd McShay's 2023 NFL Mock Draft on ESPN.