ESPN updates BPI Top 25 rankings after another exciting Saturday of college basketball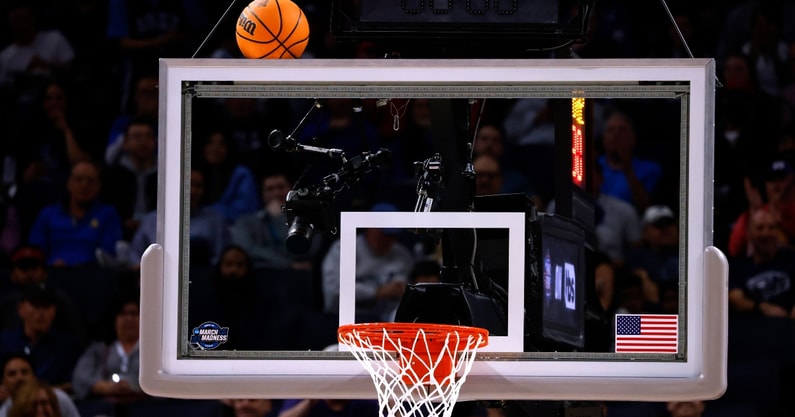 Saturday featured quite a few exciting games across college basketball, including a pair of matchups between AP-ranked teams. Following all of the action, ESPN has again updated its BPI Top 25 rankings with some big changes.
The first ranked matchup of Saturday's slate was between No. 2 Kansas and No. 14 TCU, and that game brought the most surprising result. The fact that TCU won the game wasn't the surprising part, as the Horned Frogs have played well this season. But nobody quite expected the Horned Frogs to go in and dominate the way they did. Ultimately, TCU held Kansas to 22 second-half points and came away with an 83-60 victory.
The other ranked matchup on Saturday came from the Pac-12, as No. 11 Arizona hosted No. 5 UCLA. That game also produced an upset, as the Wildcats defeated the Bruins 58-52. Both UCLA and Arizona now sit at 17-3 on the season, and could join the top ten when new AP rankings are revealed on Monday.
A pair of ranked teams lost against unranked opponents on Saturday, too. Oklahoma State hosted No. 12 Iowa State in another tight Big 12 battle, and it was the Cowboys that pulled off the upset. Oklahoma State squeaked out a close won, winning 61-59. Duke also hosted No. 17 Miami, and the Blue Devils pulled out a two-point victory of their own, winning 68-66.
Updated ESPN BPI Top 25 rankings
Houston (18-1) (–)
Tennessee (16-3) (–)
Alabama (17-2) (+1)
UCLA (17-3) (-1)
Texas (16-3) (+1)
Purdue (18-1) (+1)
UConn (15-5) (-2)
Baylor (14-5) (+2)
Virginia (15-3) (+5)
Iowa State (14-4) (+3)
Gonzaga (17-4) (-2)
Ohio State (11-8) (–)
St. Mary's (18-4) (+6)
Indiana (12-6) (+3)
Kansas (16-3) (-7)
Creighton (11-8) (–)
Rutgers (13-6) (-6)
Auburn (16-3) (+3)
Arizona (17-3) (-1)
Marquette (16-5) (+2)
TCU (15-4) (+3)
Arkansas (13-6) (-7)
Kentucky (13-6) (-3)
Xavier (16-4) (-1)
Illinois (13-6) (–)
The top ten saw a couple of changes, as Virginia rose five spots up to No. 9 and Iowa State rose three spots up to No. 10. Gonzaga fell two spots down to No. 11, and Kansas dropped seven spots and out of the top ten.
Rutgers and Arkansas also saw sizeable falls, as the Scarlett Knights dropped six spots down to No. 17 and the Razorbacks fell seven spots down to No. 22.
There are no new teams inside this week's ESPN BPI Top 25. North Carolina remains at No. 26, just barely missing out on the top 25. Iowa, Duke, West Virginia and San Diego State also made the top 30, and are knocking on the door of the top 25.