ESPN updates college football Top 25 power rankings after turbulent Week 4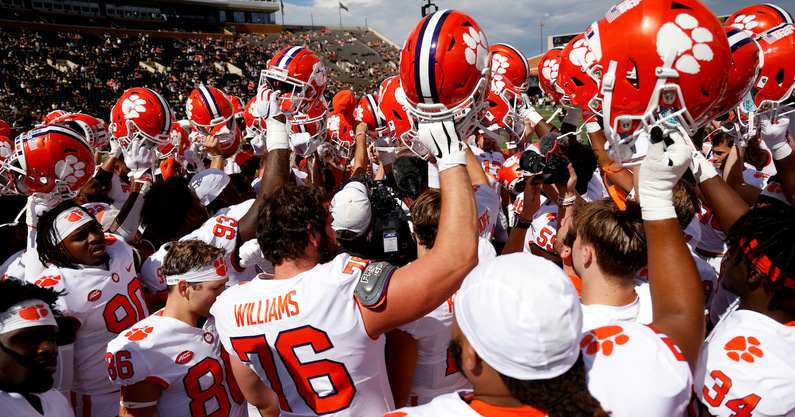 A third of the college football season has come and gone and a clearer picture of who's legit, who's not, and who is somewhere in between is emerging. As such, there was little movement at the very top of the ESPN Top 25 power rankings from Week 3 to Week 4, but a fair bit of shuffling outside the Top 5.
Georgia, Alabama and Ohio State maintained their steady perches atop the power ranking — in that order — with Clemson jumping from No. 8 up to No. 4 after an impressive 48-45 double-overtime road win at Wake Forest. Michigan rounds out the Top 5 again and Tennessee and North Carolina State both entered the Top 10.
The biggest mover is Oklahoma, and the Sooners are trending in the wrong direction after Kansas State — making an appearance at No. 25 — emphatically won in Norman on Saturday evening. The Sooners plummeted 15 places to come in at No. 21.
CLICK HERE to subscribe for FREE to the On3 YouTube channel
The next biggest mover was also in the wrong direction, as Arkansas fell out of the Top 10 to No. 18 with a nine-place drop. The Razorbacks fell to Texas A&M at AT&T Stadium and the Aggies jumped up five places to No. 17. The Demon Deacons fell five spots from No. 17 to No. 22 with their loss to Clemson, effectively switching spots with Texas A&M.
The Aggies were tied with Washington as the biggest risers in the power ranking. After smacking Michigan State last week, the Huskies appeared in the Week 3 power ranking. Now, they rank No. 14 — a five-place climb — after dismantling Stanford on Saturday.
As for the Spartans — previously No. 25 — they fell out of the ESPN rankings along with Pitt (No. 24 in Week 3) and Texas (previously No. 20). Along with Kansas State, in-state rival Kansas appears at No. 24 and Minnesota is a debutant at No. 20 following their road beatdown of MSU.
ESPN Top 25 power ranking after Week 4
Georgia (4-0), no change
Alabama (4-0), no change
Ohio State (4-0), no change
Clemson (4-0), +4
Michigan (4-0), no change
Kentucky (4-0), +1
Tennessee (4-0), +4
USC (4-0), -4
Oklahoma State (3-0), +1
North Carolina State (4-0), +2
Oregon (3-1), +2
Penn State (4-0), +3
Ole Miss (4-0), +3
Washington (4-0), +5
Utah (3-1), -1
Baylor (3-1), +2
Texas A&M (3-1), +5
Arkansas (3-1), -9
Florida State (4-0), +4
Minnesota (4-0), new
Oklahoma (3-1), -15
Wake Forest (3-1), -5
BYU (3-1), -2
Kansas (4-0), new
Kansas State (3-1), new