ESPN updates FPI top-25 rankings after Week 3 of college football season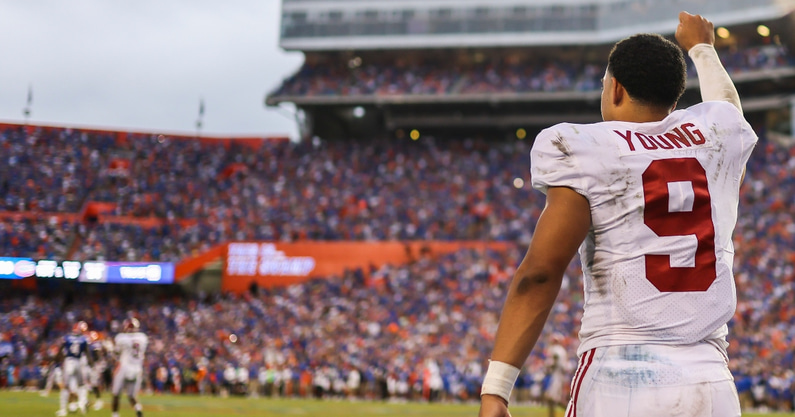 Following a weekend of huge matchups across the board, the ESPN college football power index has been shaken up. Due to the rollercoaster that is college football, programs are moving up and down the board this week.
According to ESPN, the FPI is a predictive rating system designed to measure team strength and project performance going forward. Moreover, each team's FPI rating is composed of a predicted offensive, defensive and special teams component.
After Week 3, let's take a look at where ESPN believes teams are currently, and where they'll end up at season's end.
ESPN FPI Top-25 Rankings following Week 3:
1) Alabama Crimson Tide
2) Georgia Bulldogs
3) Oklahoma Sooners
4) Ohio State Buckeyes
5) Clemson Tigers
6) Michigan Wolverines
7) Florida Gators
8) Oregon Ducks
9) Ole Miss Rebels
10) Penn State Nittany Lions
11) Auburn Tigers
12) Texas Longhorns
13) North Carolina Tar Heels
14) Texas A&M Aggies
15) Iowa Hawkeyes
16) Iowa State Cyclones
17) Michigan State Spartans
18) Cincinnati Bearcats
19) Wisconsin Badgers
20) Arkansas Razorbacks
21) Notre Dame Fighting Irish
22) NC State Wolfpack
23) Virginia Tech Hokies
24) USC Trojans
25) Pittsburgh Panthers
ESPN FPI: Biggest Risers from Week 3
First, two of the biggest movers within the top-25 in the ESPN FPI were the Iowa State Cyclones and USC Trojans.
After devastating losses, both teams rebounded with impressive victories. Iowa State boat-raced UNLV, while USC dismantled Washington State.
Additionally, Michigan State also jumped up nine spots in the ESPN FPI. After a terrible first season, head coach Mel Tucker has the Spartans playing great.
Moreover, other teams on the rise include Michigan, Ole Miss, Texas and NC State.
Michigan and Ole Miss look like dark horse contenders in their conferences. While things haven't been as glorious for Texas and NC State, they both rebounded from disappointing losses with big victories.
ESPN FPI: Biggest Fallers from Week 3
Surprisingly, one of the biggest fallers was the Texas A&M Aggies. While they defeated New Mexico, they dropped five spots in the ESPN FPI.
Moreover, one of the best victories in all of college football was Penn State's win over Auburn. However, the Nittany Lions fell two spots following the win — moving from eighth to tenth.
Finally, the biggest loser of all was the Pittsburgh Panthers. After starting the season 2-0, they were stunned by Western Michigan on their home field — sending them tumbling down eight spots the ESPN FPI.