Evan Engram claims Cowboys DB sucker punched him after Sunday's game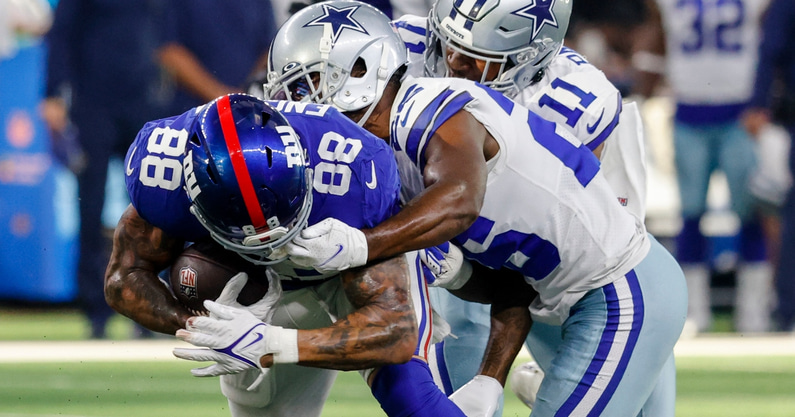 AT&T Stadium went from harboring a football game to a fight club on Sunday. According to New York Giants tight end Evan Engram, the bad blood between his team and the Dallas Cowboys boiled over after the clock hit zero.
Cowboys safety Jayron Kearse punched Engram in the face while the teams shook hands on the field after the Cowboys victory, Engram told Pat Leonard of the New York Daily News.
"I walked up on him. He walked up on me kinda, saying some stuff. He threw the punch," Engram said. "We had some guys there that separated us, so it was kind of boom, boom. He stole one off, and everybody was there to separate us. So I kinda just let it go. I dapped up some of my old coaches and friends on the other side [afterward] and went into the locker room."
"I was pushing him around the whole game, so he was probably just mad about that. It's whatever."
Furthermore, the former Ole Miss tight end mentioned that he didn't retaliate. He didn't want to get fined, and he stated the former Clemson safety's punch was "soft."
"There's this thing the NFL does, they send out letters and they forcefully take money from you for acting up," Engram said. "So I don't need any of that. It was a little baby punch anyway. It was soft. So I definitely want to keep my money in my pocket. I'm good."
According to Leonard, Fox executives deferred to the NFL when asked to supply video of the incident. Then, the NFL told the Daily News to check with NFL Films. Finally, a league spokesman said that NFL Films employees checked and that there is no video of the incident in question.
Giants teammate: 'I wish I would have been there'
Giants guard Will Hernandez is fiery as anybody on their team, so naturally he was angry when the story made its way around the locker room.
"I wish I would have been there," said Hernandez. "But I heard about it afterwards. They told me. You know what? It's great, because we play them again."
Additionally, Hernandez added more fuel to the fire that Engram and Kearse helped burn. The Giants offensive lineman stated that he isn't a fan of the way the Cowboys conduct business.
"I care very little for what they do and how they do things and how they conduct themselves on their team," Hernandez said. "All I care about is our guys being good, our guys being not messed with, and us being healthy and ready to go."
The Cowboys won the battle on Sunday, but the Giants are already focused on the next time they'll face off. Evan Engram and Jayron Kearse will get another chance to go at it later this season, when Dallas travels to MetLife Stadium on December 19th.
"Losing sucks and losing to our rival sucks," Engram said. "But the best thing about that is we'll see them again."