Evan Neal expected to miss several games following MCL sprain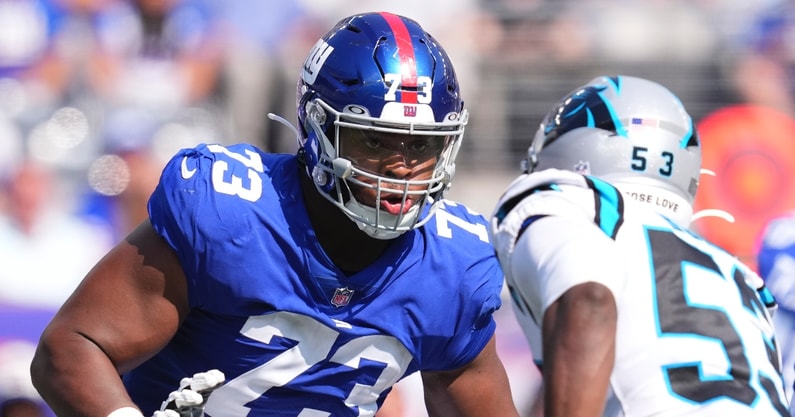 New York Giants offensive tackle Evan Neal is expected to miss up to four weeks of action after being diagnosed with a Grade 2 MCL sprain injury. The former Alabama star was injured during the Giants' 23-17 victory over the Jacksonville Jaguars Sunday.
Running back Saquon Barkley took a rush behind Neal's block in the first half, but was tackled into Neal's knee by the Jacksonville defender. Neal immediately went down, but was able to limp off the field after being helped by Giants training staff.
CLICK HERE to subscribe for FREE to the On3 YouTube channel
Taken seventh overall in the 2022 NFL Draft by the Giants out of Alabama, Neal had already been contributing heavily to New York's offensive efforts as a starting tackle. If his injury timetable goes as expected, the former Crimson Tide star can expect to return against the Cowboys (Nov. 24) or vs. the Commanders (Dec. 4).
Jaguars come up short against Giants following controversial final drive
The New York Giants hung on Sunday to pick up an improbably fourth straight victory considering the way the final drive played out. However, they will add today's game against the Jacksonville Jaguars to the win column by literally holding on in the final seconds to take it 23-17.
Amidst a final drive that did not go their way due to penalties, New York's defense defined the 'bend don't break' mentality. That's because Trevor Lawrence completed the potential game-winner to Christian Kirk. However, Xavier McKinney and Julian Love let him get no further than the one as time expired for the Jags.
This final drive legitimately pushed the Giants to the edge. A Fabian Moreau interception was negated by an illegal use of hands call on Dane Belton. Dexter Lawrence was then called for roughing the passer on a fourth down play that kept Jacksonville's dream alive.
After all that, though, New York hung on by the skin of their teeth and, regardless, sit 6-1 on the season. One of the NFL season's best storylines so far continues with the G-Men's win today as they'll now prepare to play in Seattle against the Seahawks next Sunday.