Every 5-star prospect in the final 2022 On3 rankings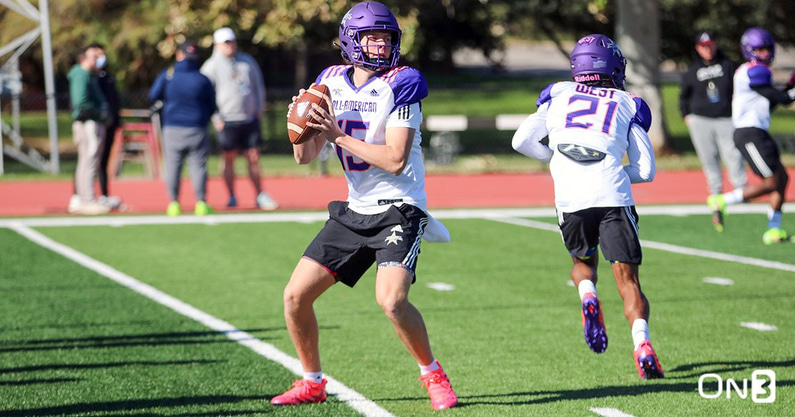 A handful of prospects still remain unsigned or uncommitted as the calendar soon turns to February, but by and large, the 2022 recruiting cycle will be finished over the next few weeks.
With prospects' senior seasons in the book, as well as the completion of the three major all-star games — and their accompanying practices — On3 has begun releasing its final rankings for the 2022 recruiting class. At the head of the class are the country's top 32 prospects, who have each been given a five-star ranking. A little more than half of those 32 were five-stars previously, but 15 prospects have jumped into five-star category after impressive performances during their high school seasons, as well as on the all-star circuit. The new rankings also feature a new No. 1 overall prospect and top-ranked quarterback.
No. 1: QB Devin Brown
School: Draper (Utah) Corner Canyon
Status: Signed with Ohio State
On3 NIL Valuation: $56,000

"One of the more live-armed passers in the 2022 cycle. Generates considerable zip on the ball with the ability to drive throws downfield and from the far hash to the boundary. The ball pops out of his hand and comes in hot. Stretches the field vertically with his considerable arm strength. May have the most high-level, small window throws of any 2022 quarterback as a senior. At his best when he can sit back in the pocket and push the ball vertically. Has light feet with average to above average mobility. Transferred from the Phoenix area to Utah powerhouse Corner Canyon for his senior season. Is putting up big passing numbers as a senior. Has a bit of a gunslinger mentality, leading to a higher interception total. Can miss read defenders, leading to picks. Showing some more rushing ability in the red zone as a senior. Put forth a strong showing at the Elite 11 Finals prior to his senior season."
— Charles Power, On3 Director of Scouting and Rankings
No. 2: DL Mykel Williams
School: Columbus (Ga.) Hardaway
Status: Signed with Georgia
On3 NIL Valuation: $30,000
"High upside defensive lineman who is already an outstanding player at the high school level. Has a large frame with plus length (34-inch arms) and large hands (10 inches). Looks lean while carrying 265 pounds. Would not be surprising to see him carry 300 pounds with ease after time in a college strength program. A highly productive and disruptive player in high school for several seasons. Has advanced pass rush ability for a larger prospect. Uses first-step quickness to tee off against opposing offensive tackles. Pairs his high-end quickness with the length and a strong effort level to finish plays behind the line of scrimmage at a high rate. Among the more productive defensive linemen or EDGE prospects in 2022, posting double-digit sacks and at least 17 tackles for loss in all three varsity seasons. Is a younger prospect for the class and won't turn 18 until the summer of 2022."
— Charles Power
No. 3: EDGE Jihaad Campbell
School: Bradenton (Fla.) IMG Academy
Status: Signed with Alabama
On3 NIL Valuation: $39,000

"Highly athletic, versatile edge defender who is an impact player on the most talented defense in high school football. Pairs high-end athleticism with positional versatility. Among the more athletic players on IMG Academy's roster, clocking an electronically-timed 4.52 second 40-yard dash prior to his senior season. Plays as a rushing linebacker for IMG and has made the most splash plays on a defense that is two-deep with blue-chip prospects. Consistently wins as a pass rusher off the edge due to his first-step quickness and bend. Also has the ability to drop into space and play in coverage. Previously played off-the-ball at his high school in New Jersey, prior to transferring to IMG. Plays with high-energy both in practices and in games. Always shows up to compete, regardless of the setting. Will need to fill out his 6-foot-3, 210 pound frame to be a full-time EDGE at the next level." — Charles Power
No. 4: ATH Sonny Styles
School: Pickerington (Ohio) Central
Status: Signed with Ohio State
On3 NIL Valuation: $56,000

"A unique defensive prospect with the size, athleticism and movement skills to potentially make plays at all three levels of a defense. Combines 6-foot-4, 220-pound size with top-flight athleticism. Posted combine numbers that are better than many top defensive backs and wide receivers – some of the best marks we saw during the spring camp circuit. Athleticism transfers over to the field where he makes "wow" plays at a high rate. Plays at safety for his high school and is a smooth, fluid mover in space. Has movement patterns that belie his size. Shows deep range at safety with the ability to play hash to boundary. Makes plays on the ball at its highest point. Possesses some vicious striking power as a hitter and physical presence. Closes quickly and flashes the top-end speed on interception returns. Has blocked several kicks as a junior. Size, athleticism and coordination are unique and give him the ability to impact games as a defensive back, linebacker or potential pass rusher. Has the upside of being a true moveable chess piece for a defensive coordinator. Can continue to clean up his tackling technique. Doubles as an above-the-rim basketball player with mid-major offers on the hardwood." — Charles Power
No. 5: DL Walter Nolen
School: Powell (Tenn.)
Status: Signed with Texas A&M
On3 NIL Valuation: $114,000

"Large-framed interior defensive lineman with rare movement skills and athleticism at over 6-foot-4 and 340 pounds. Has continued to add size, growing over an inch and adding 40 pounds from his junior to senior years. Among the more athletic nose tackle prospects in several cycles. A truly dominant prospect in camp settings. Proved unblockable against top offensive linemen at Under Armour's Future 50 camp prior to his senior season. Has top notch first-step quickness with the ability to translate speed to power as an interior pass rusher. Pairs his considerable quickness with violent hands and upper body strength at the point of attack. Already has some pass rush moves in his repertoire aside from a bull rush. Closes quickly and is capable of tracking offensive skill players in pursuit. Putting together a strong senior campaign after transferring to Powell High School in east Tennessee. Projects as a nose tackle with the ability to push the pocket in addition to rushing the passer." — Charles Power
No. 6: OT Kelvin Banks
School: Humble (Texas) Summer Creek
Status: Signed with Texas
On3 NIL Valuation: $26,000
"An offensive tackle all the way. Has been dominant as a senior with improved physicality in the run game. Winning at point of attack and at the second level. Jolts defensive linemen with his initial punch, runs his feet and finishes in the run game. Also a high-end down blocker. Plays through the whistle. Body and reactionary quickness evident in pass protection. Has a quick pass set with a balanced base. Uses peripheral vision to quickly react to sudden movement. Has grown two inches to 6-foot-5 since 2019. Wingspan has increased from 81 to 83.5-inches in the same time."
— Charles Power
No. 7: QB Drew Allar
School: Medina (Ohio)
Status: Signed with Penn State
On3 NIL Valuation: $96,000

"Big-bodied signal caller who looks like the top arm talent in the 2022 cycle. Has a strong, pliable arm with the ability to hit all portions of the field without strain. Typically throws with a three-quarters release but has the dexterity to throw from multiple arm slots when needed. A loose thrower with considerable rotation throughout his upper body. Quickly flicks side-armed passes into small windows across the middle of the field. Also shows the ability to layer passes over the second level of the defense. Consistently fitting throws into tight windows as a senior. Has a deep catalog of throws. Is an average athlete for the position. Employed as a designed runner and has satisfactory mobility, using his size to run with power. Improvises and makes second-reaction plays when things break down. Plays in a deep shot gun which is typically not beneficial for fostering pocket feel, but shows the ability to step up and slide within the pocket at times. Playing his best as a senior and is among the more productive top quarterbacks in the 2022 cycle. Led his high school (not a traditional power) to an undefeated regular season." — Charles Power
No. 8: ATH Travis Hunter
School: Suwanee (Ga.) Collins Hill
Status: Signed with Jackson State
On3 NIL Valuation: $860,000

"The rare prospect with five-star ability on both sides of the ball as a cornerback and wide receiver. The most impactful non-quarterback in high school football as a junior and senior. Also among the best players we've ever seen on the 7-on-7 circuit. Possesses transcendent ball skills with the ability to high-point and make catches in traffic at an alarmingly high rate. A highly instinctual ballhawk at cornerback with the ability to read quarterbacks and receivers and jump routes. A high volume target at receiver who is capable of winning at all levels with route-running quickness and savvy to go with the elite ball skills. Also a fierce competitor who elevates the play of teammates. Led his team to its first state title as a senior. Will go down as one of the best high school football players in Georgia history." — Charles Power
No. 9: WR Luther Burden
School: St. Louis (Mo.) East St. Louis
Status: Signed with Missouri
On3 NIL Valuation: $68,000

"Physical, aggressive receiver who excels at picking up yards after the catch. Dangerous in the open field due to a quick initial burst, change of direction skills and vision. Also shows a tendency to run through arm tackles. Does not have verified speed times, but showing a fast play speed as a senior. Able to use his initial burst to create separation off the line of scrimmage. Has natural hands, plucking the ball with his finger tips. Parlays the open field skill set to double as a big-play punt returner, taking several to the house in 2021. Was a top youth basketball player. Not as tall as listed elsewhere, measuring under 6-feet prior to his senior season."
— Charles Power
No. `10: CB Domani Jackson
School: Santa Ana (Calif.) Mater Dei
Status: Signed with USC
On3 NIL Valuation: $78,000

"Has the best combination of size and long speed among the cornerbacks in the 2022 cycle. Tied the California state record in the 100 meters as a junior, running a posting 10.25 second mark in the state finals at 6-foot-1, 180 pounds. A technically-sound, smooth mover who has been well-coached at one of the nation's top high school programs. Is battle-tested against top wide receivers playing against nationally-ranked high school teams on a regular basis. Has considerable make-up speed to close the gap when he is out of phase. As a defense-only player, he's still a work in progress when it comes to instincts and ball-tracking skills. Missed the majority of his senior season after tearing his ACL in Mater Dei's first game." — Charles Power
No. 11: EDGE James Pearce
School: Charlotte (N.C.) Vance
Status: Signed with Tennessee
On3 NIL Valuation: $20,000

"Twitched-up EDGE prospect who has an argument as the most gifted pass rusher in the 2022 cycle. Pairs a long, lean build with top notch first-step quickness. Screams off the edge both as a standing rusher and from a three-point stance. Shows curvilinear movement with his ability to bend around the edge. Has elite closing speed and is a high-level finisher in the backfield. Physical and embraces contact. Has a strong anchor relative to his current size (6-foot-5, 220 pounds) and converts speed to power as a pass rusher. Highly, highly disruptive in multiple ways. Disrupts passing lanes on a regular basis in addition to forcing fumbles, coming down with interceptions and scoring several defensive touchdowns. Plays with an outstanding effort level on a play-to-play basis. Tracks down plays in backside pursuit. Runs like a wide receiver, which should not be a surprise as he began his career as an offensive skill player. Has put together a phenomenal final two seasons at North Carolina's top high school program, totaling over 30 sacks as a junior and senior." — Charles Power
No. 12: LB Harold Perkins
School: Cypress (Texas) Cy Park
Status: Committed to Texas A&M
On3 NIL Valuation: $90,000

"One of the best run and hit linebacker prospects in the last handful of classes. Makes big plays on both sides of the ball. Ability to chase plays from the weak-side with ease and fluidity. Improvement in taking on blocks and blowing up offensive linemen is evident on senior video. Has also improved in timing blitzes. Playing snaps at safety and linebacker as a senior. Hands and ball skills are on the high-end. Doubles as a big-play running back for Cy Park. Creates explosive plays by winning foot races and brute physicality. Averaging over 15 yards per carry and scoring on one out of every four carries as a senior. Has had a number of jaw-dropping athletic plays as a senior on offense, defense and special teams. Athleticism shows up on the Cy Park basketball team as well with many plays well above the rim. Athleticism carries over to the combine setting. Posted a 4.49 second 40-yard dash on grass prior to junior season at 200-pounds. Carrying nearly 210-pounds as a senior while retaining athleticism. Has the frame to carry over 230 pounds." — Charles Power
No. 13: DL Shemar Stewart
School: Opa Locka (Fla.) Monsignor Pace
Status: Uncommitted
On3 NIL Valuation: $34,000

"Long considered one of the best prospects in the cycle, dating back to his freshman season. A big, quick-twitch athlete along the defensive line who grew an inch and added around 30 pounds between his junior and senior seasons. Has outstanding length with a 7-foot wingspan. A natural mover who makes high-level flash plays with his athleticism and first-step quickness. Is able to beat offensive linemen out of their stance with his burst off the snap. An explosive finisher who makes a number of emphatic plays behind the line of scrimmage. Also shows his athleticism in pursuit, with the ability to run down skill players sideline-to-sideline at 270 pounds. Missed much of his junior season with injury. Has the athleticism and versatility to line up at various spots along the defensive line at the next level." — Charles Power
No. 14: IOL Tyler Booker
School: Bradenton (Fla.) IMG Academy
Status: Signed with Alabama
On3 NIL Valuation: $29,000

"Versatile, competitive offensive lineman who thrives as a mauling drive blocker in the run game. Started as a right tackle for national power IMG Academy as an underclassman before moving to left tackle as a sophomore. Has outstanding length with a near 7-foot wingspan and big hands. Locks on defensive lineman and ferociously works to finish blocks. Shows impressive upper body strength at the point of attack. Plays with high energy on a snap by snap basis. A good, not elite athlete for the position. Tends to bend at the waist and lunge at times in pass protection. Likely projects as an interior offensive lineman at the next level given his skill set. Still has positional versatility with experience at both tackle spots to be a swing tackle if needed. Has been a leader for the IMG program for a few seasons." — Charles Power
No. 15: WR Jordan Hudson
School: Garland (Texas)
Status: Signed with TCU
On3 NIL Valuation: $30,000

"Silky smooth, technical receiver with outstanding hands and ball skills. Has an advanced release package at this stage. Is able to create separation off the line of scrimmage. Moves with a natural fluidity within the route. A natural with the ball in the air, putting his basketball background to use. Locates and tracks the ball over his shoulder with ease. Can elevate to make some high-level one-handed grabs. One of the more productive receivers in the 2022 cycle, scoring 22 touchdowns on just 67 catches. Does not have recent verified athleticism. Looks to have solid speed, but wins more with his technical skills." — Charles Power
No. 16: RB Nick Singleton
School: Reading (Pa.) Governor Mifflin
Status: Signed with Penn State
On3 NIL Valuation: $53,000

"The most explosive running back in the 2022 cycle. Pairs a rocked up build with top athleticism and a violent running style. Has strong verified athleticism both on the track and in the combine setting. Hits the marks with top end speed, with several sub-11 second 100 meter times to his name. Transfers the athleticism over to the field where he has a high-level burst and long speed to pull away from defenses with ease. Is a loose and flexible runner despite his considerable twitch and strength. Runs with excellent body lean with pads over his feet, which aids in picking up yards after contact. More of a downhill runner but does show lateral agility and the ability to cut back. Does not play strong competition but utterly dominates like a top running back should. Extremely productive and efficient. Rushing for over 15 yards per carry and scoring on one out of every three touches well into his senior season." — Charles Power
No. `17: WR Evan Stewart
School: Frisco (Texas) Liberty
Status: Signed with Texas A&M
On3 NIL Valuation: $821,000

"One of the more dynamic and well-rounded wide receiver prospects in several cycles. An elite athlete with outstanding marks in multiple events in track and field. Transfers that athleticism over to the gridiron, where he is the top big-play threat in the 2022 cycle. Has palpable gravity as a deep threat. Eats up the corner's cushion with his burst off the line and puts defensive backs out of phase consistently on vertical routes. Draws substantial attention from opposing defenses and beats double coverage at a high rate. Has shown plus ball skills in game and camp settings with the ability to come down with acrobatic high-point catches. Improved his route-running between his junior and senior seasons and is now among the more technically-refined receivers in the cycle. Will need to continue adding mass and strength to combat physical corners off the line of scrimmage. Opted out of his senior season after playing in four games."
— Charles Power
No. 18: DL Gabriel Brownlow-Dindy
School: Lakeland (Fla.)
Status: Signed with Texas A&M
On3 NIL Valuation: $28,000

"Perhaps the most athletic and twitchy defensive lineman in several cycles. Burst on to the national radar prior to his junior season after putting on a testing display at the Elite Underclassmen Camp in Jacksonville, running a 4.8-second electronically timed 40-yard dash at 278 pounds. Has quick-twitch initial movement skills with fast and strong hands. Aggressive out of his stance with the hands. Wins with both quickness and physicality. Disruptive force that makes plays behind the line of scrimmage with regularity. Was highly productive as a junior with 29.5 tackles for loss. Will be a disruptor in the run game, and interior pass rusher at the next level. Fast closer with long-arms that makes play from the hash to the boundary. Plays defensive end in both four and three-man fronts for Lakeland High, but projects to the interior long-term." — Charles Power

No. 19: S Jacoby Mathews
School: Ponchatoula (La.)
Status: Uncommitted
On3 NIL Valuation: $37,000

"High-end natural athlete with size and a thick build as a safety prospect. Explosive vertical athlete with high-end change of direction. Plays faster than he tests due to instincts and eye discipline. Covers ground, and closes angles with instinct. Plays with a physical mentality. Has maintained a safety build with the frame to carry over 220 pounds. Has been a jack-of-all-trades at times for Ponchatoula High playing multiple spots including quarterback, but settling in at safety as a senior. Started on both sides of the ball as a freshman. Was also an All-District level basketball player that played well above the rim." — Charles Power
No. 20: EDGE Dani Dennis-Sutton
School: Owings Mills (Md.) McDonogh School
Status: Signed with Penn State
On3 NIL Valuation: $31,000

"Energetic defensive lineman who plays with a quick initial burst. Combines quickness, fast hands and effort level to create disruption behind the line of scrimmage. Shows some violent tendencies at the point of attack. Muscular and physically developed, particularly throughout his upper body. Not an overly nuanced pass rusher at this stage. Tests as a strong athlete at his size and position, running an electronically-timed sub-5.0 second 40-yard dash prior to his senior season. Doubles as a talented basketball player. Junior season was cancelled due to COVID-19 and missed a portion of his senior season with a dislocated elbow." — Charles Power
No. 21: S Malaki Starks
School: Jefferson (Ga.)
Status: Signed with Georgia
On3 NIL Valuation: $39,000

"Two-way high school standout as an option quarterback and safety who projects as a back-seven defender at the college level. One of the best overall football players in the state of Georgia dating back to his junior season. Sports a sterling athletic profile with elite marks as a sprinter and jumper in track and field in addition to playing basketball at 6-foot-1 and over 200 pounds. Transfers that athleticism over to the field where he is a home-run threat with the ball in his hands. Consistently out runs opposing defenses in the open field with an easy, long stride. A smart, heady player who displays toughness in taking a bunch of hits as an option quarterback. Led his team to a state title appearance as a junior. While he does see some time at safety, Starks remains a bit of an unknown projection as a defensive prospect, as he largely plays as a deep center field safety at Jefferson."
— Charles Power
No. 22: CB Denver Harris
School: Houston (Texas) North Shore
Status: Signed with Texas A&M
On3 NIL Valuation: $43,000

"Among the more technical corners in the 2022 cycle. A legit 6-foot corner prospect with high-end turn and run acceleration. Recorded sub 4.5-second 40-yard dash times at college camps prior to his junior season. Stays attached in the intermediate game. Quick feet, change of direction and reactions to sudden movement. Playing speed to win foot races vertically. Terrific timing playing the ball in the air. Becomes a threat to score in returning interceptions. Eyes are a strength, as is understanding of the game and the position. Physical in coverage, and a willing striker in the run game. Plays with terrific balance. Confident in press coverage. His scheme versatility has drawn comparisons to NFL cornerbacks. Back on the field as senior after an ACL injury late into his junior season." — Charles Power
No. 23: EDGE Kenyatta Jackson Jr.
School: Hollywood (Fla.) Chaminade-Madonna
Status: Signed with Ohio State
On3 NIL Valuation: $30,000

"Long, productive pass rusher with NFL pedigree. Uses his long levers and quick hands to disengage from opposing offensive tackles. Closes quickly and finishes with authority behind the line of scrimmage at a high rate. Has the ability to dip and bend around the edge. Makes some high effort plays in pursuit. Owns a stout frame and should continue packing on mass at the college level. Had a big senior season, being named Florida's Gatorade Player of the Year. The bits of verified athleticism we do have are average for the position." — Charles Power

No. 24: CB Terrance Brooks
School: Little Elm (Texas)
Status: Signed with Texas
On3 NIL Valuation: $69,000

"Among the most versatile defensive backs in the 2022 cycle. Sports otherworldly arm length with an 80-inch wingspan at just under 6-feet tall. Student of the game. Stays attached in coverage at all levels. Wins with technique and eye discipline. Tremendous length helps him in recovery situations, especially in the intermediate game. Quick feet and effortless change of direction allows him to blanket receivers in the short passing game. One of the only cornerbacks to successfully slow down five-star receiver Evan Stewart in the camp setting. Could play corner, nickel or safety at the next level. Speed evident to easily cover from the hash to boundary at safety." — Charles Power
No. 25: EDGE Marvin Jones Jr.
School: Fort Lauderdale (Fla.) American Heritage
Status: Signed with Georgia
On3 NIL Valuation: $42,000

"A fluid, coordinated pass rusher. Turns tight corners at high speeds and shows the flexibility to dip and bend around the edge. Uses his quick hands to swat and disengage from offensive tackles in pass rush situations. Capable of affecting passing lanes with his instincts and athleticism. Has shown the ability to be a strong pursuit defender when engaged. Comes from a high school program that broke the record for most former players taken in one NFL Draft. Had a stronger junior season than his senior season to date. Can continue to ramp up the physicality on a snap to snap basis. Younger for the class with a summer birthday and went from 215 to 245 pounds between his junior and senior year." — Charles Power
No. 26: LB Jaylen Sneed
School: Hilton Head (S.C.)
Status: Signed with Notre Dame
On3 NIL Valuation: $26,000

"Twitchy, high energy athlete who projects as a space linebacker. Converted to a hybrid linebacker/safety as a senior after previously playing as a pass rusher. Plays with his hair on fire, showing effort and speed in tracking down plays from the back side. Upside as a space defender is evident. Showing the ability to cover as a senior despite not having much prior experience. Also showing his athleticism playing quarterback as a senior, ripping off some long touchdown runs. Has a strong athletic profile as a standout three sport athlete. Is a one-step dunker in basketball and sports a 50 foot toss in the shot put, a ridiculous mark at his size. Not the biggest linebacker prospect, but has plus length with a 6-foot-4 wingspan. Will need to continue adding mass and strength to aid as a tackler and finisher at the point of attack." — Charles Power
No. 27: TE Amari Niblack
School: Clearwater (Fla.) Lakewood
Status: Signed with Alabama
On3 NIL Valuation: $26,000

"Dynamic, athletic tight end prospect with a well-rounded skill set. The most versatile tight end in the 2022 cycle with his ability to win in the route, catch and after catch phases. Has solid size for the position at around 6-foot-4, 220 pounds. Is able to change directions mid-route like a wide receiver. A physical power forward-like presence with the ball in the air. Out jumps and boxes out defensive backs in contested catch situations. Made acrobatic grabs with regularity both on the 7-on-7 circuit and on Friday nights. Uses his athleticism to present a considerable threat after the catch. Runs with toughness and has the speed to rip off long gains after the catch. Turned in a productive senior season with 939 yards and 10 touchdowns on 60 receptions. Reportedly had one of the better performances from a prospect at Alabama's camp in several years. Seems most likely to stick on offense but has the athleticism to potentially play as a pass rusher on defense, as well. Will need to continue adding mass and develop as a blocker at the next level." — Charles Power
No. 28: LB Lander Barton
School: Salt Lake City (Utah) Brighton
Status: Signed with Utah
On3 NIL Valuation: $17,000

"Jumbo linebacker with top notch fluidity, functional athleticism, range and coverage skills. A NFL legacy with two older brothers currently playing professionally – considered to be the best of the three at this stage. Has outstanding stature at 6-foot-4.5 and 220 pounds. Well-built and has the frame to easily hold 240 pounds. A natural mover in space, particularly for his size. Effective at dropping into space. Shows strong cover ability in zone and man coverage. Was able to carry top wide receivers down the middle of the field at All-American Bowl practices. Moves like a high-end athlete with the range to play sideline to sideline. Strong at the point of attack and has advanced block-shedding skills. Highly productive, averaging over 10 tackles per game over three high school seasons. Has plus ball skills at linebacker and doubled as a receiver and tight end at the high school level. Shows his athleticism and coordination on the basketball court where he averaged nearly 20 points per game as a junior." — Charles Power
No. 29: OT Aamil Wagner
School: Dayton (Ohio) Wayne
Status: Signed with Notre Dame
On3 NIL Valuation: $10,600

"High-upside offensive tackle with a developmental body type along with top notch athleticism and play strength. Owns a lean build at 6-foot-6, 260 pounds. Has good length with 34-inch arms to go with large hands. Has the frame to hold 300-plus pounds. One of the stronger offensive linemen in the 2022 cycle despite being 50 to 100 pounds lighter than many of his peers. Regularly finishes blocks by putting defensive linemen on the ground. Possesses significant upper body and core strength, which is validated by his background as an elite thrower in track. Has light feet and moves to the second level with ease. Capable of running to block screens as far out as the boundary. Will need at least one year in Notre Dame's strength program and training table. Also needs to develop his pass set technique as he has primarily been getting by off of athleticism and physical tools to this point."
— Charles Power
No. 30: QB Ty Simpson
School: Martin (Tenn.) Westview
Status: Signed with Alabama
On3 NIL Valuation: $60,000

"Versatile, well-rounded quarterback with the ability to stress defenses as a passer and run threat. Possesses a creative, backyard style of play with considerable experience making improvisational plays. Throws from a wide base with above average arm strength. Has continued to progress as an in-structure quarterback and is among the more accurate passers in the 2022 cycle. Lower body twitch and footwork also makes Simpson one of the more mobile signal callers in his cycle. Picks up yards on scrambles and designed runs. Smaller in size and older than most fellow top 2022 quarterbacks. Has seen an uptick in production as a senior, putting together one of the best statistical seasons among his contemporaries." — Charles Power
No. 31: CB Will Johnson
School: Grosse Point (Mich.) South
Status: Signed with Michigan
On3 NIL Valuation: $64,000

"Possesses tremendous stature at the cornerback position with a high-end frame. Among the bigger cornerback prospects in a strong group at the position nationally. A legitimate top 100 level prospect at defensive back or wide receiver. A smooth mover in his backpedal and when changing directions. Stays attached in coverage. Game moves slow for Johnson. Plays more at safety than other spots on defense, but projects as a boundary corner. Doubles as a playmaking receiver with make-you-miss ability after the catch. Naturally plucks the football at its highest point. Shows burst and acceleration after the catch, initially running away from defenders. Does not have verified speed or athletic testing numbers. With that said, his play speed doesn't appear to be a big concern. Putting up big numbers on both sides of the ball as a senior. Overall athleticism carries over to the basketball court where he also excels." — Charles Power
No. 32: EDGE Jeremiah Alexander
School: Alabaster (Ala.) Thompson
Status: Signed with Alabama
On3 NIL Valuation: $61,000

"Powerful, highly active edge defender who is among the more productive prospects in the 2022 cycle. Has explosive power in his hands, rocking opposing linemen back on contact. Able to occupy and shed offensive linemen to make plays behind the line of scrimmage. Plays with a high effort level on a snap to snap basis and shines against top competition. Highly instinctive and communicative, working to align his teammates pre-snap. Best as a speed to power pass rusher at this stage. Has helped his team to two state titles as a sophomore and junior. On pace to finish his high school career with over 400 tackles and 100 tackles for loss. Smaller than other top EDGE prospects but has some compensatory strength. Could also possibly play as an off-ball linebacker at the next level." — Charles Power