Everything feels right at Georgia for 2023 4-star OL RyQueze McElderry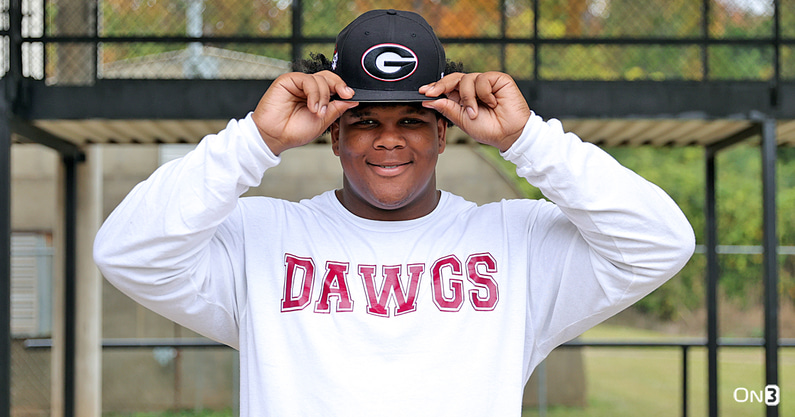 Anniston, Ala. offensive lineman RyQueze McElderry named a top five and set a commitment date. The four-star then added an offer from Alabama that gave him thoughts of hesitation.
The 6-foot-4, 340-pound junior stayed with his plan after thinking things over, and he has committed to Georgia.
The in-state Crimson Tide jumped in a race recently, and Alabama was immediately in the mix with the likes of Kentucky, Ole Miss, South Carolina, and Tennessee before the commitment to the Bulldogs.
McElderry had the feeling Georgia was right for him months ago.
"I would say it really hit me about Georgia right around September 1, but when I was there for camp in June, it felt right then," McElderry said.
"When I was at Georgia in the summer, it just felt right to be there. When I first met the coaches, it felt right. It felt right when I first worked with the coaches.
"They offered me at camp, they taught me a lot, and the feeling I had there was right. Everything feels right and I felt at home right away at Georgia."
The Georgia environment fits Ryqueze McElderry
After spending time at camp in the summer, McElderry went back to Georgia for the Missouri and South Carolina games. He is familiar with Athens and the environment fits him.
"The coaches, the players, the fans, and the environment is right for me at Georgia," McElderry said. "It is a brotherhood at Georgia and that is what I was looking for.
"The Georgia program is like a family. It is an environment that fits me."
The fans showed McElderry how much they care about the Bulldogs. That caught his attention too.
"The fans are live, loud, and loving at Georgia. The fans scream and care about Georgia and the players. They love the team, their support is great, and it is something I am excited about."
McElderry is excited about Georgia's leaders and success
Although McElderry was feeling the love for Georgia back in the summer, he took his time and gave other schools a chance before giving the Bulldogs the news a couple of weeks ago.
He is excited about who he gets to play for.
"Georgia has great people on their coaching staff," McElderry said. "From coach Luke to coach Gordon to coach Smart – all are great people.
"I know I will work a lot with coach Luke and he is a great person. He cares about his players. He and the other coaches know when to have fun and when to be serious.
"The Georgia coaches will lead me in the right way."
The success Georgia is having this season caught McElderry's attention too. He knows Georgia has played at a high level since Kirby Smart took over and he knows his future is bright.
"I am so excited about being committed to Georgia. It is one of the best schools in the country. They work hard, they care about each other, and the coaches care about the players.
"Georgia has worked up to be No. 1 and I want to be a part of that. I love their attitude, I know Georgia will push me and care for me.
"The feeling I have about Georgia is strong."